Hi everyone, without further ado - please let me share with you, the third episode of the Stranded Podcast!
Shownotes:
0.00-3.15: Introduction:
Thanks, technology excuses and apologies for the delay!
3.16-11.46:
On the needles / Works in progress:
I show off a pair of ex-two-at-a-time socks knit using
Knit Picks Felici
in the 'Time Traveler' (only one L! This blows my English mind guys. Same with Color. But it feels wrong to correct spellings of American titles / names for things) these are being knit on 2mm (US 0) Knit Pro Karbonz needles.
I'm also working on a
Quicksilver shawl
by
Melanie Berg
. This is being knit on 4mm (US 6)
ChiaoGoo Red Lace needles
. The shawl is a sample for my yarn company
Stranded Dyeworks
, I'm using 'Highway Code', 'Spook' and 'Party Dress' on my Oasis fingering weight 75/25 merino/nylon base. I also mention Melanie's instagram, you can find her here -
@mairlynd
.
I'm still working on my socks from a sock blank from
Sew Knit Obsessed
, the first one is finished and I'm really pleased with it. Again knit on 2mm (US 0) needles. Kira, the dyer behind Sew Knit Obsessed also has a podcast that you can find right
here
.
Finally, I'm working on a crochet project - a granny square blanket, using
this tutorial
by NAME
Simply Daisy
for Sunburst Granny squares. These are made from
Cascade220
in a whole host of colours. This project is living in my
Survival of the Knittest tote bag
from
Pom Pom Quarterly
.
11.47-14.12: Finished Objects:
I have finished my
Color Affection
shawl by
Veera Välimäki
. This is made from
Hedgehog Fibres
Skinny Singles in 'Truffle', 'Villain' and 'Granny.'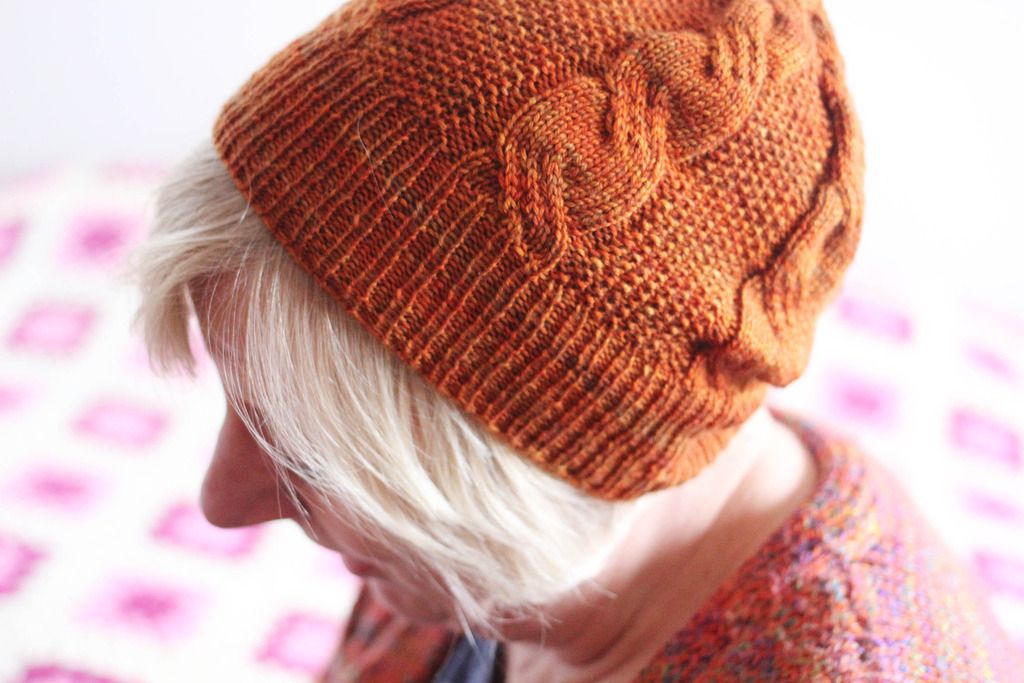 I have also finished my
Slable Hat
by
Woolly Wormhead
, which was made out of
Stranded Dyeworks
'Pumpkin Spice' on the Paradise MCN fingering base.
14.13-15.53: Spinning:
I have finally finished spinning and plying my
Nunoco
mixed merino bags
in the 'Fen' colourway. I have 384yds of a predominantly sport weight. It is not my best work, but it's done!
15.54-18.37: Dyeing:
I have been dyeing a fair amount of yarn - I share my new base -
Castaway DK
- 100% Superwash Merino, that is currently available in '
Bonanza
', '
Spook
' and '
Ocean Rainbow
'. I also mention '
Russet
' on Paradise MCN and '
Flamboyant
'. You can find all my yarn in my shop -
right here
.
18.38-End: Miscellaneous chatter:
I talk a bit about knitting fatigue / knitting ennui / loss of knitting mojo. I also mention the
Super Summer Knitogether
retreat hosted by
The Knit Girllls
.
Thankyou so much for watching! There shouldn't be such a long gap between episodes next time ;)
♥