It's been a strangely productive week, although I don't feel like I've done much knitting - but I've done a fair bit of everything else - so it all balances out! It's interesting how much you can get done when you live in a place where everything is a car ride away (and you don't drive or have a car) and you don't know anyone!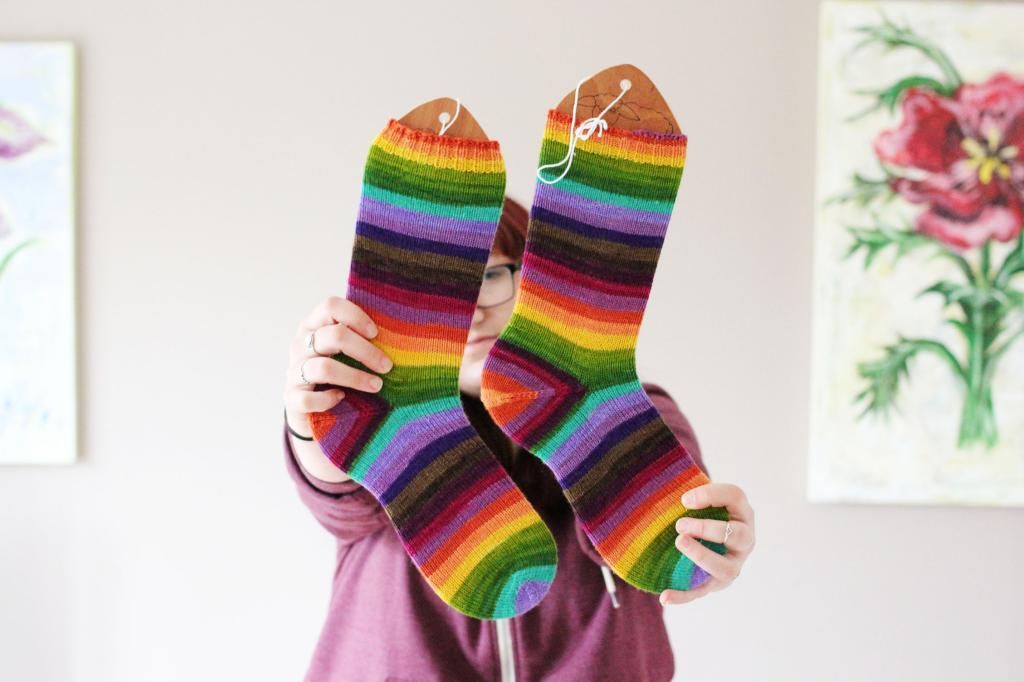 Knitting-wise I have finished my Autumn Rainbow socks in yarn by
Fab Funky Fibres
(who currently don't have any self striping in their shop right now - which is probably a good thing for my bank account, albeit a bit sad for the stash). They're snug fitting - one is a
tiny
bit small, but they spent some time being washed and blocked and I'm sure they'll be fine. My mum said they look like commercial socks, which I think is a compliment?! But I think that's just because the gauge is so tiny.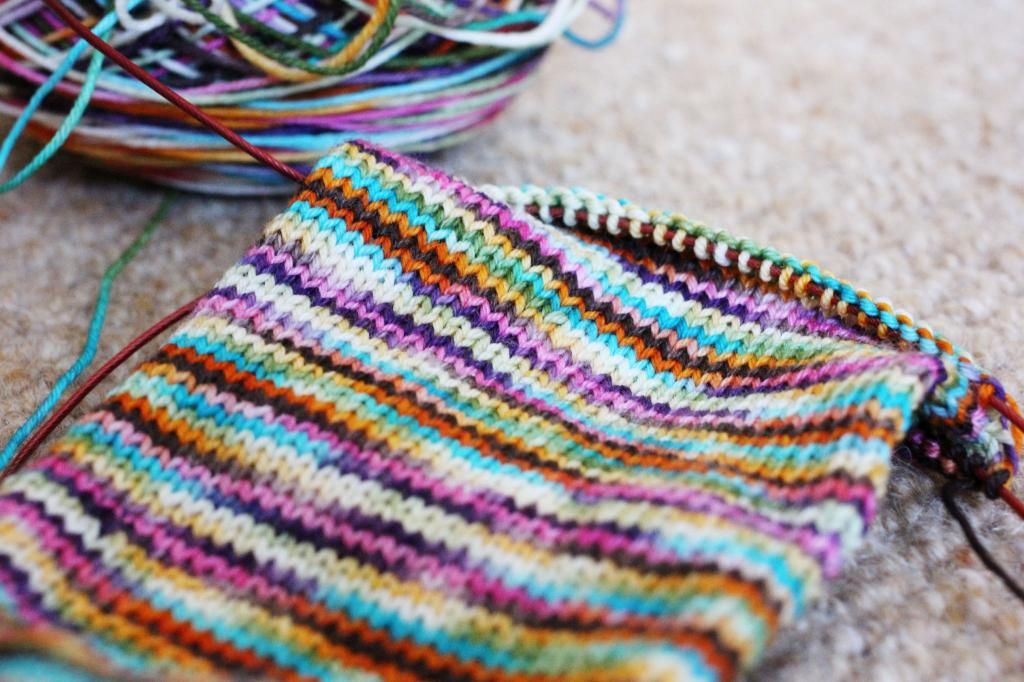 Continuing on the socks theme, after finishing the Autumn Rainbows I wanted my to cast on more colourful socks - so I dug out a skein of Pinkalicious Rainbow by
YarnInk
that my parents bought me for my last birthday. I'm knitting vanilla toe up socks on 2.25mm (US 1) needles. I was going to try the
Fish Lips Kiss heel
, but because of the whole VATMOSS nonsense, the pattern is unavailable for purchase in the EU, so a short row heel it is!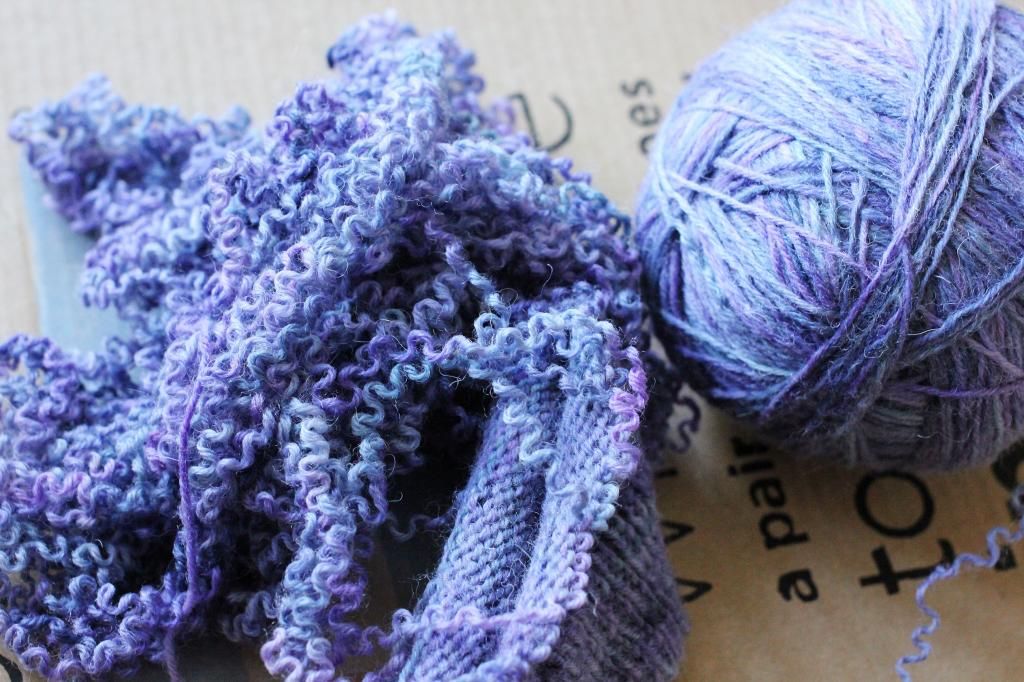 I went through my WIPs bin this week and decided to frog a sock I'd been knitting with my hand dyed yarn because it was just too small and the cuff was too short, but apparently it really really didn't want to be ripped out as it's now a tangled mess, but I'll still have enough for a pair so I'll probably just throw this mess out.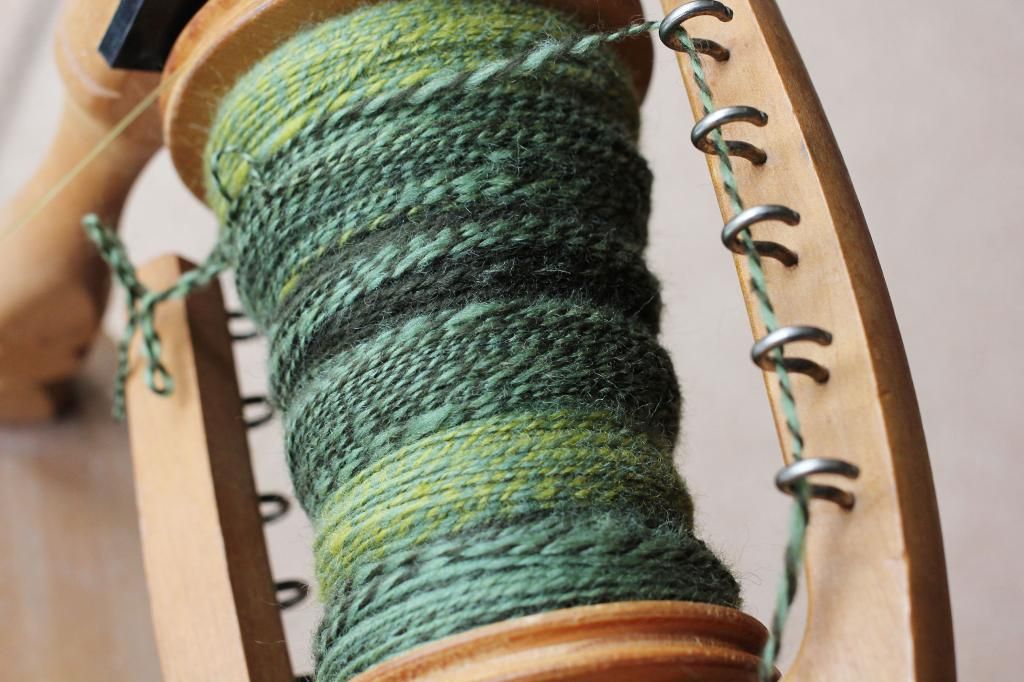 I finally finished spinning all of the
Just A Daydream
batts in the 'Olive Bowl' colourway so now I'm on a never ending plying mission! Must glue some of my bobbins this week - the ends are popping off when they start to get full which is hindering the process slightly...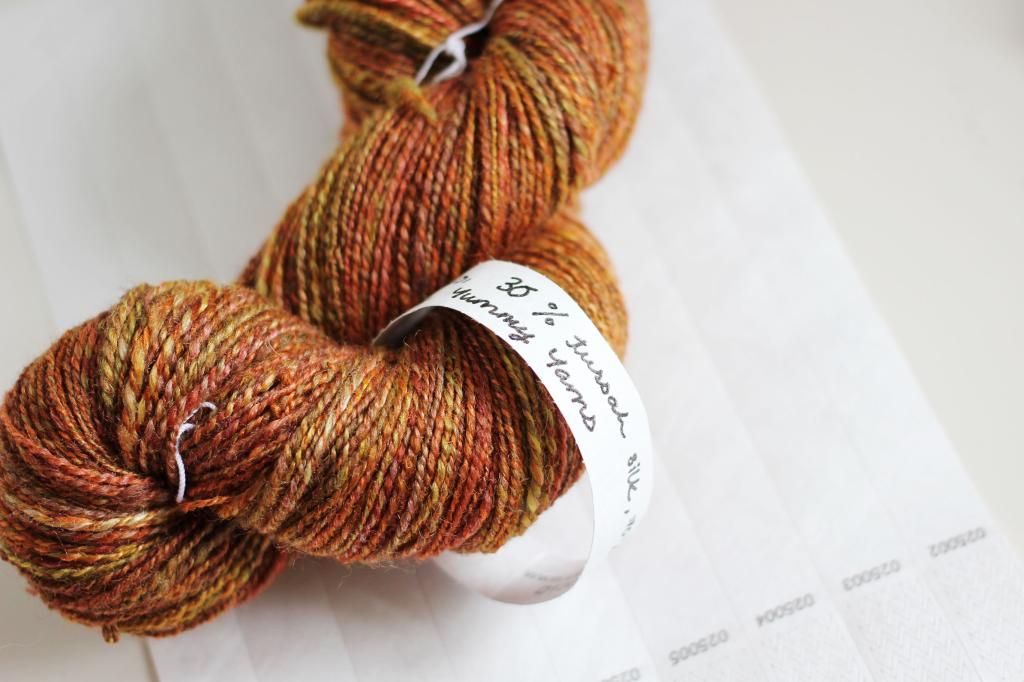 I wound off the last thing on the wheel - a 70/30 BFL, Tussah Silk blend from
Yummy Yarns
. I got 398yds from a 100g braid. It's not the softest fibre in the world, so may make it's way into a hat at some point. Also, I bought a big pack of plain white wristbands - the kind you get at festivals - to write my yardage and fibre content and dyer information on - hopefully this will make it easier to use my handspun in projects!
I've also been doing some dyeing for the first time in months, this week. I have to dye when my Dad's at work (he's banned me from dyeing in the kitchen because he's convinced I'll ruin it. Any guesses as to how much I miss living on my own?!) - but I got a good two days of dyeing in - and I remembered how much I love it, so watch this space for more dyeing exploits.
This is a merino silk blend that I'm super happy with, maybe this'll go on the wheel after I finish plying the Just A Daydream. Hmmm...
I hope you've had a productive knitting week! Have a lovely weekend.
♥