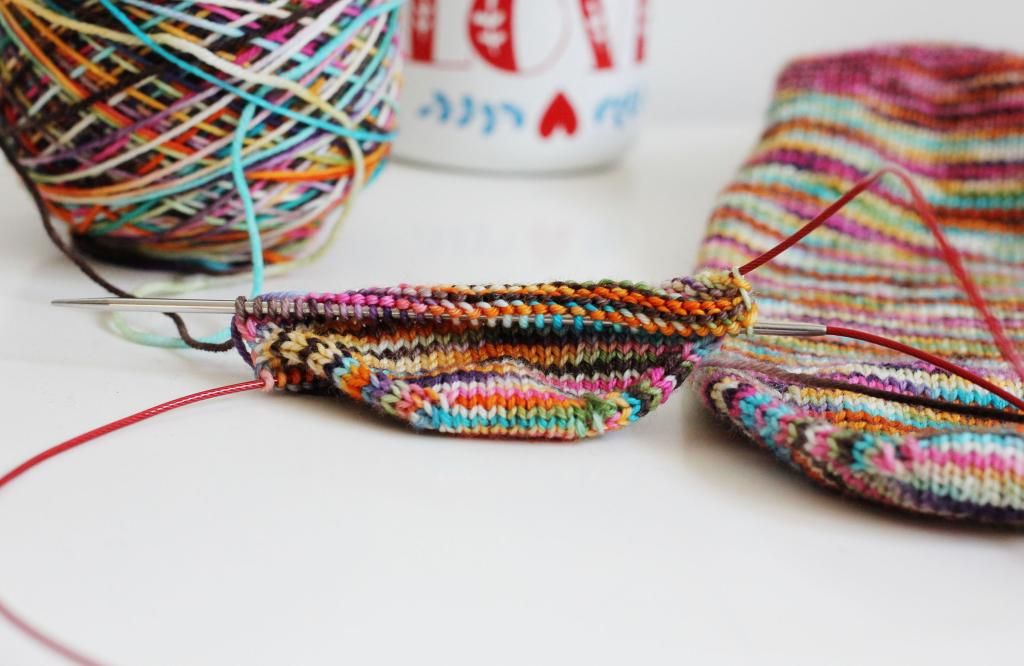 This week I've started lots of new things (as well as done a
little
bit of finishing), but first I've been knitting on my toe up vanilla socks out of 'Pinkalicious Rainbow' by
Yarnink
. I'd started the first sock last week and was lamenting my lack of the
Fish Lips Kiss heel
(which has since been remedied - Thankyou to
Aleks
for gifting that to me). First time around I knit a short row heel, but that didn't fit right, so I ripped back and did the pattern for the
Gusset Heel Basic Socks
by
Wendy D. Johnson
from her book
Socks From The Toe Up
and it fit perfectly - I'd forgotten how good gusset heels fit. I've finished the first sock and knit around three inches on the second one while skyping my friends this week. Sidenote: Videocalling, how did we cope without it?
Whilst skimming through
Socks From The Toe Up
I came across the
Tic-Tac-Toe-Up
socks, with a fun pattern of X's and O's (I sit and mutter "XO XO Gossip Gir"l as I'm knitting them, but that's just me...) which I've cast on in some yarn I hand dyed a while back, on size 2mm (US 0) needles. I've done another 1.5 pattern repeats since I took the above picture and I'm pleased with how it's knitting up so far - the lace is nice and stretchy so they should be a good fit despite the tiny needle size.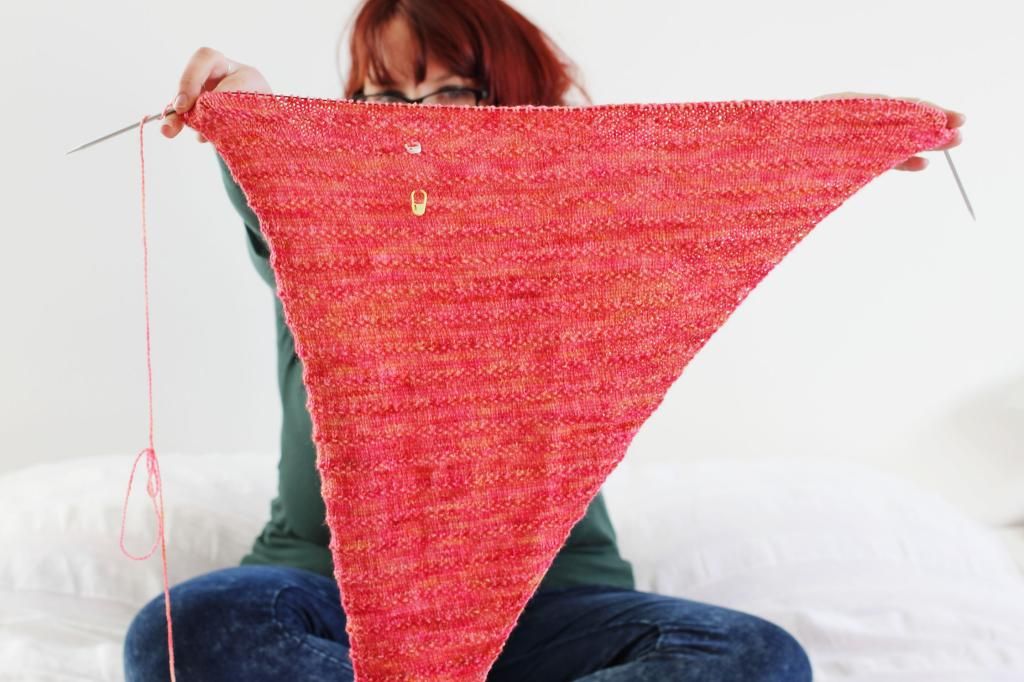 Another new cast on this week is the
Less Is More Shawl
by
Maanel
, which is a free pattern on Ravelry. This is being knit on size 3.75mm (US 5) needles - the pattern calls for slightly smaller needles but I liked the drape of the fabric that this size gave. I'm using some of my hand dyed merino 2ply from last week's dyeing session - I love the coral colour, but I'm not a big fan of the base, there's not much twist so it wouldn't hold up well for a garment. I have around 800m of it, so I'm just going to knit until I either run out of yarn / get bored, any guesses as to which will come first?!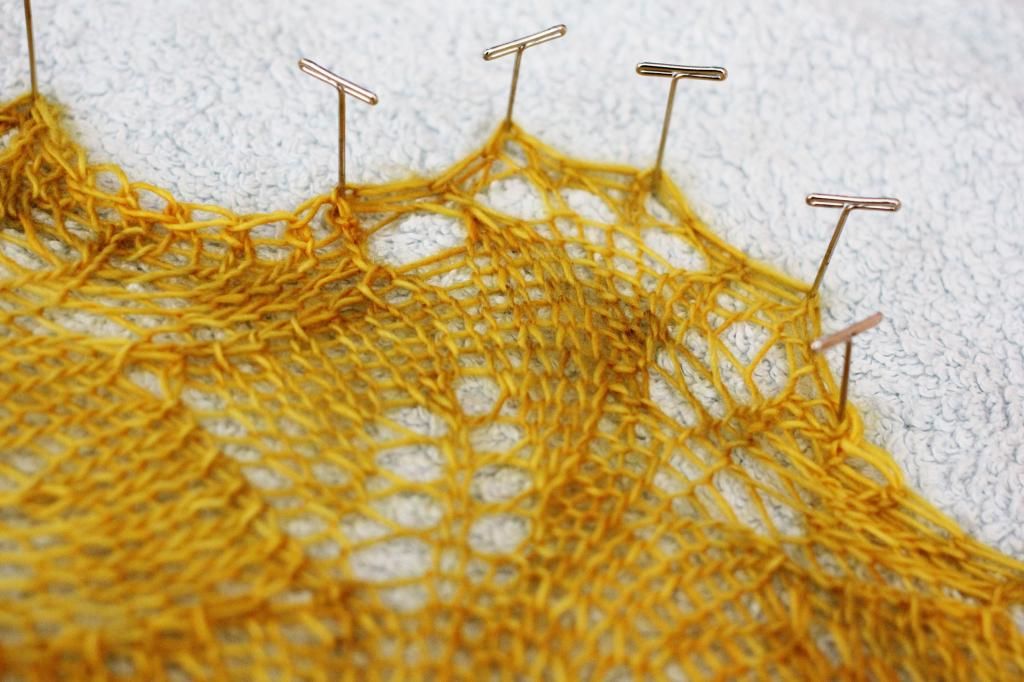 Finally on to something I finished this week - my
Ginkgo Crescent Shawl
by
Jade Keaney
which is another free pattern on Rav and was perfect for a single skein of
Madeline Tosh 'Tosh Merino Light'
that I picked up from
Purl Soho
in NYC this time last year as it's a single (non plied) yarn that wouldn't hold up to long term wear. This was in the 'Candlewick' colourway - mustard yellow is my all time favourite colour and I'm so pleased that it works well with coral, which is a very close second!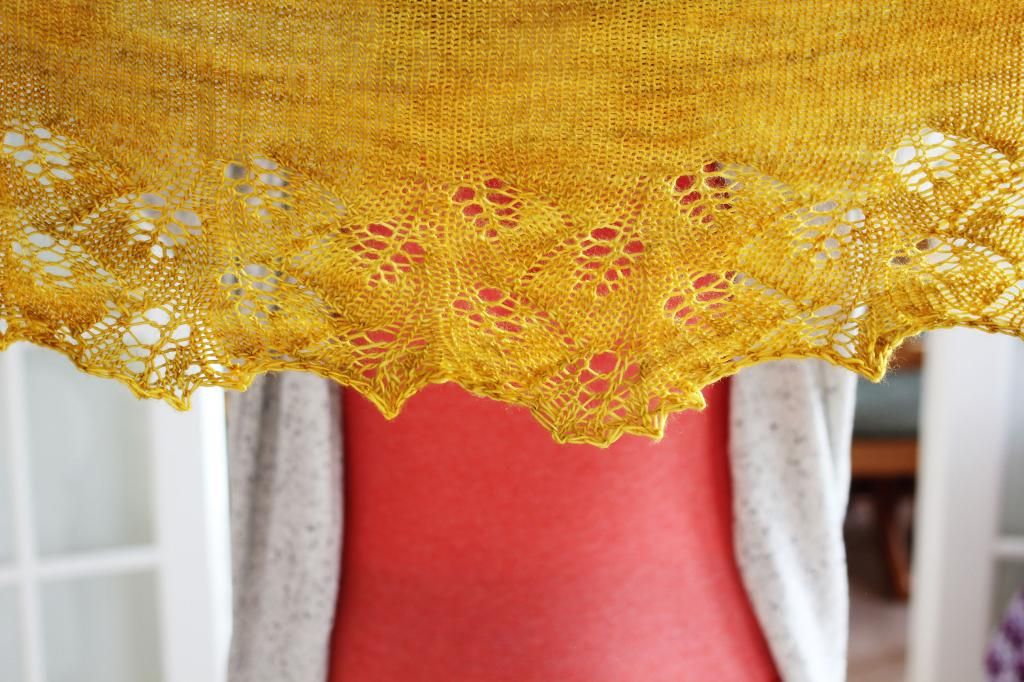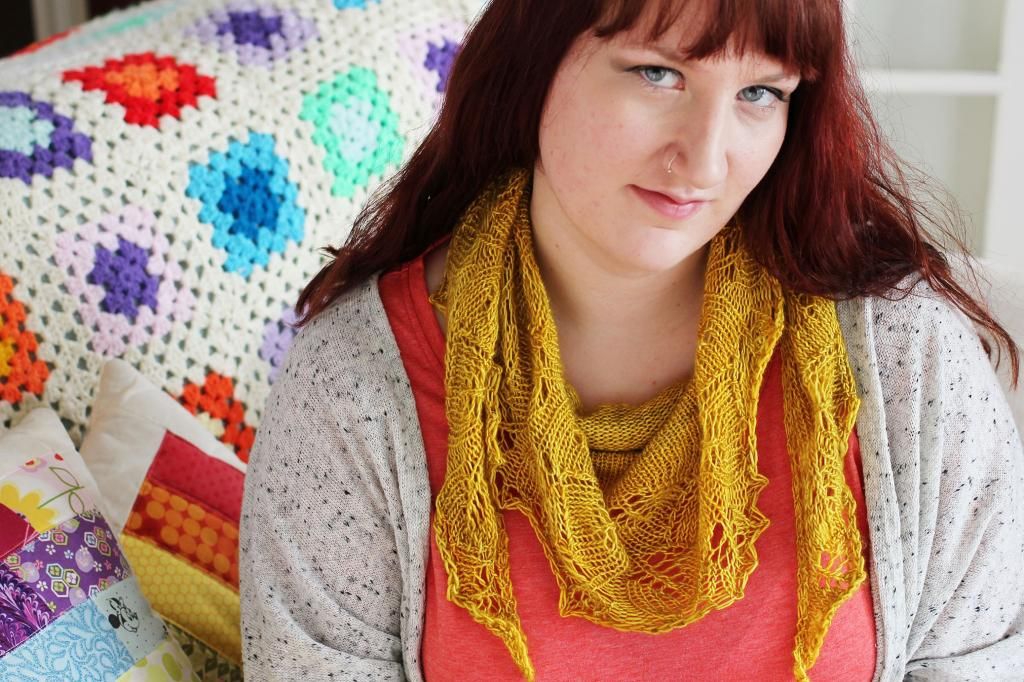 I wear all my shawls and shawlettes as scarves, I don't really wear outfits that need shawl-shawls, if that makes sense!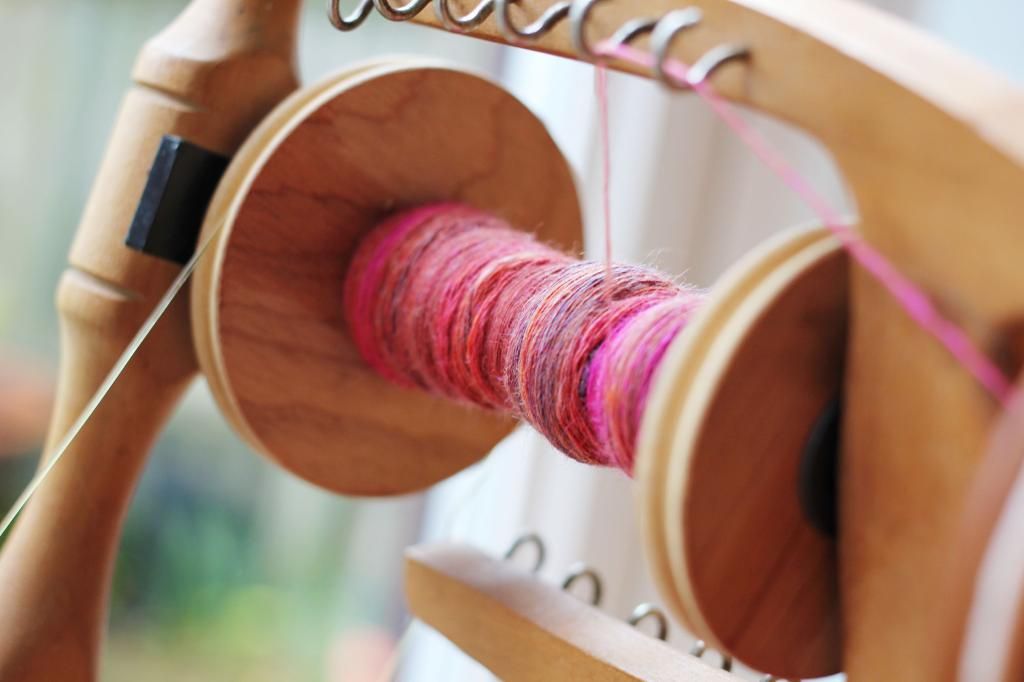 On to spinning and I've got a lovely blend of BFL, Cashmere & Nylon from
Lime Green Jelly
on my wheel at the moment. I'm spinning it as fine as I can, with the intention of creating a 3ply sock yarn. But before I could get that on the wheel I had to get this off...
Ever feel like your equipment is conspiring against you? That's how I felt winding my
Just A Day Dream
yarn off the bobbins, literally everything went wrong. One of the ends popped off a bobbin, causing a huge tangle. Then the yarn kept snagging on my Lazy Kate and snapping. Then the swift dropped as I was winding it onto it, messing up my yardage count. So in the end I wound what turned out to be over 1000yds of a 2ply from one swift, through my new shiny Schacht Yardage counter, onto another swift. This process took about 5hrs+ and the swift kept slipping, so it's created a hank I can't twist (hence the lack of shiny photos of pretty finished skeins) and that is going to be an utter nightmare to wind into a cake. But that'll be a story for next week I should expect! The moral of this story is Buy Good Equipment (which I have started doing with all recent purchases) and also Buy A Skein-winder so this Never Ever Happens Again.
But on the plus side - over 1000 yards of a 2ply from 200g - I consider that to be a success! Just don't count the knots in the skein...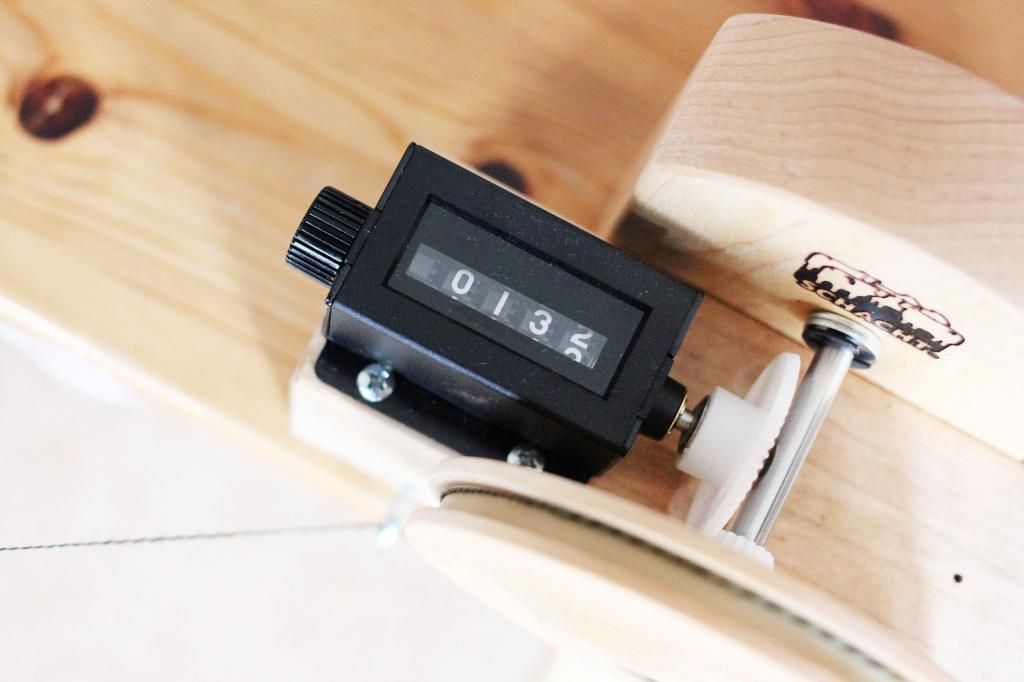 This saga was the first time I used my Schacht yardage counter and it was the only bit of equipment that did what it was supposed to do. It's my very first
Schacht
product (it's not a widely accessible brand here in the UK) I ordered it online from
Webs
and I look forward to see how it holds up to future use. Good equipment is a good investment.
Finally, I dyed this rainbow braid of BFL - which is a little bit patchy, but is going to be so much fun to spin up. I'm thinking of plying it with something neutral - maybe a grey or some undyed fibre, to tone it down just a little.
Phew. That's been a long post to write. That's what happens when there's no one around to talk knitting with! I'm hopefully going to a knitting group on Wednesday night, so I shall report back on how that goes, next week.
I hope you've had a wonderful week, happy Friday everyone!
♥