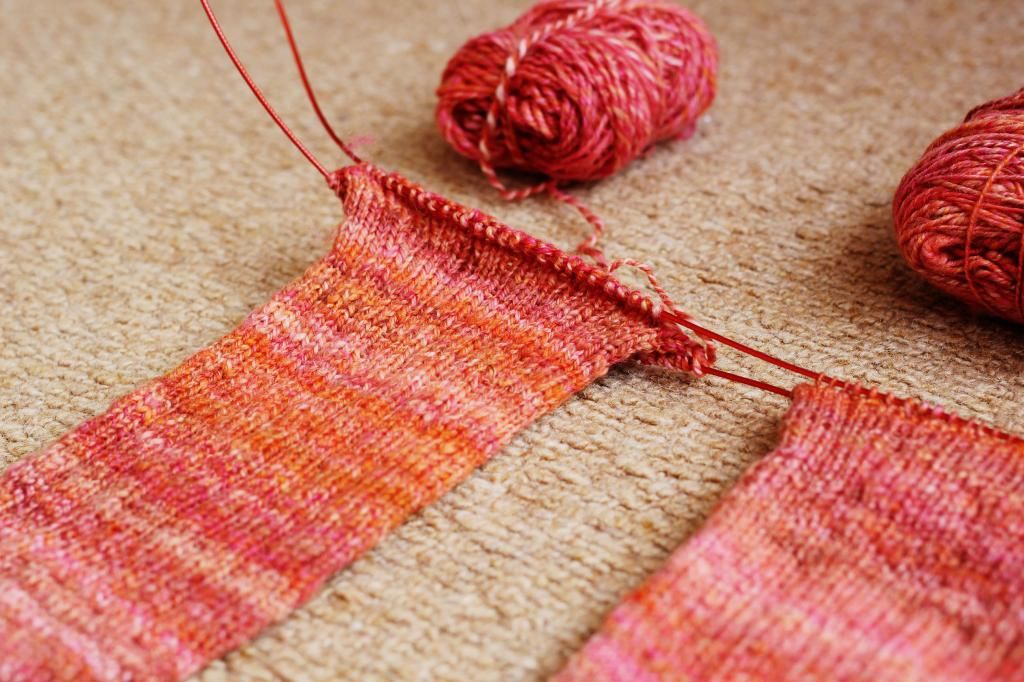 This week, all my knitting follows the same colour scheme, which was a happy accident (hello coral addiction!) and I shall start with the most exciting project first. This week I cast on for my first pair of socks out of my handspun. It's a superwash merino / nylon blend that I dyed and spun last year. It's a 3ply and a little thick and thin in places, but it's about a sport weight overall. I'm using a free pattern by
Wendy D. Johnson
- her
Sport Weight Toe-Up Socks with Gusset Heel
and I've added in a 3x1 rib on the top of the foot and up the leg, just to cinch it a little - as I hate socks that sag around my ankles! Since taking these photographs I've knit the heels and about an inch of the leg, so I'm hoping to finish them over the weekend. Socks on 2.75mm needles knit up fast!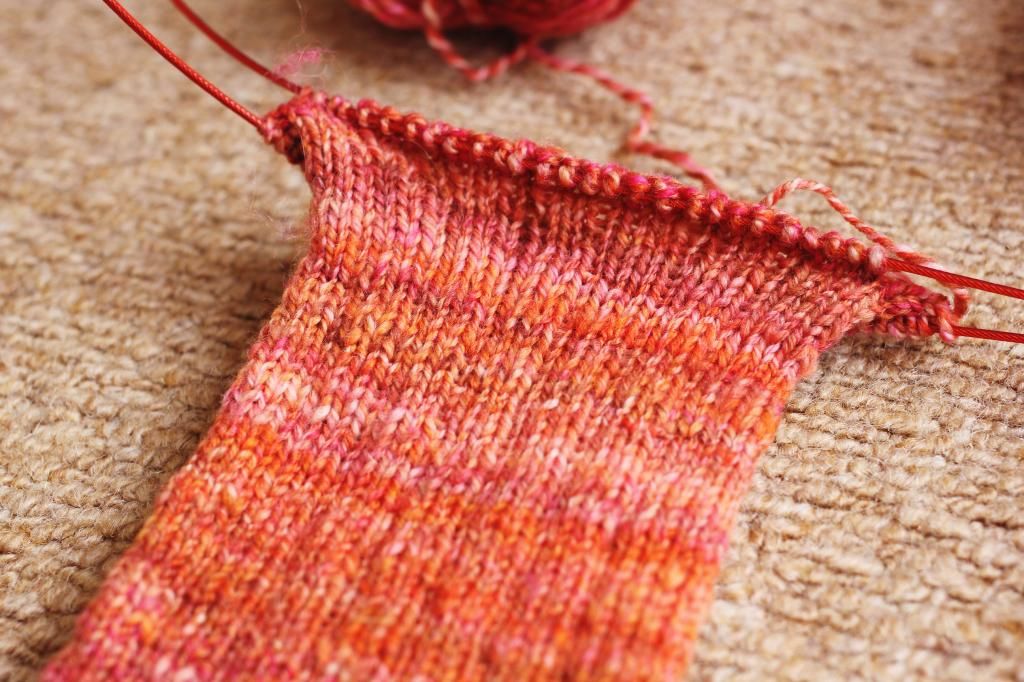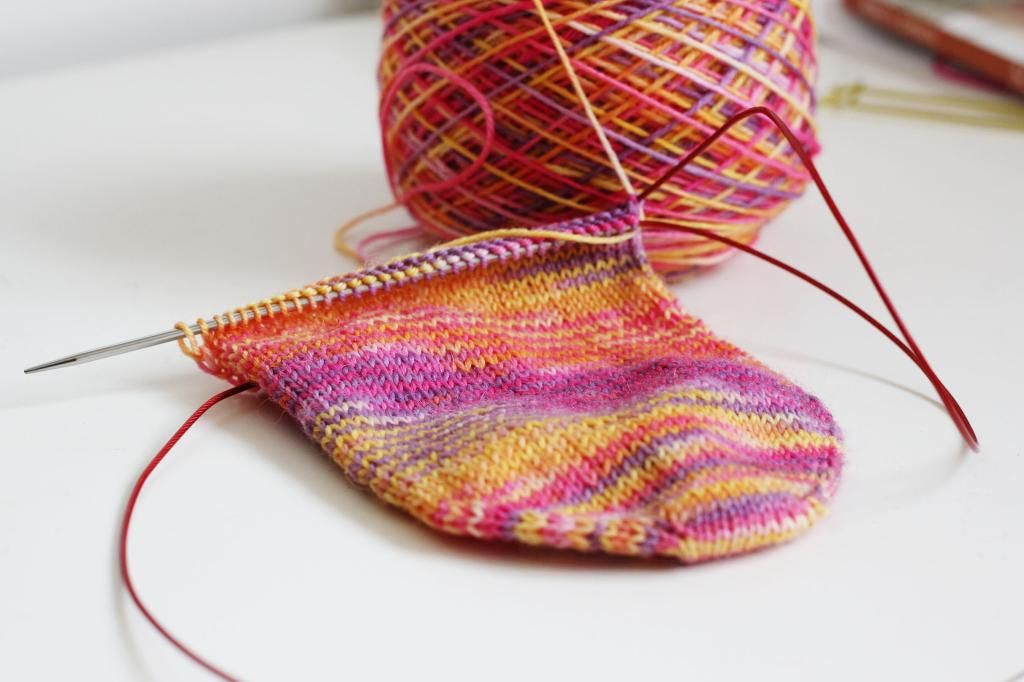 Because you always need a stockinette sock on the needles I cast on another toe up sock out of some hand dyed yarn that I'm not really in love with (I used a technique I don't usually use, and remembered why I don't use it!), but it's fun to watch the colours pool as I knit.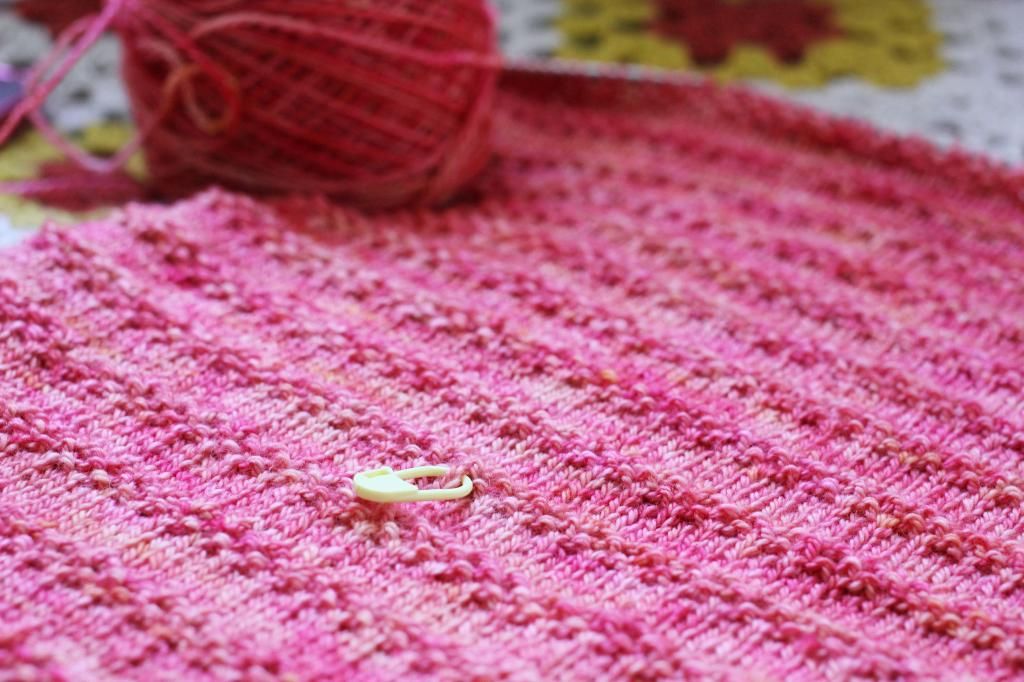 I put another seven inches on my
Less Is More Shawl
(which is more orange/coral than it looks in this photo) - the rows are getting longer so progress is slowing down, but I'm on the second skein of yarn now so it's over halfway done.
Finally for knitting, I finished my socks out 'Pinkalicious Rainbow' by
Yarnink
. The pattern is
Gusset Heel Basic Socks
by Wendy D. Johnson from
Socks From The Toe Up
. If you haven't knit toe up socks with a gusset before, I recommend them, they fit me so well.
Spinning wise, I spent about 3hrs winding
last week
's Yarn Nightmare. I'll restrain myself from ranting about my wonky equipment again - but because of the swift dropping, the hank was unskeinable and wouldn't go back on the swift to be wound. In the end I draped it over the newel post on the staircase and stood over it, hand winding all 1000yards into a ball before rewinding it into the above cake, on the ballwinder. It's huge, it's a brick of yarn that's currently sitting on my desk like a paperweight, while I decide what to do with it. (Spun from 200g of
Just A Daydream
batts in the 'Olive Bowl' colourway).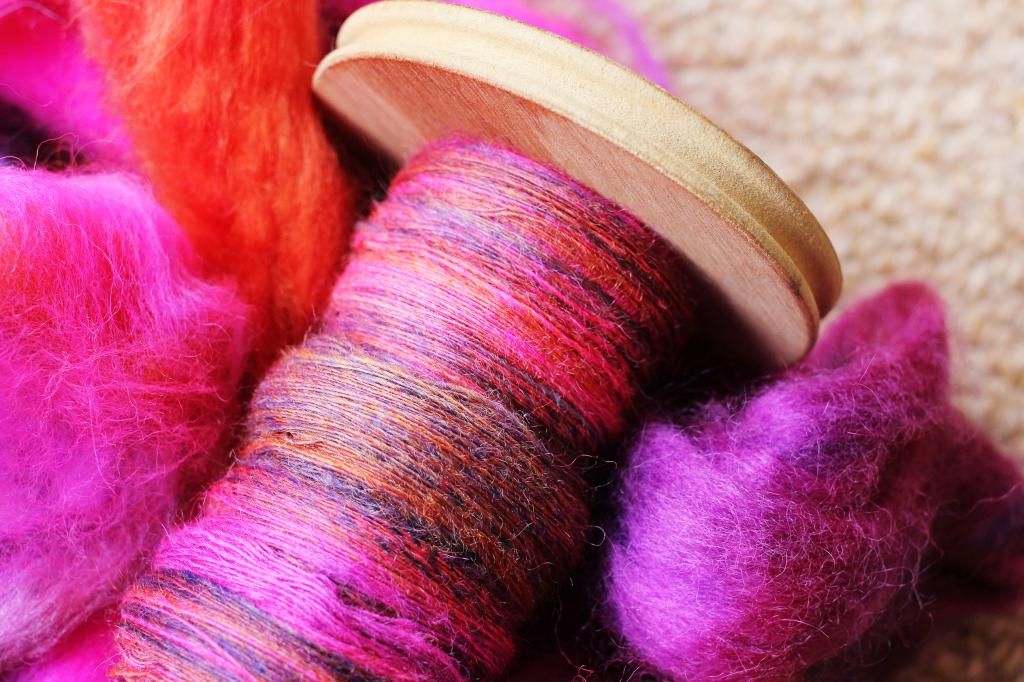 I finished spinning the first of three bobbins of BFL/Cashmere/Nylon by
Lime Green Jelly
(I met Jo, the lovely dyer and creative brain behind LGJ at knit night this week, which was fabulous). This will hopefully wind up as my second pair of handspun socks at some point in the distant future!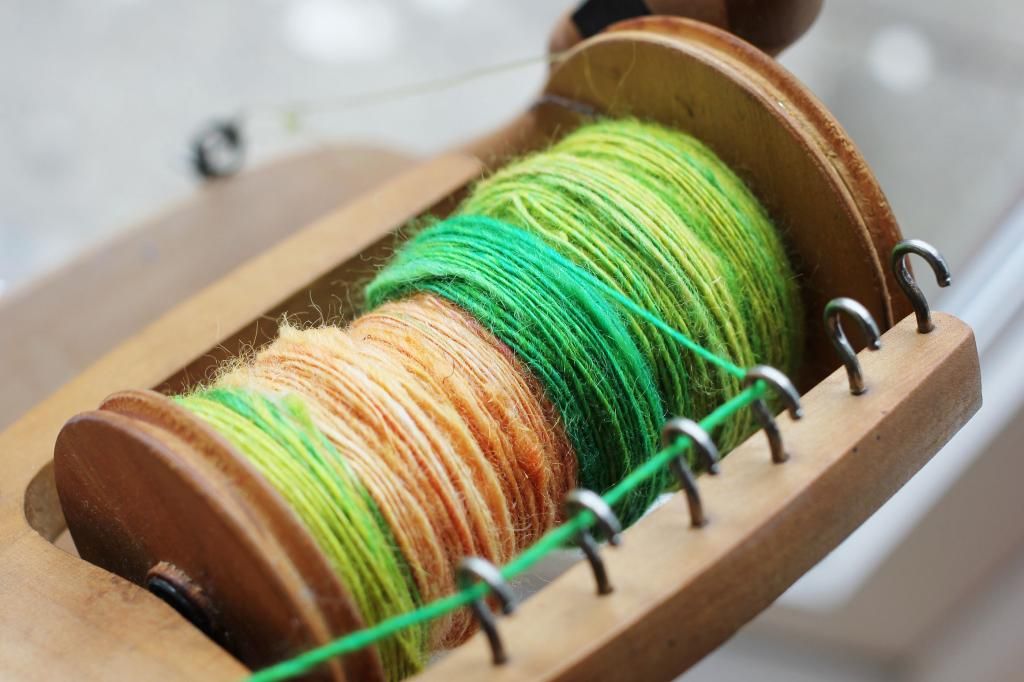 In order to not get bored spinning sock yarn (not with the fibre, which is fabulous, but spinning super fine takes a long time and sometimes I crave instant gratification!) I started spinning the crazy rainbow BFL I dyed last week, which I'm spinning thicker - and it's so much fun to watch the colours change. Even if they are super bright, which is a little out of my comfort zone!
I did a little bit of dyeing this week - some yarn that I'm going to knit up into a gift for friend (that I'll share photos of when I cast it on) and these two 50g braids of merino, which unlike the crazy BFL, are definitely in my comfort zone. These will probably by plied together and depending on the yardage may turn into mittens or maybe a hat.
In other news, I got a bus to a town that I'd never visited, to go to a local knitting group this week - which was lovely. I've been missing my Tuesday night knitting group and I love meeting knitters. Plus it's nice to get out of the house and do something, which I haven't done a whole lot of since I moved here. So that was fun and I'll definitely be going back.
Next week, I'll probably be a little light on the spinning and dyeing content because I'm heading to Bristol to visit my best friend in her yarn shop -
Alterknit Universe
. But I have 5hrs of train rides to fill with knitting, so I'm sure it'll balance out!
Happy Friday everyone!
♥