This week feels a little light on fibre related content, which is ridiculous as I have not one but two FO's, so I guess it's all swings and roundabouts. First up - I finished my handspun, hand dyed socks. They're a little big, but I'm ridiculously proud of them. The pattern is
Sport Weight Toe Up Socks With Gusset Heel
by
Wendy Johnson
, which is a free pattern and I'd recommend it wholeheartedly - I love a gusset heel. This is the first project I've knit with my handspun in 2015 - so I have another 9 to go until I hit my
Knitting Resolution
because I'm all about arbitrary goals!
My second finished object of the week is another pair of socks - the
Basketweave Rib Socks
by
Sarah Ronchetti
which is another free pattern on ravelry. I started them back in August and knit the first one in a couple of weeks, but stalled on the second one, which I knit the majority of this week. I'm really pleased with how they ended up and I'm glad they're off the needles. I enjoyed the pattern, but it's not one you can knit without thinking (Autopilot knitting as the
Knitmore's
call it) as I instinctively want to knit 2x2 rib.
After finishing two pairs of socks, I needed to cast on something new (primarily so I had knitting for the 4.5hr train journey I did this week!) and I finally found a pattern I liked for my 'Olive Bowl' handspun - it's the
Linus Shawl
by
Annett Cordes
which is
another
free pattern on ravelry. I do knit paid for patterns I promise! Just not this week apparently... I am really happy with how it's knitting up so far - I wanted something plain that would showcase the striping of the colours and this pattern works so well for that. I've gone down a needle size to 3.25mm (US 3) because my yarn is really fine and I intend to knit until I run out of yarn, and seeing as I have 1000yds that's going to keep me entertained for a while...
I also cast on for a child's sweater and knit a little more on my
Less Is More shawl
- which looks exactly the same as it did last week!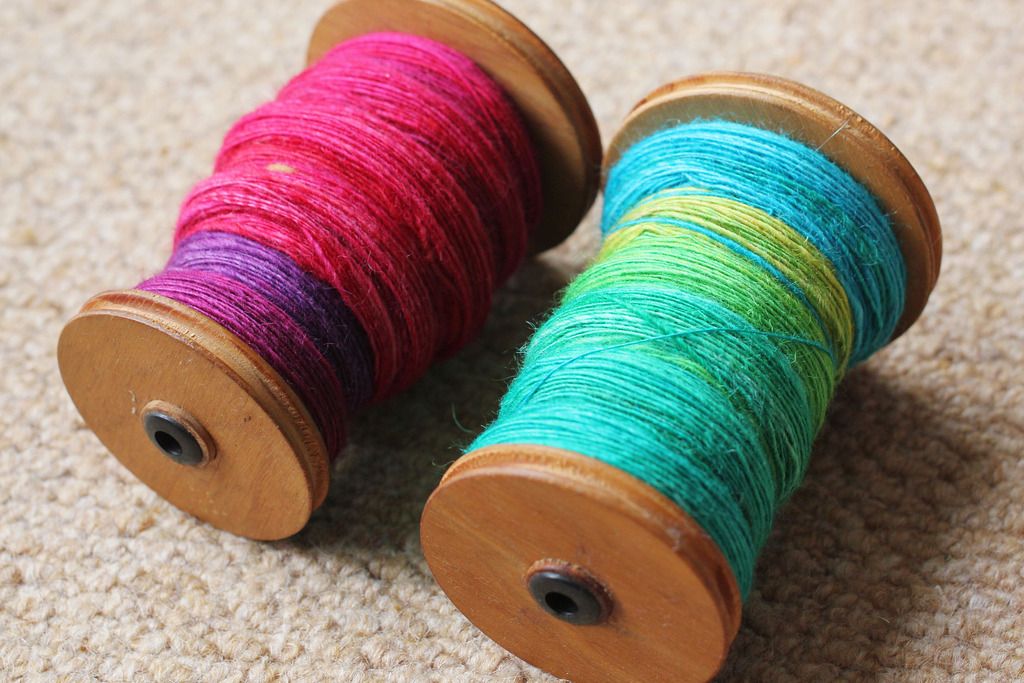 Spinning wise I plied my crazy rainbow of handdyed BFL and I'm actually pretty happy with it - although the colours are a little too bright for me! I got 275 yards - I need to work out the WPI count so I can decide what it's going to become, but it'll be a gift probably, because the colours are just too full on for me!
That's pretty much it for this week! I'm in Bristol visiting my friend Kim who is the owner of a fabulous little yarn shop called
Alterknit Universe
, so I'm helping* out for a while.
*if by helping you mean sitting on the shop sofa knitting...
I hope you've had a lovely week and have a wonderful weekend.
♥