I'd been planning to film a yarn haul video to share all the pretty things I picked up in Bristol, but I chickened out. There was just too much effort involved in making a space that was 'video friendly' and I'm having a terrible hair day, haha. But I thought I'd blog some of the yarn I purchased - because I love a good snoop into peoples yarn buying habits.
First up, from
Wool
in Bath - two balls of
Cashmerino Aran
by Debbie Bliss in 'Willow (shade 76)'. Usually I just buy sock yarn when I'm out on impulse yarn buying trips as there is always enough yardage in a skein of sock yarn for socks, or a shawl if you're so inclined, but I've been shopping for some commercially dyed aran yarn for a while. A blend of 55% Wool, 33% and 12 % Cashmere, it's a pretty squishy yarn (squishy is a technical term, right?) that I intend to use to knit another
Spring Beret
by Natalie Larson, as I really enjoyed the one I made for the
Buckalooview
Hat Swap and I want one for myself!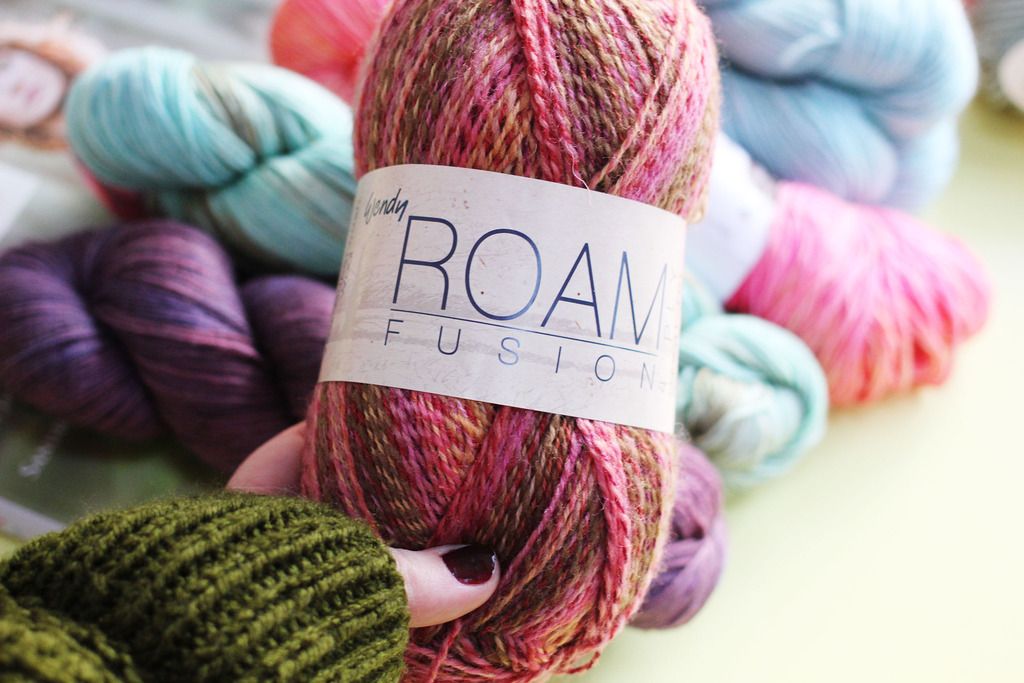 Next, I picked up a skein of
Roam Fushion
by Wendy in in the 'Heath (shade 2021)' colourway, as I was lured in by the pretty colours and the handspun-esque effect. 75% Wool, 25% Nylon fibre-wise this is a pretty standard sock yarn, although in my humble opinion it looks a little loosely plied - so I'll be interested to see how well it wears.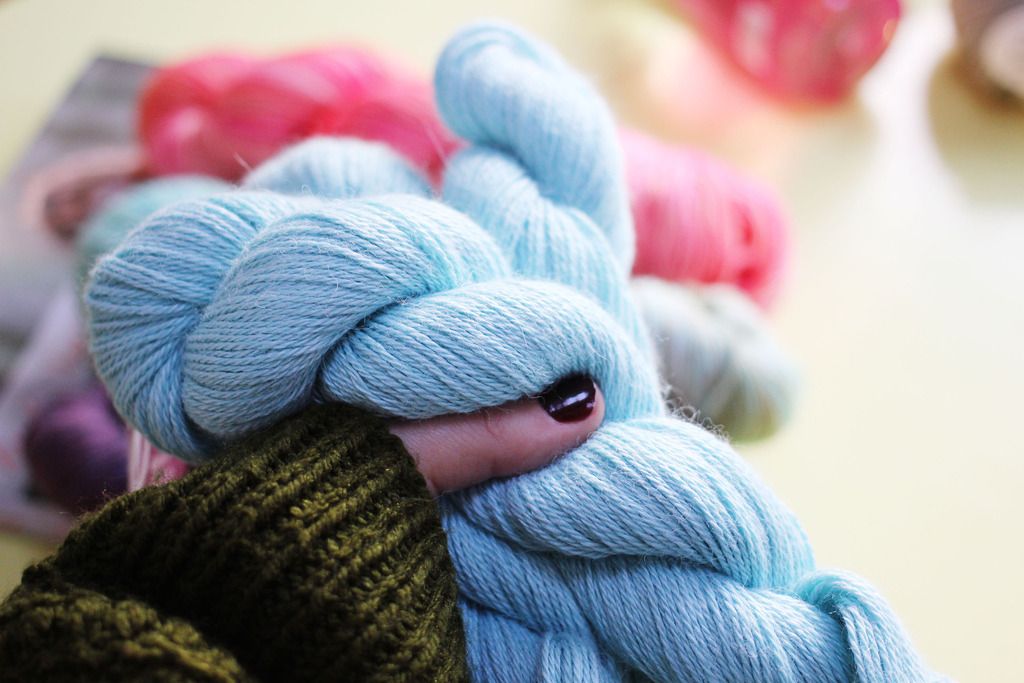 I also picked up 3 skeins of Artesano's
Alpaca Silk 4ply
which is 70% Alpaca, 30% Silk and is every bit as soft as you'd imagine! The store didn't have that many colours left but I chose 'Robin Egg' which is not really an Amy colour, but this will wind up being a gift for someone it'll suit much better (I find I'm a lot more likely to actually give the gift away if it's knit out of colours that I'm not overly fond of - I get very attached to my projects!)
I got overexcited in
A Yarn Story
. It's unusual for me to be in a shop with so many pretty hand dyed yarns and I spent ages trying to decide. I stuck to my rule of 'when in doubt, just by sock yarn' - it was such a nice change to get to touch the yarn before I bought it, as my hand dyed purchases are usually made online. I bought a skein of
Skein
'Top Draw' in the 'Blackcurrant' colourway. It's 85% Superwash Merino and 15% Nylon - I've been trying to buy more semi solid sock yarns, so I can knit some of the lace and cabled socks from my ravelry queue.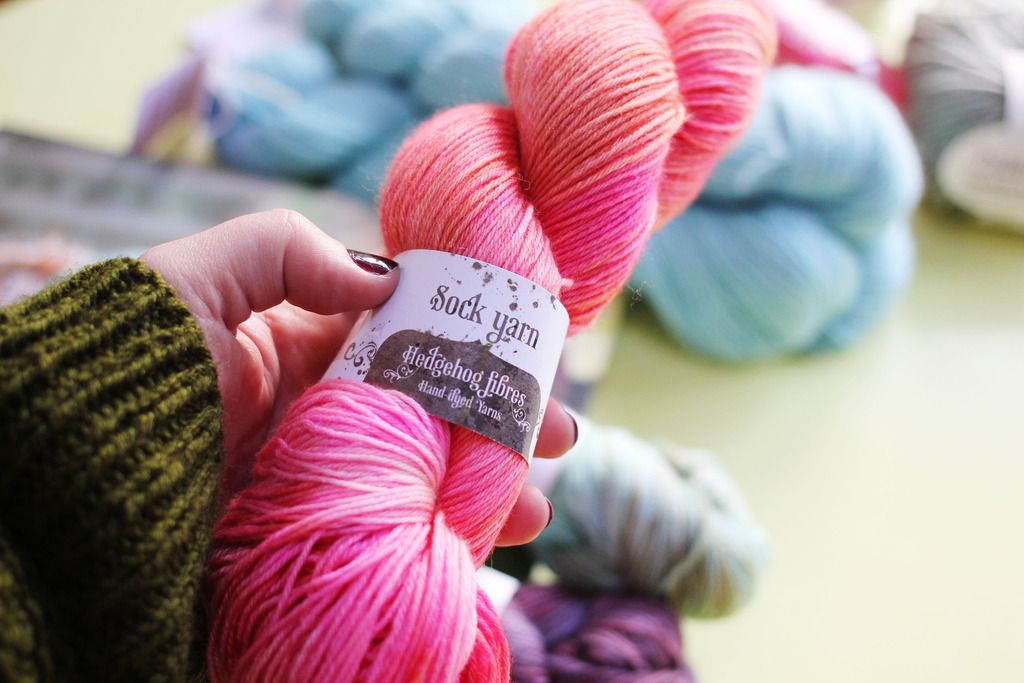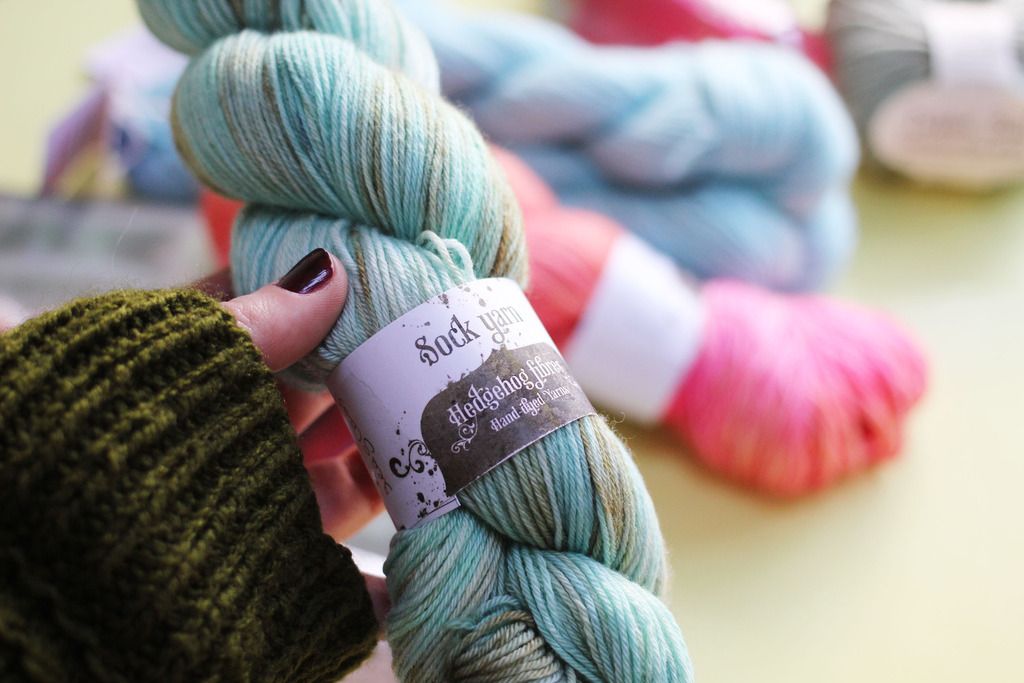 I also bought two skeins of '
Sock Yarn
' by
Hedgehog Fibres
, in 'Coral' and 'Seaglass'. Not only were the colours beautiful, the yarn is
so
soft - 90% Merino, 10% Nylon and 100% squishable. These are going to sit in the stash for a while and be admired, before I make incredible socks out of them.
I also bought some more acrylic for another baby sweater, a bottle of 'Celebration' scented Soak and a copy of
Knit, Swirl
by Sandra McIver - primarily because it was 99p in a charity shop, although it does have some very pretty cardigans in it.
Have you made any pretty yarn based purchases recently? Because I clearly need to be enabled... ;)
♥