It's going to be a short post this week as I've been away and although I got a lot of knitting done, I only had a couple of projects with me (thank heavens, as I still had to sit on my suitcase to get it closed).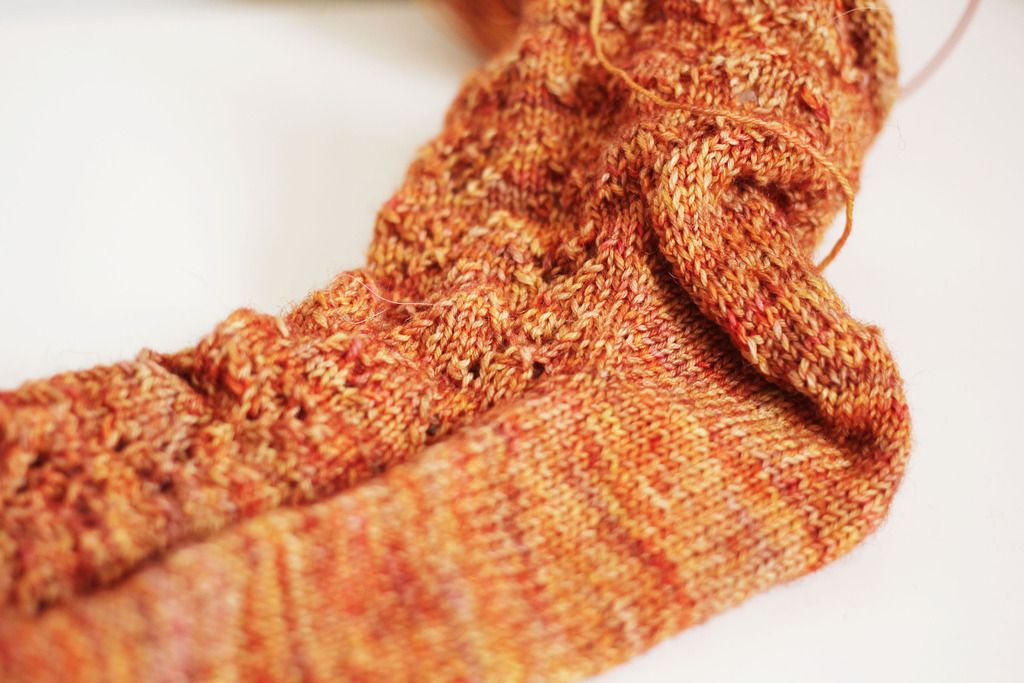 I finally got past the heel on my first
Tic-Tac-Toe-Up
sock designed by Wendy Johnson from her book
Socks From The Toe Up
. I'm knitting it on 2mm (US 0) needles out of some of my hand dyed yarn. I'm two pattern repeats into the leg and it's making slow progress - when I eventually finish the first sock, I'm going to have to cast the second one on straight away to stave off second sock syndrome! There's a reason my sock drawer is full of vanilla socks... haha.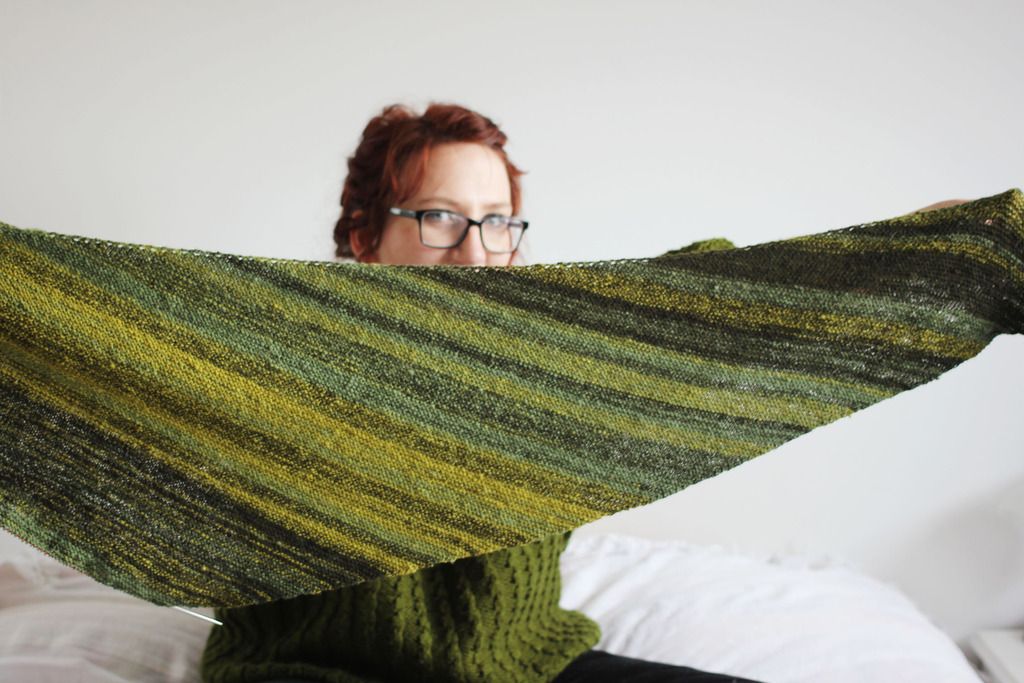 The project that's been worked on the most this week, is the
Linus Shawl
by
Annett Cordes
out of my handspun yarn from fibre by Just A Daydream - the 'Olive Bowl' colourway in case you're interested. I've knit between 600-700yards on this shawl in the ten days since I cast it on and I am in love with how it's knitting up. It's a garter stitch crescent shawl knit on the bias so it's got fabulous drape, but the rows are over 200 stitches wide now and I'm looking forward to finishing it.
Note: clearly I love green, it matches my jumper perfectly. Also, trying to grow out a full fringe is hell on earth!
This very very pink project hasn't had any work put it on this week, but I mentioned it last week and I wanted to share a photo. This is an old pattern from my collection -
Sirdar 1310
- it's a child's sweater pattern with a texture pattern at the top to add interest. I knit it a few years back for a lady in my knitting group who was expecting and now I'm knitting it again for my friend's little girl's first birthday. I'm knitting the 2-3yr size so it'll probably fit her very petite mother, but I like there to be growing room in gifts for children! Especially as she's unlikely to need a sweater on her birthday (in May)... I've modified it to knit in the round up to the armholes and I'm using
Rico Baby So Soft
in colour '014' which is 100% acrylic as Becky was adamant that anything hand knit needed to be easily washed and dried. I am a fibre snob, I buy the best yarn I can afford and don't work with acrylic all too often, but I think this is the best acrylic I've used so far - I'll keep you posted on that.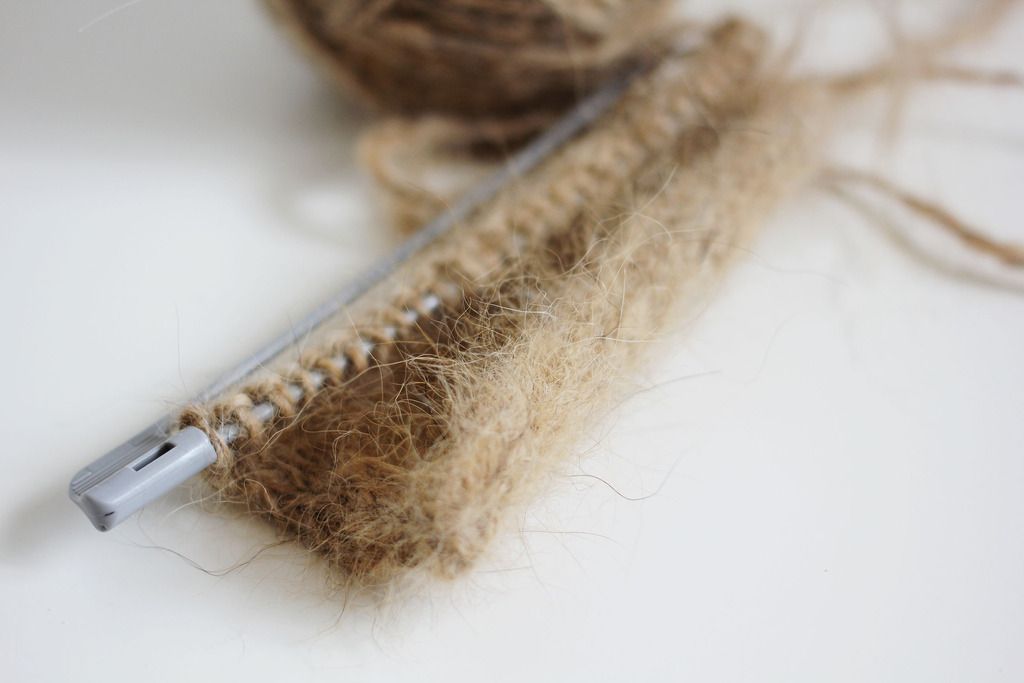 Finally, something that's a little bit out of the box: I've been swatching for a sweater knit from dog hair(?!). The dog hair's being spun by Kim and I agreed to knit it up, before smelling it! I am not a dog person and it's definitely
pretty
pungent!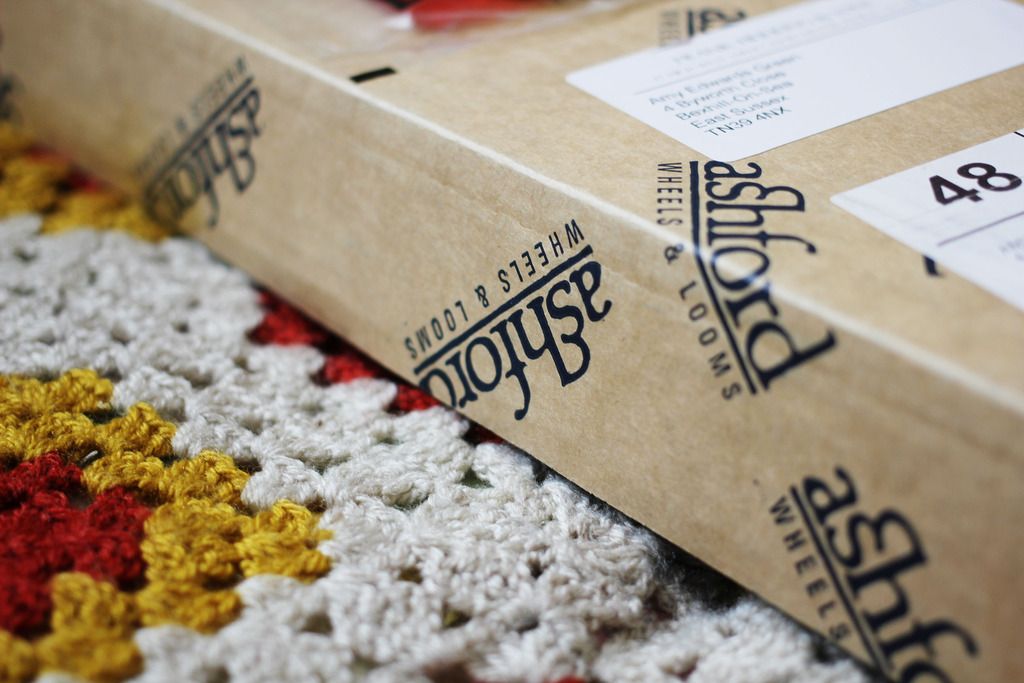 Also, I arrived home this afternoon to find my skein winder has arrived! I bought the
Ashford Kiwi Skein Winder
which I'm going to spend the rest of the evening putting together because I can't wait to try it out! No more tangled yarn nightmares here!
I hope you've all had a lovely week and have a yarn filled weekend!
♥