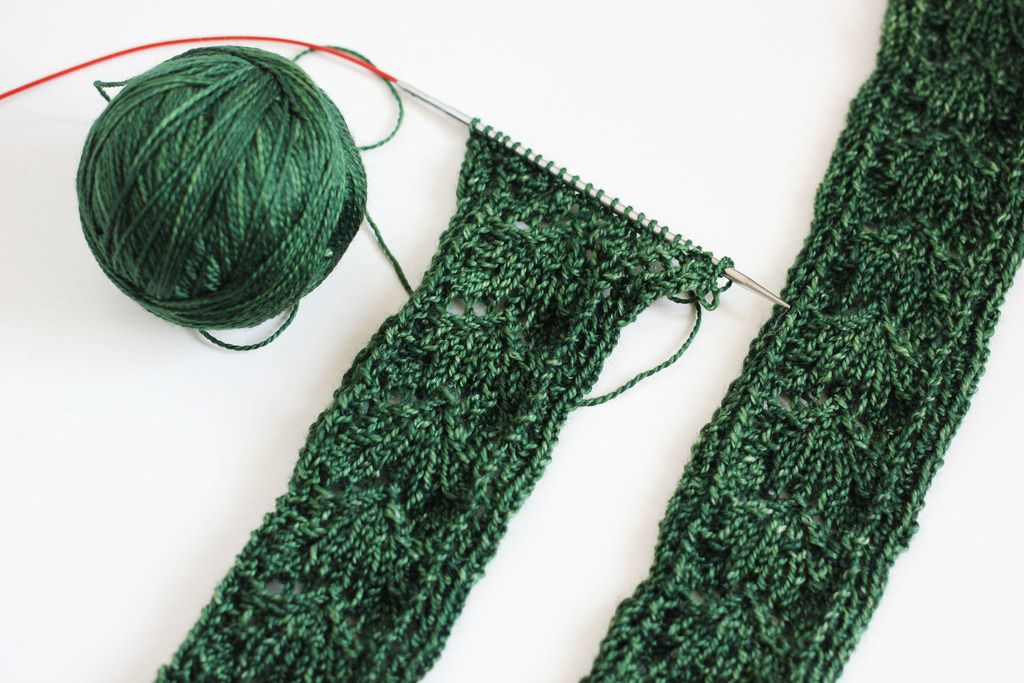 I'm not entirely sure how it's Friday again - time sure is flying! I refuse to believe next weekend is Easter (although I have a big bag of Cadbury's Mini Eggs to celebrate with - because no one diets on Easter, right?!) Anyway. Knitting. This week I put a few hours of work into my
Old Romance
cardigan by
Joji Locatelli
. I'm still on the lace inserts for the sleeves, but I'm on the second one now, which didn't exist this time last week. I'm knitting it out of
Madeline Tosh Sock
in the 'Moorland' colourway with a couple of modifications from
Ittybitty
on ravelry. Hopefully by next week I'll have finished the inserts and be on to the swathes of stockinette...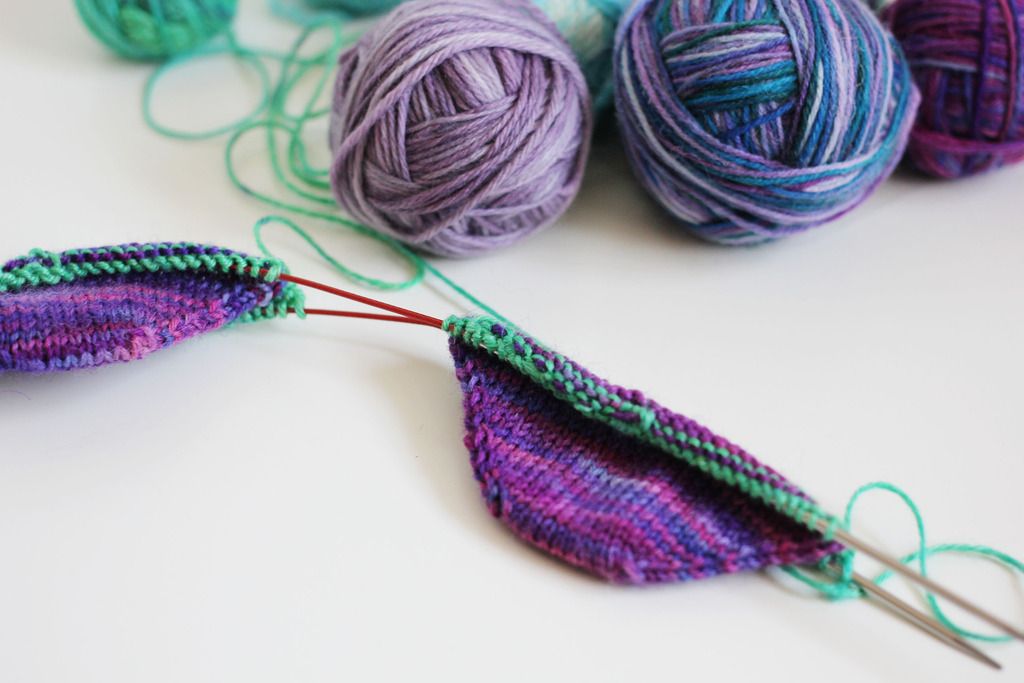 I frogged a handdyed vanilla sock I had on the needles because I didn't like how it was knitting up and the colours just weren't me, so I had an empty set of sock needles - which is criminal, so obviously I had to cast on for more socks. I only started them last night, they're going to be striped scrap yarn socks as my jar of leftover sock yarn is overflowing and I haven't made any scrappy socks in a while. I knit them two-at-a-time which is unusual for me (not as instant gratification-y!) but I like the stripes to be the same width on each sock so they look sort of matching. As you can see I've only done the toes so far, but they'll probably be toe up socks with a gusset heel as they fit me best.
I also put another couple of inches on the pink acrylic children's jumper that I mentioned
last week
but it's still plain stockinette in the round so didn't warrant a photograph.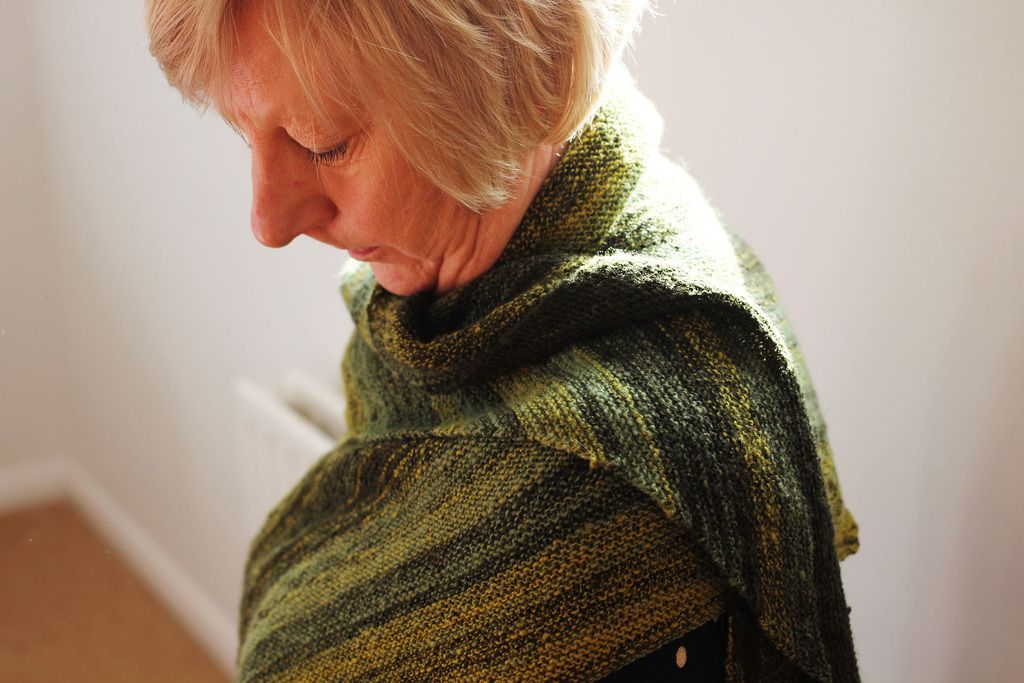 On to the bulk of this week's knitting - my
Linus Shawl
by
Annett Cordes
out of my handspun (from fibre by
Just A Daydream
in the 'Olive Bowl' colourway) is finished. 1000 yards of yarn in just over a fortnight - that is a lot of garter stitch! Modelled here by my ever obliging mother - thanks Mum - it still needs blocking, but the biggest bit of unused floorspace, aka: blocking space, in the house is currently being taken up by Mum's
Hitchhiker shawl
(also out of my handspun) - I'll try and get a picture of it for next week, it's super pretty. I want to take a break from shawls but I have two more I need to cast on before that can happen.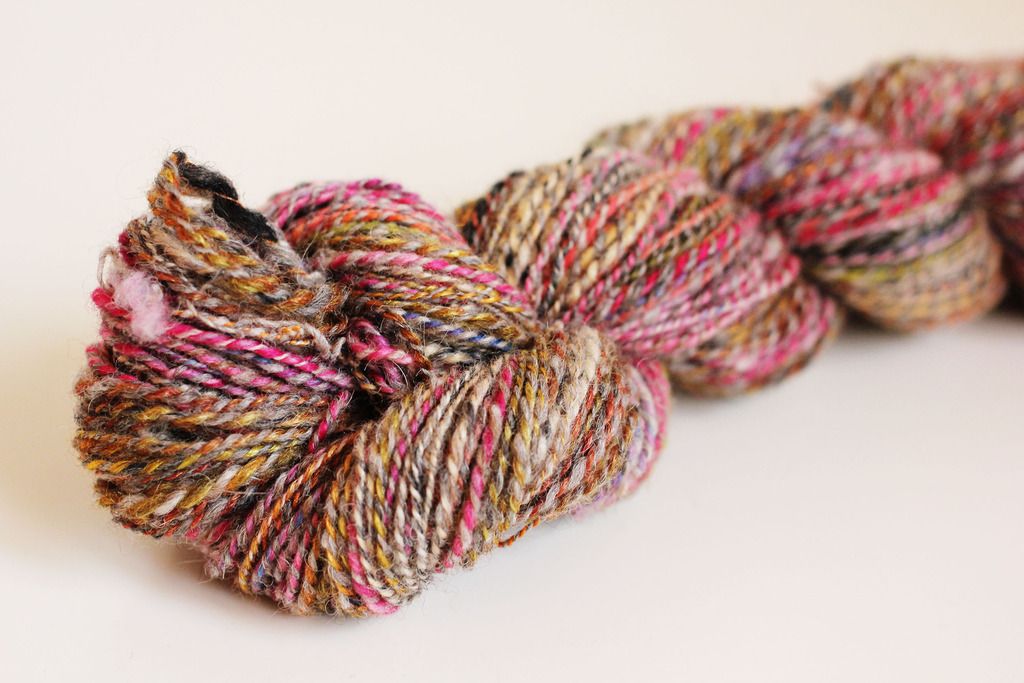 On to spinning and I've barely touched my wheel this week, but I did wind my skien of Frankenyarn off the bobbin (using my lovely new skein winder) and I love how it looks. I didn't measure the yardage and it's probably never going to get used for anything, but it was a bit of extra plying practise and I like all the colours together - grey really ties things in well!
Dyeing-wise, this is the yarn that I started knitting a sock out of a few weeks ago, reskeined and ready to be over dyed...
...and here it is afterwards! Much more my colours - proof that yarn is pretty much always salvageable! Eventually it'll make it's way back into socks, but for now it's sitting on my desk looking pretty.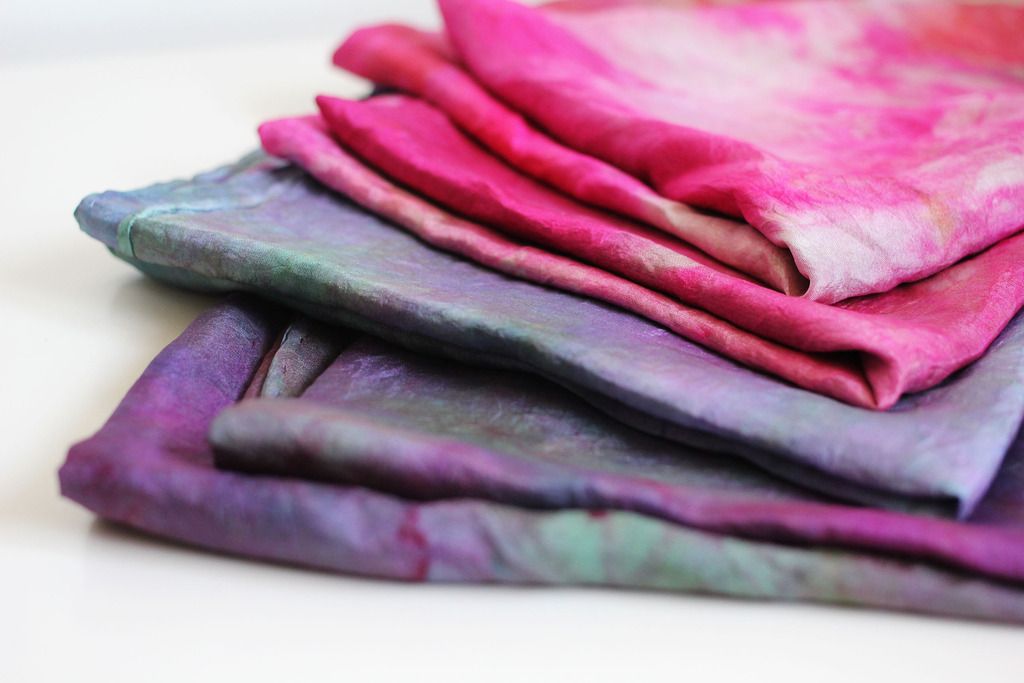 I also dyed some silk scarves that I picked up at a ridiculously discounted price when I worked in a craft store a couple of years ago - it's my first time dyeing silk and it was really enjoyable. I think I might try dyeing some silk hankies for spinning soon...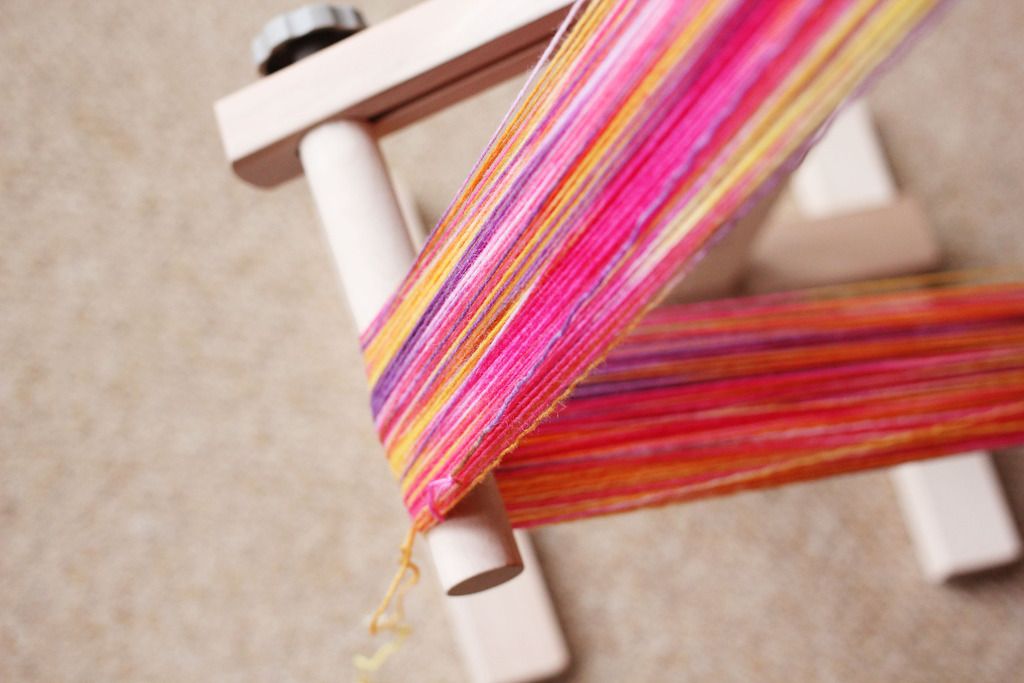 Finally I wanted to give my skein winder a quick mention - I'll probably do a little review on it when I've had a chance to use it a bit more, as I couldn't find many reviews on it before I purchased it and I'm not sure about you, but I like to know what I'm buying! It's an
Ashford Kiwi Skein Winder
and I'm pretty happy with it so far - it's a lot easier to wind skeins on than my umbrella swift, I can tell you!
That's pretty much it for this week, I hope you have a lovely weekend. I intend to spend mine relaxing before I start my new job on Monday, dyeing a bit more yarn and watching The Voice UK semi finals because I have a crush on Ricky from the Kaiser Chiefs! ;)
♥