This week marks six months of Fibre Friday posts - which is a landmark I think, for me, if no one else. When I started this blog I was struggling with both my knitting mojo and my ability to stick to schedules of any kind, so some progress has been made! This week I have a lot of socks - including a finished object that I completely forgot to mention last week... Oops! Scatter brained.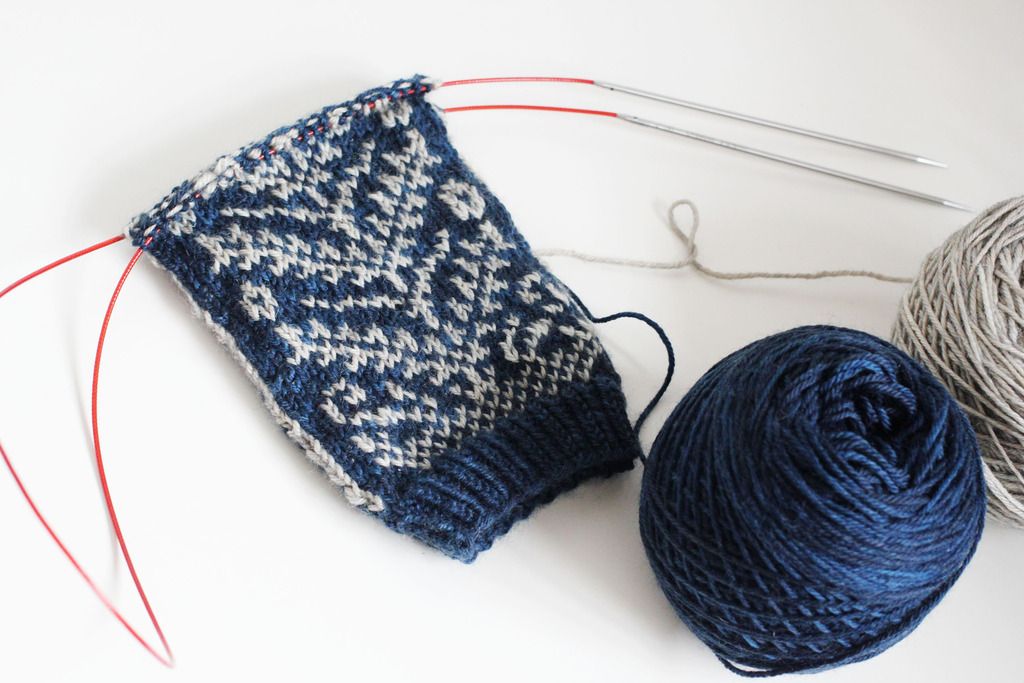 Firstly, I started a non-sock project. The
Prickly Thistle Mittens
by
SpillyJane
have been in my ravelry queue for about a year; I picked up the yarn for them from The Knitting & Stitching show last October, and it's been sitting in the stash ever since. This week, I finally downloaded the pattern and cast them. Incidentally,
SpillyJane
has some wonderful colourwork patterns for sale on ravelry and throughout the month of August they're all $3 - which is about £2.38 including VAT, so I think I'll be stocking up on a couple more of her designs before the month is out! The colourscheme for these has been shamelessly purloined from
the pair
knit by
Helena aka IgnorantBliss
, as I think it's beautiful! I'm knitting these out of
Eden Cottage Yarns
in
Oakworth DK
in the 'Midnight' colourway and
Bowland DK
in the 'Steel' colourway. I very rarely knit colourwork patterns and I'm not really sure why this is - I'm really enjoying them so far!
On to the socks and my handspun 'Autumn Rainbow' socks are finished! Made with fibre dyed by
Taylor Made Yarns
, these are the best pair of handspun socks I've made yet. I love the colours - I'm really glad I decided to Navajo ply the singles as it's kept the colours much more clean and crisp. They don't match, but I think matching is overrated!
The project I completely forgot to talk about last week are my finished
Budleigh
socks by
Rachel Coopey
. These are from her book
Coop Knits Socks
, and knit out of
Skein
'Top Draw' in the 'Blackcurrant' colourway. I love them, aside from the above handspun socks, these are my favourite (and probably most accomplished) of all the socks I've knit so far.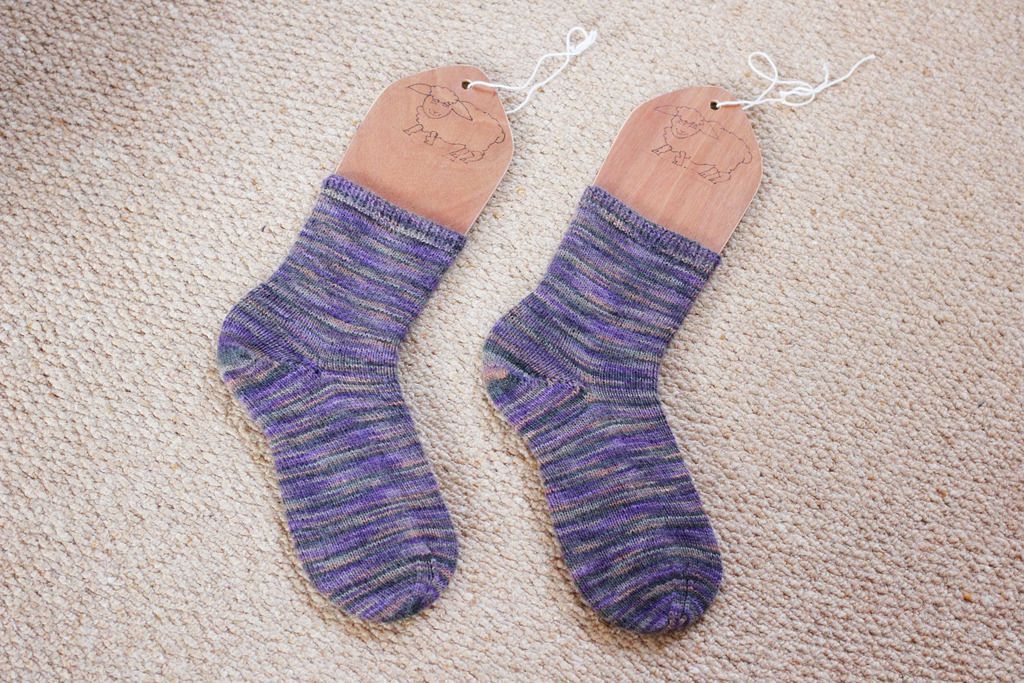 I also finished my second Austermann sock, knit out of
Austermann Step
in the 'Aubergine Easy' colourway. A simple vanilla pattern meant I knit almost an entire sock (bar toe decreases) last Saturday at a friend's barbecue. Nothing to write home about, but another pair for the drawer!
More socks - and I got two pattern repeats done on the toe of my second
Seaweed
sock by
Wendy D. Johnson
. I'm knitting them out of a Merino/Nylon/Stellina blend from
Hand Dyed by Kate
in the 'Midnight Sparkle' colourway. I'm hoping to get these done in time to count them for Stash Dash - so this week they're going to replace my mittens as my 'At Home Evening Knitting'.
Because I need categories for all of my knitting!
Finally on the sock front, I cast on for another pair of vanilla socks - to replace the Austermann socks as on-the-go knitting. The first sock aside from the heel, is done! And I've cast on for the toe of the second sock - I wound off a colour repeat of the yarn so I could start the second sock in the same place, so hopefully they'll match! I'm knitting them out of
Fortissima Mexiko
in the colourway '252'. This is the first time I've used this particular yarn and I'm not very impressed - the colours are fine and there aren't any knots so far, but for a 75/25 superwash wool / nylon blend, it's so stiff and scratchy. I'm not someone who touches wool and says 'Oh it's too itchy, I can't wear it!' (
Truth be told, I scoff at these people and leave them to their acrylic - unless they have an actual allergy or something, then I feel immense pity for them. Imagine not being able to wear wool?!)
but this yarn sure is sturdy. It'll probably wear incredibly well, but I think I'm going to soak my socks in some conditioner to try and soften them up a little, when they're finished.
On to spinning and I've finished spinning the braid of Polwarth/Baby Alpaca/Nylon from
Playsweetmusic
- after spending the whole of Sunday afternoon spinning out on the patio in the sunshine!
I've started spinning some Merino in a variety of pinks and purples, that I picked up from Heather at
Little Owl Crafts
at the Knitting & Stitching show at Ally Pally last year. I love Heather's fibre (and Heather herself is a darling) and this will eventually be plied with the above bobbin of Playsweetmusic singles, to hopefully have enough yardage for a Baby Surprise Jacket!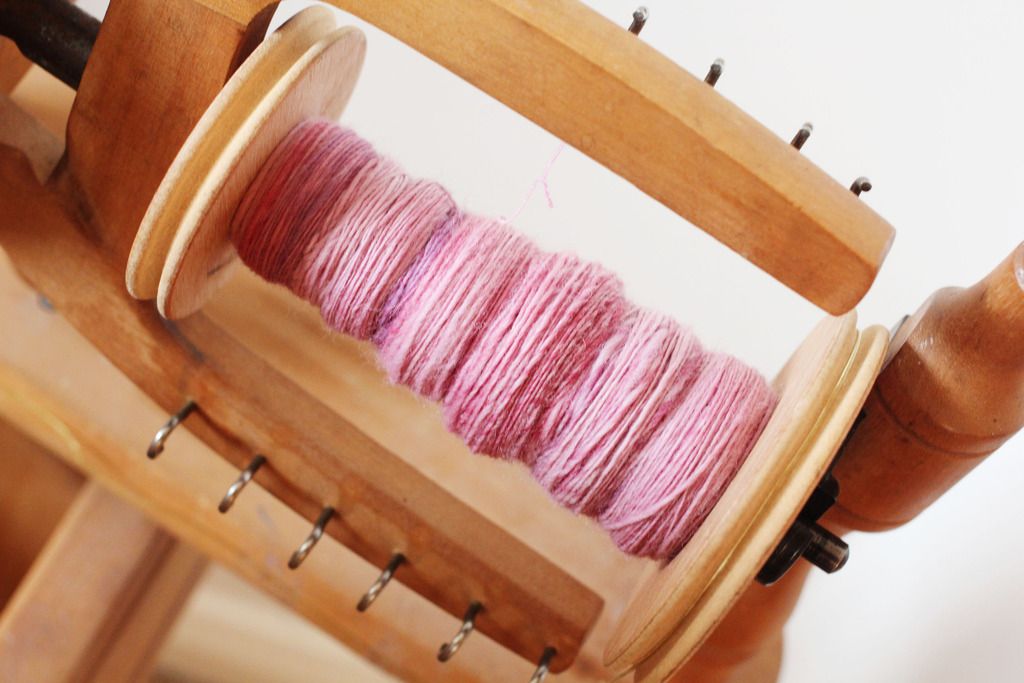 This is how it's spinning up so far - I'm pretty happy with it! Just need to sit down and finish it...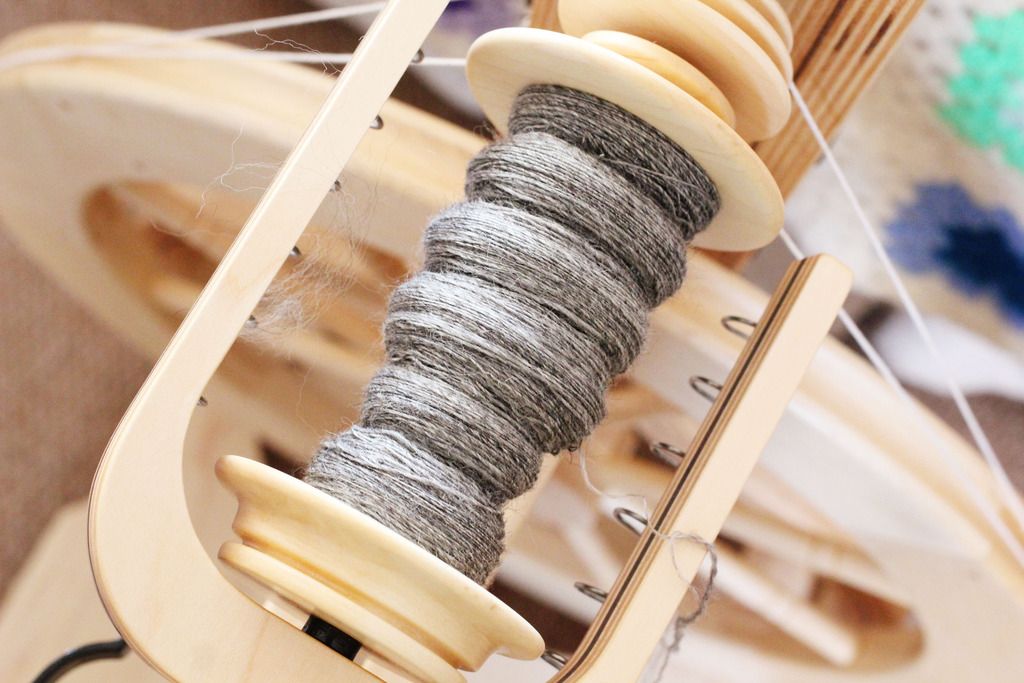 I talked about the reason I haven't made much progress on any other spinning, in
yesterday's post
. My Schacht Matchless arrived this week! I've only had one day to spin on it so far
(I find this whole 'Having A Job' thing takes up way too much of my time!)
and I love it. I'm using some mystery fibre - probably Merino, from deep stash, to practise on and I'm really happy with it so far! The double treadle is fabulous, and I'm trying to get my head around spinning in Double Drive as opposed to Scotch Tension (the Matchless does both, but I wanted to try out DD).
After Tour De Fleece, I've realised that my fibre stash is looking a little depleted - so I think there maybe a bit of stash enhancing happening over the next few weeks! This week I ordered these gorgeous batts from
Nunoco
in the colourwary 'Oudh'. They're Merino, Silk and Silk Noil - the same as the 'Wild Wood' batts I spun a
couple of weeks back
, and I'm putting them aside to spin on the Matchless!
Okay. I think that's covered everything! This post is going up slightly later than planned, as I had to abandon writing it halfway through - as I fell asleep at the keyboard! Haha. Anyway, I'm going to a local wool fair today, which should be fun. I hope you have a lovely weekend!
♥