Hi everyone. I promise Fibre Friday won't be posted on a Saturday every week, last week I fell asleep at my computer, this week I was hampered by technical difficulties! Anyway, I managed to get a fair amount of knitting done this week - in time to count yardage for Stash Dash!
The first thing I finished were my
Seaweed Socks
by
Wendy D. Johnson
. Last week I was only a couple of repeats into the foot of the second sock, but the lace pattern knits up fairly quickly and they're quite short socks so it didn't take too long to get them done. These were knitted out of yarn v
by
Hand Dyed by Kate
in the 'Midnight Sparkle' colourway - you can't really see here, but the 5% Stellina content gives them such a twinkly effect in the sunlight.
I also finished my affectionately named 'Hot Coals Socks', I put the second afterthought heel in last night and kitchenered the heel closed at just gone 10pm British-Summer-Time. I always forget that afterthought heels take so much longer than I think! These were knitted out of
Fortissimo Mexico
in the colourway '252'. I'm hoping the yarn will soften a little after washing, as it's very sturdy and hard at the moment, but even if it doesn't, I think these socks will wear like iron!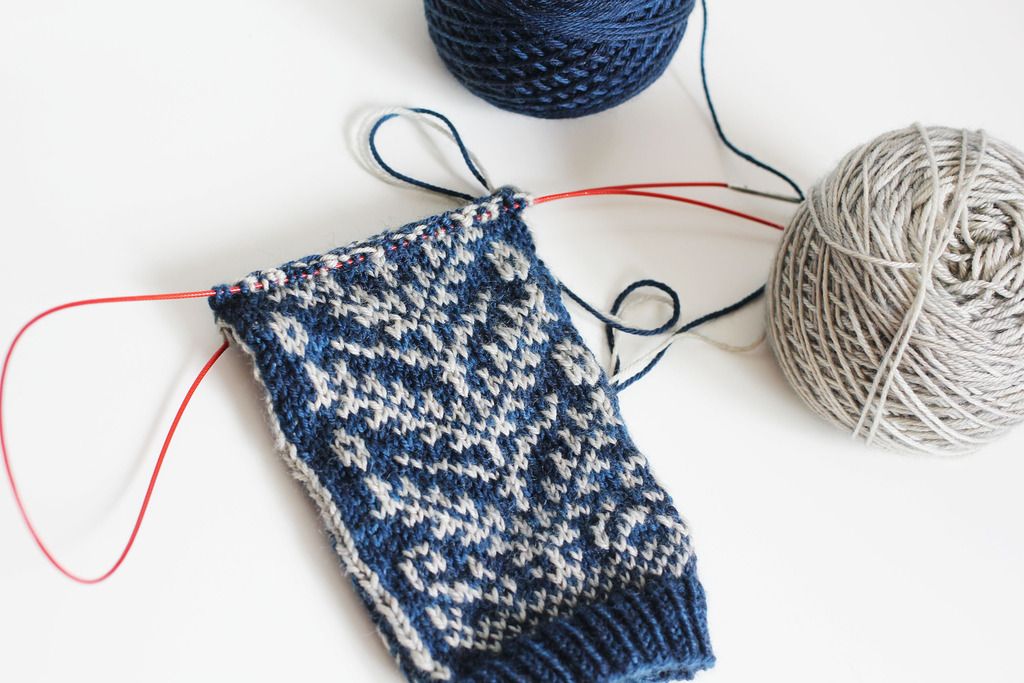 You can be forgiven for not noticing any progress on the
Prickly Thistle Mitten
s by
SpillyJane
- I put four rows on the first mitten in bed this morning, as I finished everything else last night! These are being knit out of
Eden Cottage Yarns
- the
Oakworth DK
in the 'Midnight' colourway and the
Bowland DK
in the 'Steel' colourway. Now that Stash Dash is over, these will be getting a lot more love.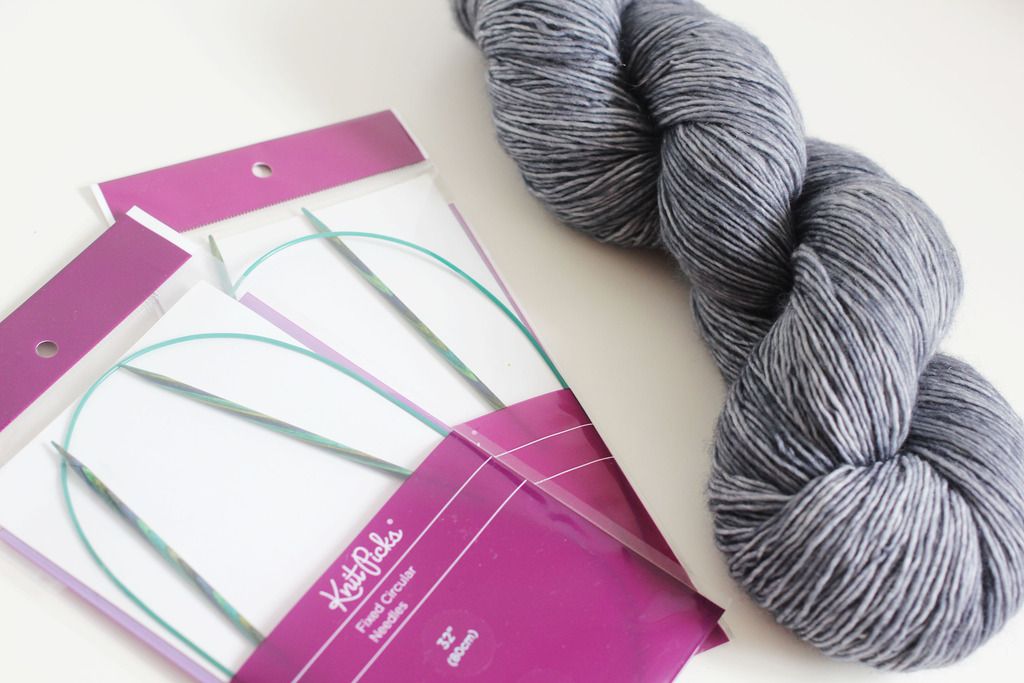 Speaking of Stash Dash being over, I'm currently in the mood to cast on ALL THE THINGS. Haha. I've pulled yarn and needles to knit a
Slable hat
by Woolly Wormhead - more details when it's cast on, but I'm excited to use my KnitPicks Caspian needles for the first time!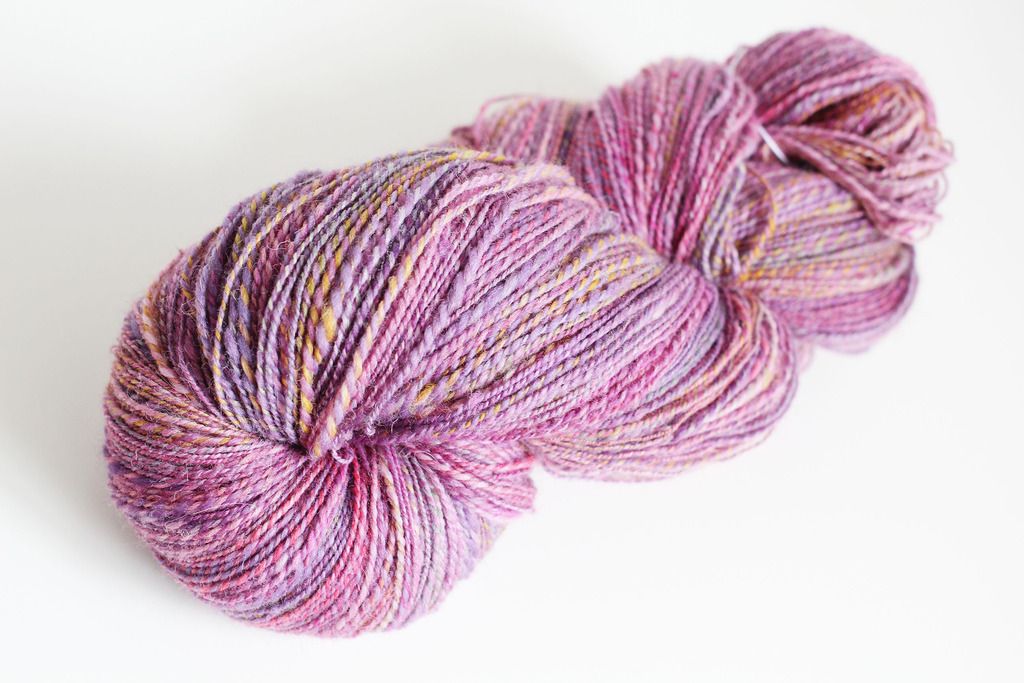 Spinning-wise I monogamously worked on my
Playsweetmusic
-
Little Owl Crafts
2ply this week - I finished spinning on Monday, started plying on Tuesday and wound it off and counted yardage on Thurday. I got 685m of a 2ply fingering weight, initially I was planning to knit a Baby Surprise Jacket out of this fibre, but I spun it too thin (the perils of spinning so much sock yarn!) so it'll probably be a shawl.
This morning I decided to start re-blocking some of my older shawls, starting with the
Ishbel
by
Ysolda Teague
, that I knit last summer out of a skein of
Treskilion Yarns
. It'd got so tiny over time that I didn't wear it anymore, so blocking should remedy that. My mum's seen it on the mats in our living room and claimed it for herself, so I guess that's one thing less to put back in the wardrobe!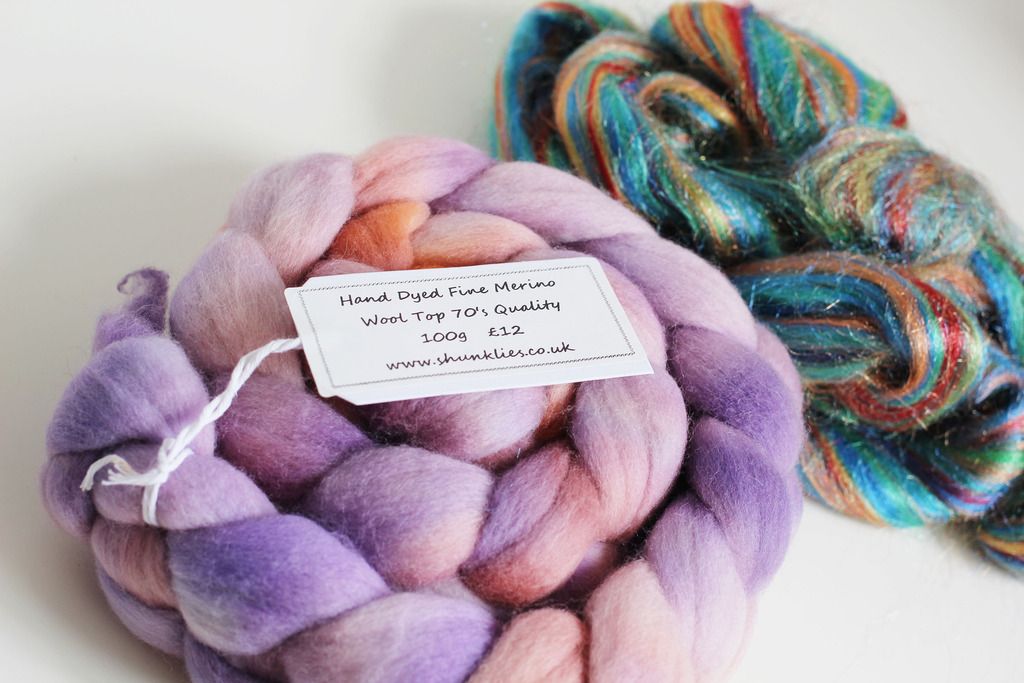 I also did a little bit of stash enhancing this week - obviously I need things to spin on my new wheel! Above there's a braid of Merino from
Shunklies
(and Joanne was nice enough to include 50g of rainbow Trilobal Nylon as there was a shipping mix up with my order). And below there's two braids from
Spin Pretty
, the blue is a 50% Merino, 25% BFL, 25% Nylon blend (perfect for socks!) and the pinky-red is a 50/50 Merino and Baby Camel.
Right. I'm off to cast on my Slable hat and fetch my blocking Seaweed Socks in from the garden as it looks like rain! Again, apologies for the delay. I cannot wait to have a working laptop again!
♥