Last week I had three FO's and this week I have none! Instead I was too preoccupied with casting on all the things after Stash Dash - and looking at everything here, clearly it was the Week of Grey (no Fifty Shades jokes please, this is a highbrow place! :p )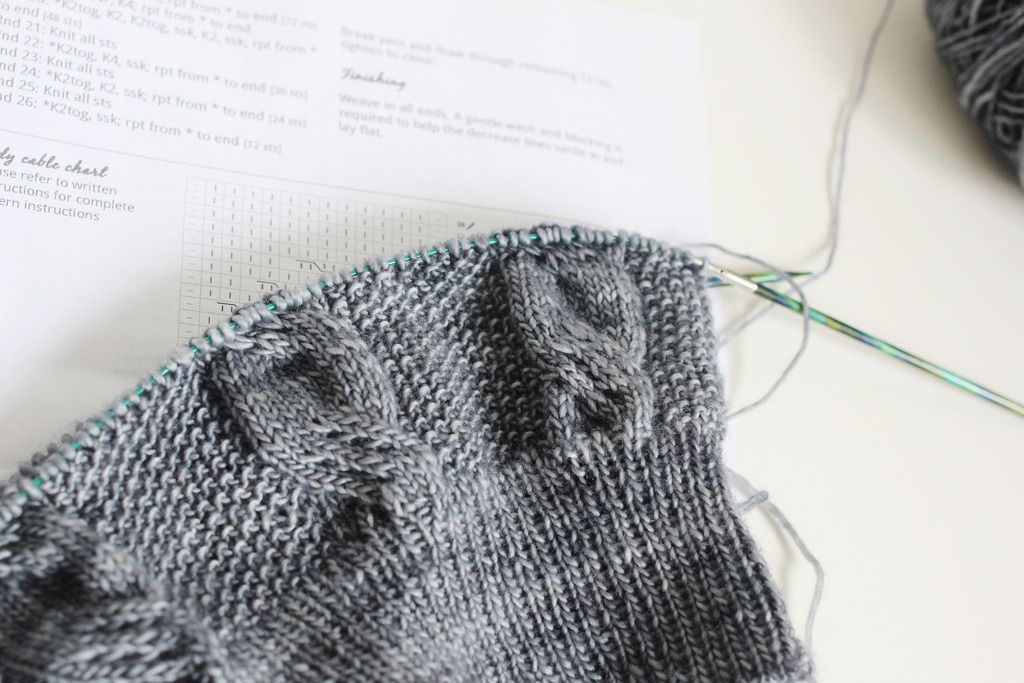 Last week I talked about wanting to cast on for a
Slable hat
by
Woolly Wormhead
- which I started this week - out of Madeline Tosh '
Tosh Merino Light
' in the 'Charcoal' colourway, that I picked up when I was in New York City about 18 months ago (from the lovely
Purl Soho
). I'm onto the second repeat of the cable chart and I love how it's knitting up so far - the stitch definition is beautiful. I think I'm going to knit three repeats of the cable pattern before I start the decreases, so it's nice and slouchy.
I cast on for the
Strie socks
from
Sock Architecture
by
Lara Neel
. I'm knitting the toe up version, out of some hand dyed sock yarn from earlier in the year. I changed the heel to a short row heel, as I was knitting it on my lunch break at work and didn't have the instructions for any of Lara's fancier heels! This will be the third project knit from a book I own, which was a
2015 Knitting Resolution
. Only 7 more things until I'm done(!?!). This particular pair of socks is going to be a Christmas gift for a very good friend of mine.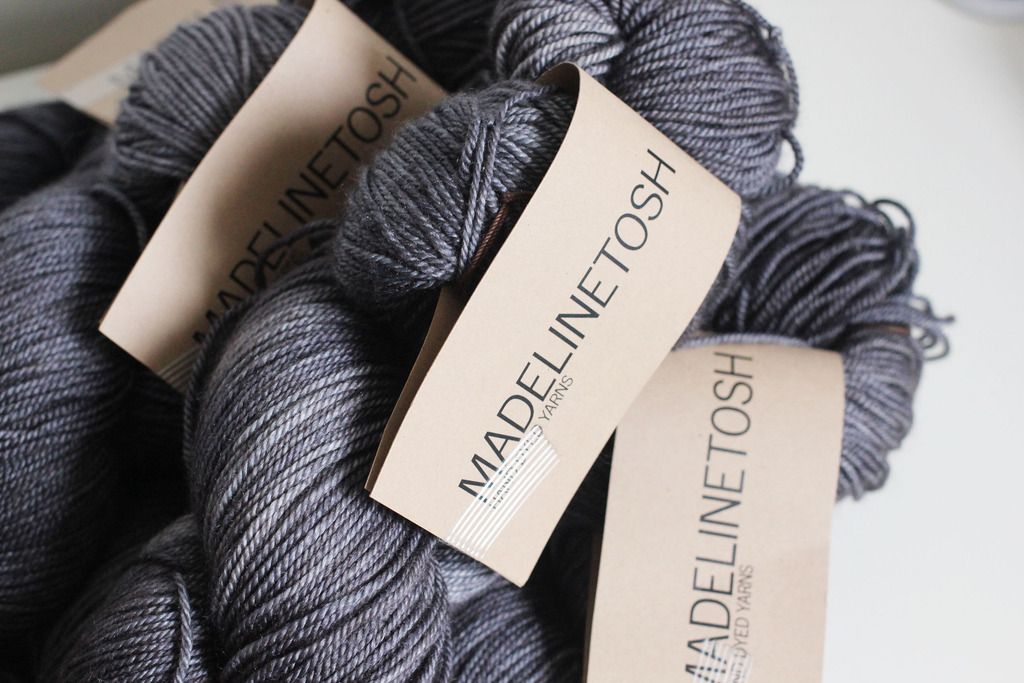 I had a bit of a low moment the other night, when I realised that despite being an avid knitter, my
Old Romance cardigan
is the only knit sweater I have that actually looks decent on me. My body shape has changed quite a lot of the past two years and I'm very much a rounder person, not quite plus-size anymore, but there is still plenty of me to go around, if you get my drift! So lots of the jumpers I've knit in the past just don't work for my figure.
What I'm really trying to do here is justify that I spent over a £100 on
Madeline Tosh Pashmina
yarn to knit a
Pomme de Pin cardigan
by
Amy Christoffers
. I'm at a stage where I think cardigans will flatter me more than big sweaters, and the Pomme de Pin has been in my ravelry queue for a long while now, so I'll be swatching for that this weekend. The colourway I went for was 'Leopard' - as grey goes with everything!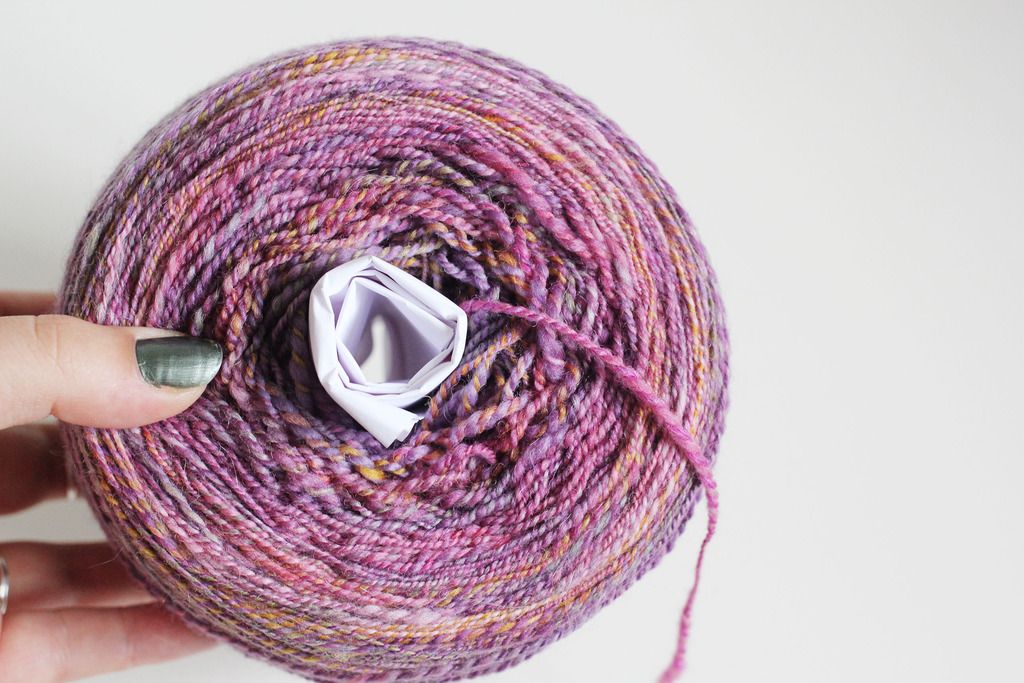 I've caked up my Little Owls Play Sweet Music handspun from
last week
, which is going to grow up to be a
Hitchhiker
by
Martina Behm
- and may also be a Christmas gift, as pinks and purples aren't really colours I wear a whole lot!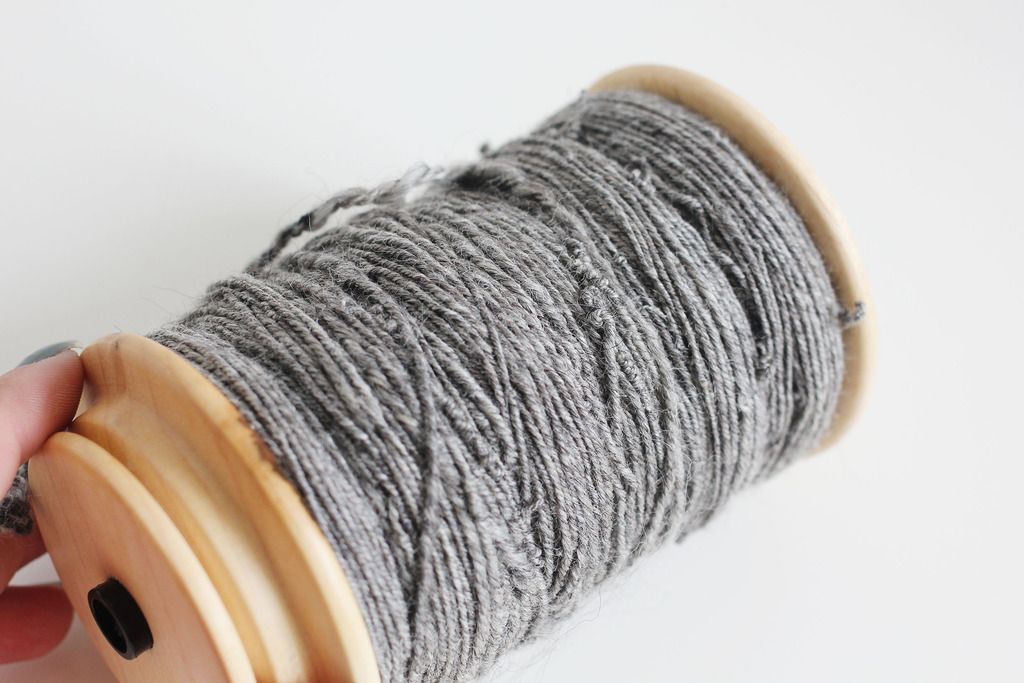 Spinning wise - and get ready for a laugh folks - I chain plied the singles I'd been spinning on my Matchless - using mystery grey fibre from deep stash, that I think might've had some alpaca in it - and wound it off the bobbin yesterday. I spun and plied this in double drive, which is the first time I've ever used double drive, as my Ashford Traditional uses Scotch tension - and goodness me you can tell I had no idea what I was doing. It was a nightmare to ply, the singles were like corkscrews and it's full of hard lumps where I couldn't untangle them and it's incredibly over-twisted (see below). The result is very, very curly rope. It hasn't been soaked and I haven't counted the yardage, because it will never get used! But it was practise and practise is never a waste. I have however, converted my wheel to Scotch tension, which was remarkably easy to do, and I'm spinning another bobbin of the grey 'practise' fibre - which will hopefully work out better! I don't have any photos of it, as it looks identical to last weeks spinning at this point! Haha.
So - a very grey week of knitting and spinning, but it does feel good to start new projects. I have four days off this weekend - a rarity in retail - so hopefully next Friday I'll have loads of things to share. Enjoy the weekend everyone!
♥