I've decided that the length of this week's update makes up for the slight delay in my posting it - I ran out of daylight hours to photograph projects! Oops. Anyway, onwards...
Let me start this week's post by saying I am on fire! It's the first week of September and I have finished knitting three Christmas presents. Three. (Aside from one Christmas a few years back, where I knit gifts for everyone, I don't tend to knit presents very often. However I have had a whole host of upheaval this year that's left finances tight, but I do have a healthy stash to dip in to - so knit gifts it is!)
First up is my second handspun
Cocoon Hat
by
La Maison Rililie
. Knitted out of yarn spun from
Nunoco
batts in the 'Oudh' colourway. This is less slouchy than the green version I knit for myself a few weeks back - but I think it's perfect for the recipient I have in mind!
I decided to knit up my grey practise yarn from my Matchless - the second skein, not the horrid curly first attempt - into a
Little Fair Isle Hat
, which is a free pattern from the
Purl Bee
blog, combining it with some mystery navajo plied gradient yarn I spun in the 2014 Tour de Fleece. I am really pleased with this little hat - I knit the toddler size, for my 'honorary niece' Robyn - it'll probably be too big, but I hear that kids grow! ;) This and my second Cocoon hat are the sixth and seventh projects knit out of my handspun yarn this year - only three to go until I hit my ten project target!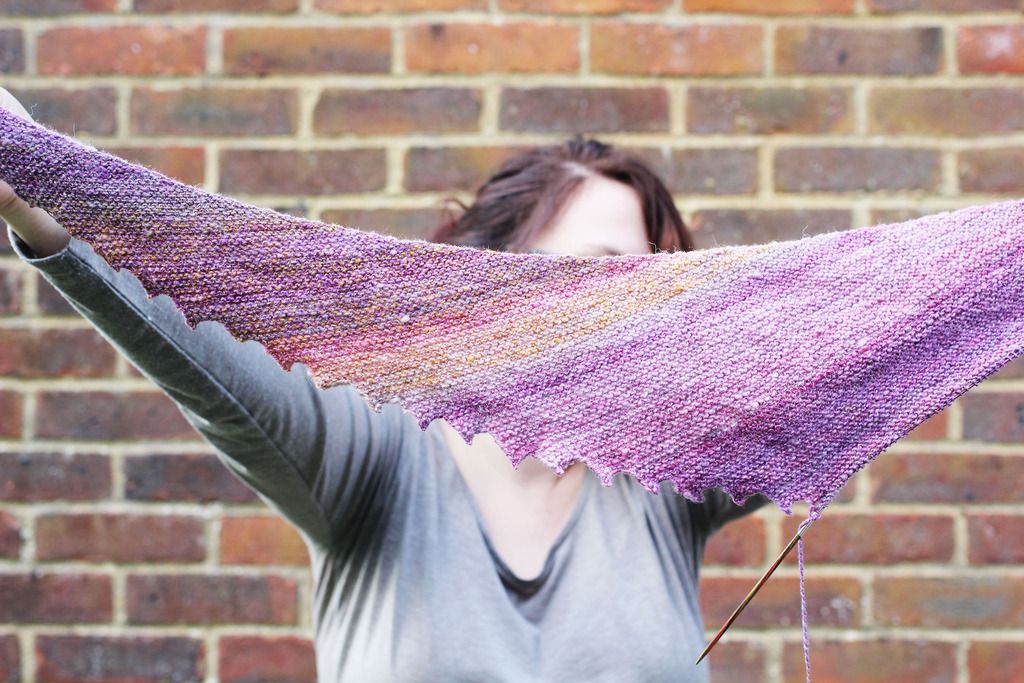 My eighth handspun project is my
Hitchhiker shawl
by
Martina Behm
, that I'm knitting out of my 'Little Owls Play Sweet Music' yarn. I currently have twenty four points knit and I love how the yarn is striping so far. I'm planning to keep going until I run out of yarn, so it could end up being a very long shawl indeed!
I finished my Strie socks from
Sock Architecture
by
Lara Neel
. These are knitted out of some yarn I hand dyed and will be a Christmas gift.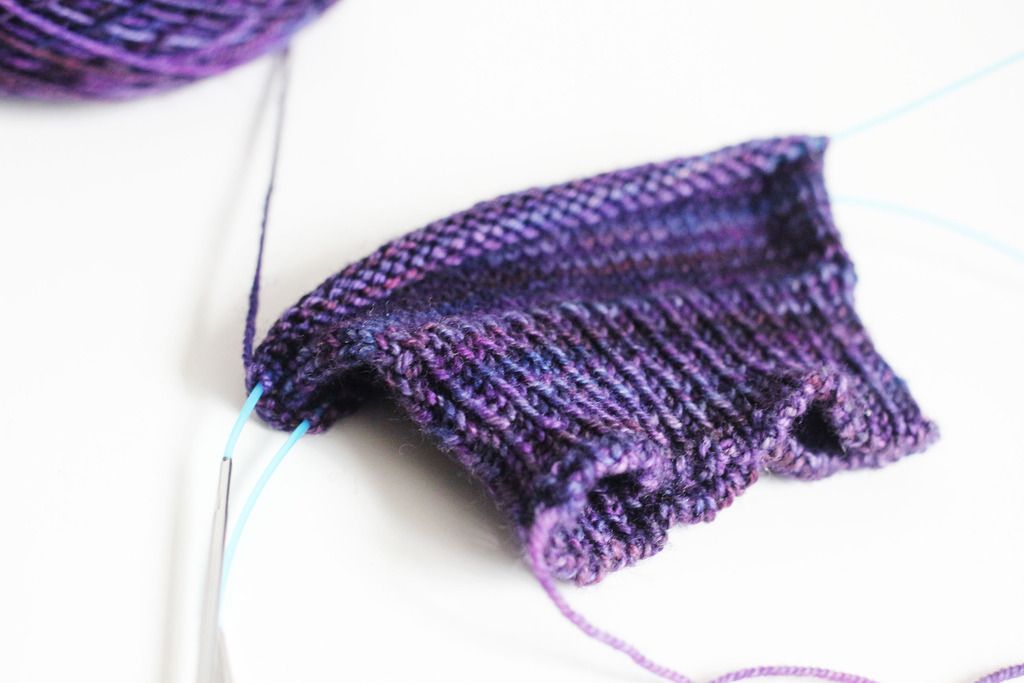 After finishing my Strie socks, I needed a new on-the-go project, so I cast on another pattern from
Sock Architecture
by
Lara Neel
. The Dyad socks, top down version, out of
Malabrigo Sock
in the 'Abril' colourway. I have been devouring the TV show
Orphan Black
on Netflix and if you've watched the show, you'll know that 'Dyad' play a very big part in it. I learnt from Lara's introduction on the pattern, that Dyad means 'sets of two' which makes perfect sense with regards to Orphan Black. Anyway, the pattern is predominantly vanilla, but with a different heel and toe. I also added a tubular cast on - because I love the way it looks.
I put a few rows on my
Prickly Thistle Mittens
by
SpillyJane
. I'm still on the first mitten as I haven't really worked on them much recently! (I'm knitting them inside out - hence the above photograph - to help stop the floats becoming too tight and distorting the knit fabric). I'm knitting these out of
Eden Cottage Yarns
'
Bowland DK
' in the 'Steel' colourway and
'Oakworth DK'
in the 'Midnight' colourway.
As I seem to be obsessed with hats recently, I've cast on for the
Hinagiku Hat
which is a free pattern on ravelry by
87knit
. This is being knit out of some deep stash
Manos Del Uruguay Silk Blend
in colourway '7032'. I picked this up from the Knitting & Stitching Show at Ally Pally a few years ago, and seeing as this years show is coming up, I thought I should knit something out of it!
I swatched for the
Pianissimo
scarf from the
Autumn 2015 issue
of
Pom Pom Quarterly
, designed by
Thien-Kieu Lam
. I wouldn't usually swatch for a scarf but I had some
Cascade 220 Sport
in my stash and I wanted to see if it had a nice handle knit up at the gauge the pattern requires, before ordering some skeins in the Burgundy '2401' colour I was after!
After actually casting on the scarf late last night, I realised I hadn't read the pattern properly and had swatched with the wrong needle size - I'm knitting the larger size of the pattern, which requires a 4mm (US 6) needle - so that's what I've cast on with, and I think it looks okay so far. Incidentally, there are some lovely patterns in this issue of Pom Pom - I recommend picking it up if you get the chance.
Spinning wise, I'm still working on my rainbow braid - which is some Polwarth fibre I handpainted a while back. The first half of the fibre is finished and I'm making progress on the second. I'm being kept company while I spin by the season 3 boxset of Orphan Black, which is making my heart race!
I managed to get a little dyeing done on my day off - two braids of Polwarth - the autumnal oranges and the grey, and one braid of BFL in the blues and purples. These will sit in my fibre stash for a while, as it's looking a little depleted!
Okay. Now I need to go and try and finish a few of the things I keep casting on! Have a lovely weekend everyone. My weekend starts at 4pm tomorrow - so I'll kick back and relax then!
♥