-yawns sleepily- Happy Friday everyone! This week seems to have been a long one and I'm tired ;) I haven't finished anything substantial at all this week - but I've put a fair amount of work into a few projects - gotta keep busy!
Last week I'd cast on for my second
Prickly Thistle Mitten
- patten by
SpillyJane
- and this week I've finished mitten number two! I just have one afterthought thumb to knit and then they're done and ready for the cold weather! I'm so pleased with these - colourwork always looks impressive, even if it drives me crazy. These are being knit out of
Eden Cottage Yarns
'
Oakworth DK
' in the 'Midnight' colourway and '
Bowland DK
' in the 'Steel' colourway.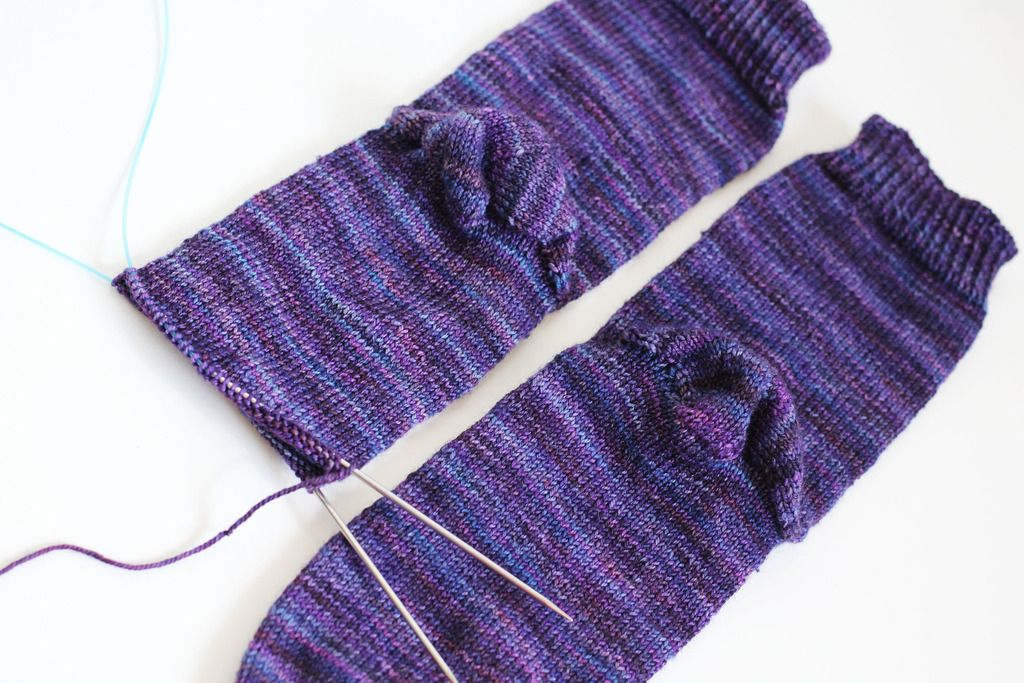 Something else I'd just cast on for last week was the second
Dyad
sock from
Sock Architecture
by
Lara Neel
. This got a fair amount of work this week - I knit the heel on a car ride and have been knitting away on the foot during my lunch breaks at work this week. They should be finished by next week, which is good as I'm getting bored of them! These are being knit out of
Malabrigo Sock
in the 'Abril' colourway.
The back of my
Sirdar Divine
cardigan is finished! And I've cast on for one of the fronts. Enjoyment is at a minimum as this yarn is driving me crazy - if you're looking into casting on a project with Sirdar Divine I'd say think twice about it - one of the balls I've been using has had 4 knots - and for a 50g ball with 150m, that's a lot of knots. The cardigan I'm knitting is
7176
by Sirdar and it's a commission knit for a friend of my mum's. These needs some more work this weekend, as I've avoided it for the latter part of this week!
On a more pleasurable note - I've been working on my
Hitchhiker shawl
by
Martina Behm
, using my handspun. I'm at 29 points now, so that's 3 more since last week. Slow progress is still progress!
Continuing with projects being knit out of my handspun - this week I knit my first (and then second)
Bluebird of Happiness
. The Bluebird of Happiness is a free patten by
Sara Elizabeth Kellner
and is very different from the things I usually knit, but I thought they'd make great little gift additions or Christmas ornaments. The first one (above) is pretty lumpy, I knit it using magic loop as I didn't have any 3.5mm (US 4) DPNs and it was super awkward. The second one (below) is much more bird-like, this time I used some slightly thinner handspun from deep stash and 3mm (US 2.5? I think so) DPNs. I will definitely be making more of these - and maybe purchasing more DPNs!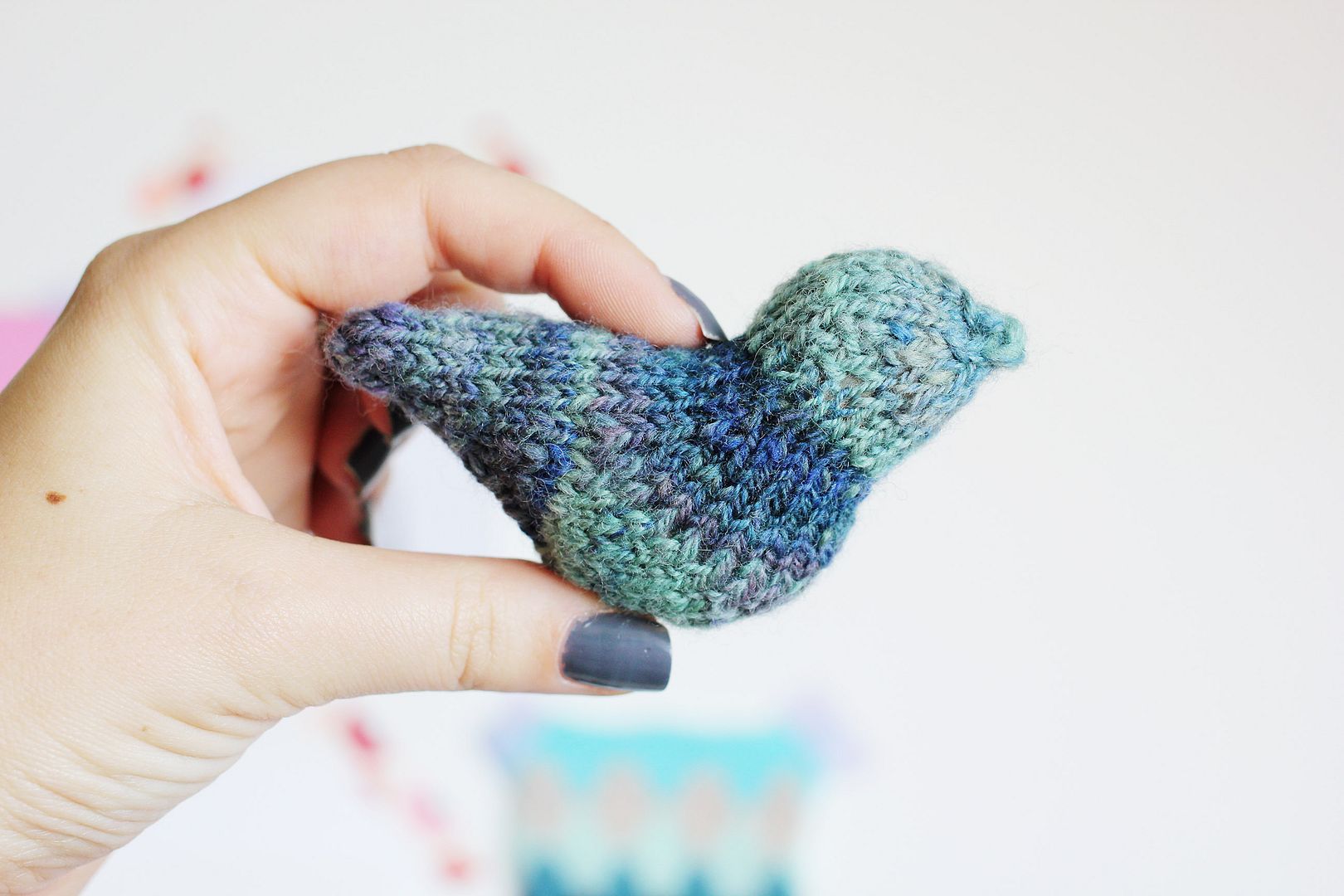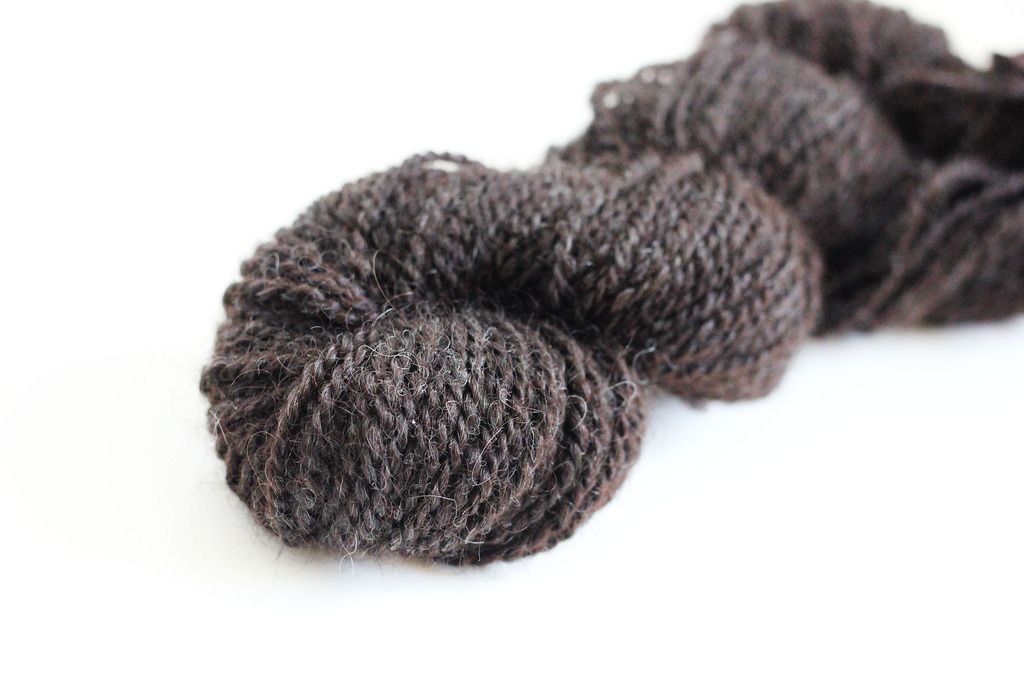 Spinning-wise, I wound off the Wensleydale I shared last week, soaked and thwacked it and left it to dry in the shower - as it was thunderstorming like crazy outside. I got 96 yards of a 2ply - which isn't really enough to do anything with, I need to do a wraps per inch count on it, but I don't think I'm going to have enough for a hat, like I'd hoped. However, this was my first attempt at spinning from the fold and it's a lot bouncier and loftier than anything I've spun before.
Finally, I spent a couple of hours spinning the silk that's currently on the Matchless - progress is slow here, but I've heard silk can take forever to spin due to it's long staple length, so we shall see ;) I'm aiming for a 2ply with enough yardage to knit something lacy.
I haven't worked on my Pianissimo Scarf or my Pomme de Pin cardigan at all this week and that makes me sad. Must try harder next week!
Something else fibre related that I did want to mention this week is the
Super Summer Knitogether
(aka: SSK) that's organised by the Knit Girllls. SSK is an annual retreat in Nashville, TN full of classes and knitters and incredible teachers and vendors, and I entered the lottery for a place (it's always oversubscribed) for the first time this year - and I got a place! I'm going to Nashville next July and I can't wait. I don't live in the US - I live in a tiny seaside town on the south coast of England if you didn't know - so that means a transatlantic flight and £££ - but who cares!? I'm incredibly excited, I've been to the US twice before - Florida when I was a kid, and NYC last year, and I cannot wait to go back. America has so many things England doesn't!
Okay, on that note I need to skedaddle and do something productive (aka. knitting - either of the cardigan of doom or finish that pesky mitten thumb...) have a lovely weekend everyone! And Gail - if you're reading, let me know how the drop spindling is going!
♥