My work week seems to have sped by this week - so I'm not entirely convinced that it actually is Friday! haha. I thought today was going to be a short post, until I sat down to photograph everything - it turns out I actually did quite a lot this week!
Firstly, I'm on to the foot of my first Dyad sock. Dyad is a pattern from
Sock Architecture
by
Lara Neel
, I'm knitting the top down version of the pattern, out of
Malabrigo Sock
in the 'Abril' colourway. I'm not sure what the heel used in the pattern is called - this could probably be remedied by me actually reading the book properly rather than just skimming it, but I'll go back and look at some point, as I love how the heel knits up - all the shaping is done with increasing and decreasing instead of a normal heel turn. I'm trying to challenge myself to use different techniques and I'm looking forward to the sideways toe that compliments this heel.
Please excuse the photography quality of my
Pianissimo Scarf
- trying to photograph the ribbed pattern without it being blocked is very difficult! Also the burgundy colour played havoc with my camera. Anyway. Enough excuses. I have knit a fifth of my Pianissimo Scarf by
Thien-Kieu Lam
from the
Autumn 2015 issue
of
Pom Pom Quarterly
. I've just started the main cable section and I have four skeins of
Cascade 220 sport
left and I intend to keep knitting this section until I have one skein remaining - because I'd like to use up as much of the yarn as I can. Whilst knitting this I'm trying to learn how to cable without a cable needle - as slipping one stitch onto a cable needle every other stitch is seriously slowing me down - so I'll report back on how that works out...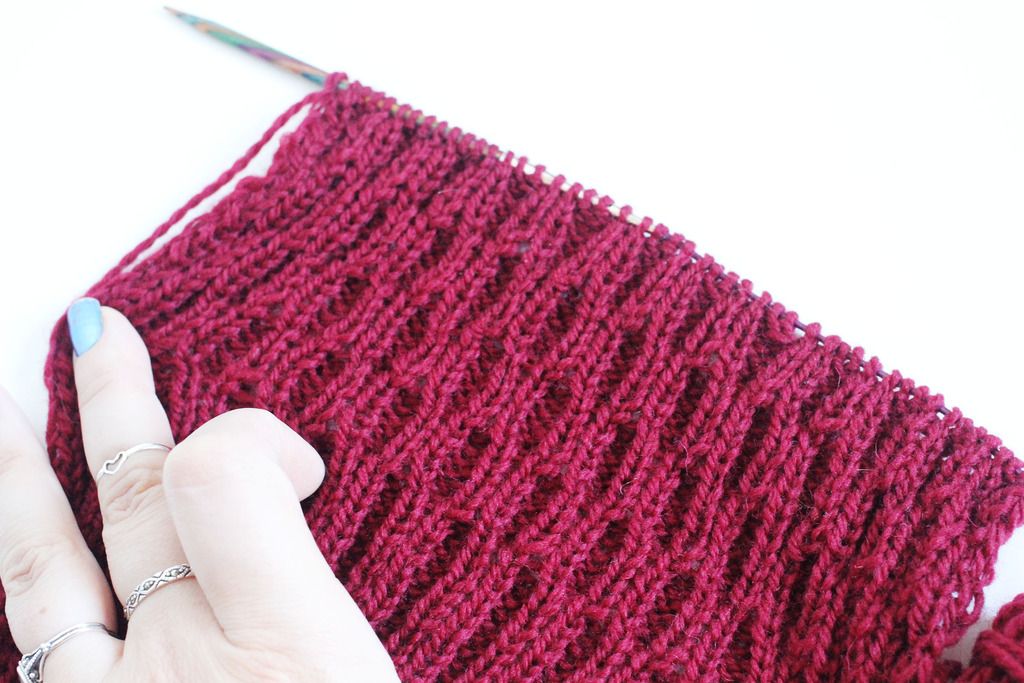 My first
Prickly Thistle Mitten
- sans thumb - is done! The thumbs are afterthought and I'd like them to match, so I'm going to wait until both mittens are done before adding them in. These are being knit out of
Eden Cottage Yarns
in
Bowland DK
and
Oakworth DK
in 'Steel' and 'Midnight' respectively. The Prickly Thistle Mittens are a pattern by
SpillyJane
and I love how the first one looks. I'm hoping to get them finished in the next month, as I bought this yarn from the Knitting and Stitching show last year, and the show is coming up again soon!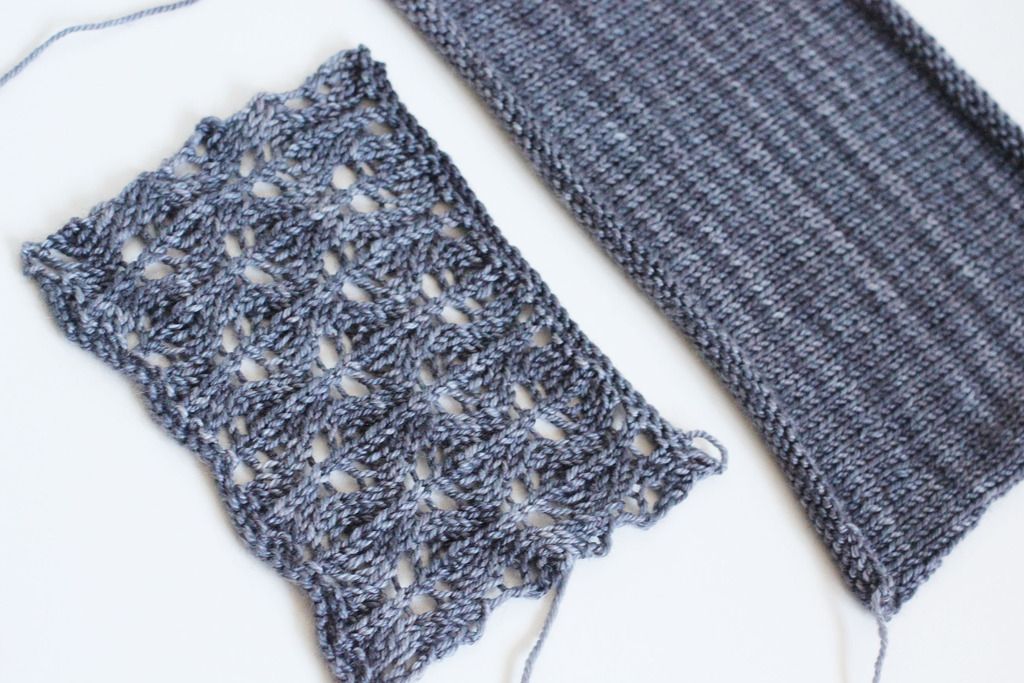 On a bigger project front - I finished the swatches for my
Pomme de Pin cardigan
by
Amy Christoffers
and blocked them both. I'm using
Madeline Tosh Pashmina
in the 'Leopard' colourway and I got gauge with the needle size the pattern recommended so I cast on last night and have knit the grand total of 4 rows of ribbing done so far - darn work for getting in the way!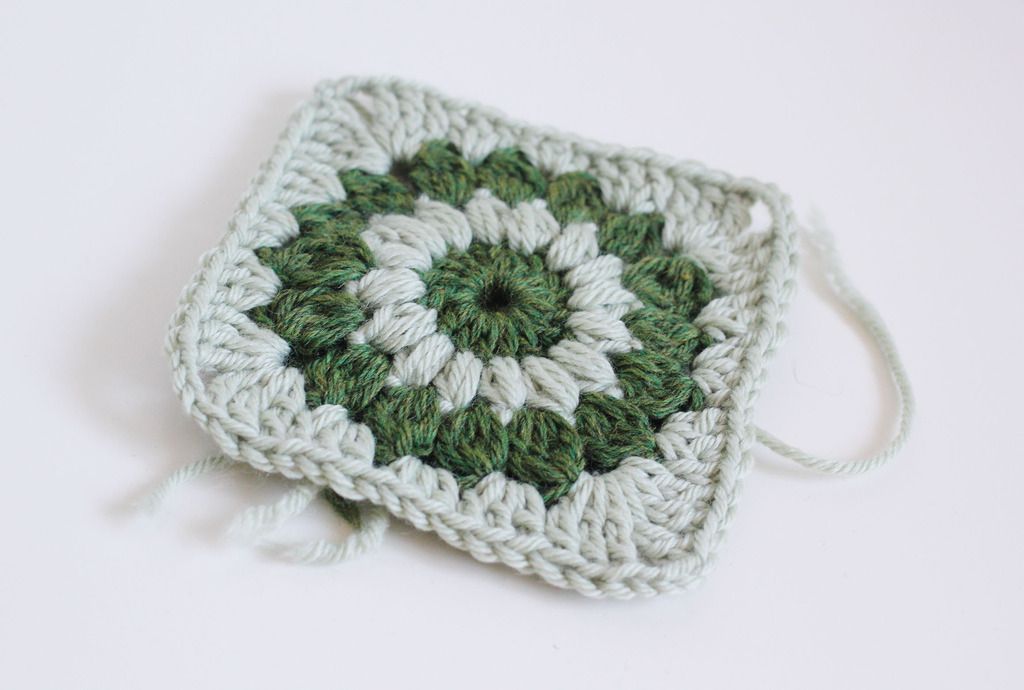 Now, because I really need more projects, I started a new granny square blanket. The last crochet blanket I made was fabulous (if I say so myself) and I gave it away to someone who did not deserve it - but I learned my lesson and I will not make that mistake again! So my mum and I decided to start blanket projects for the winter, we went halves on a big order of Cascade 220 and found a granny square pattern that is slightly more interesting than the basic squares I'm used to making. It's the Starburst Granny Square and I used
this tutorial
from
SimplyDaisy
to create the above tester, and the finished and work in progress squares pictured below. I am an amateur crocheter - I can only make blankets, but that works for me.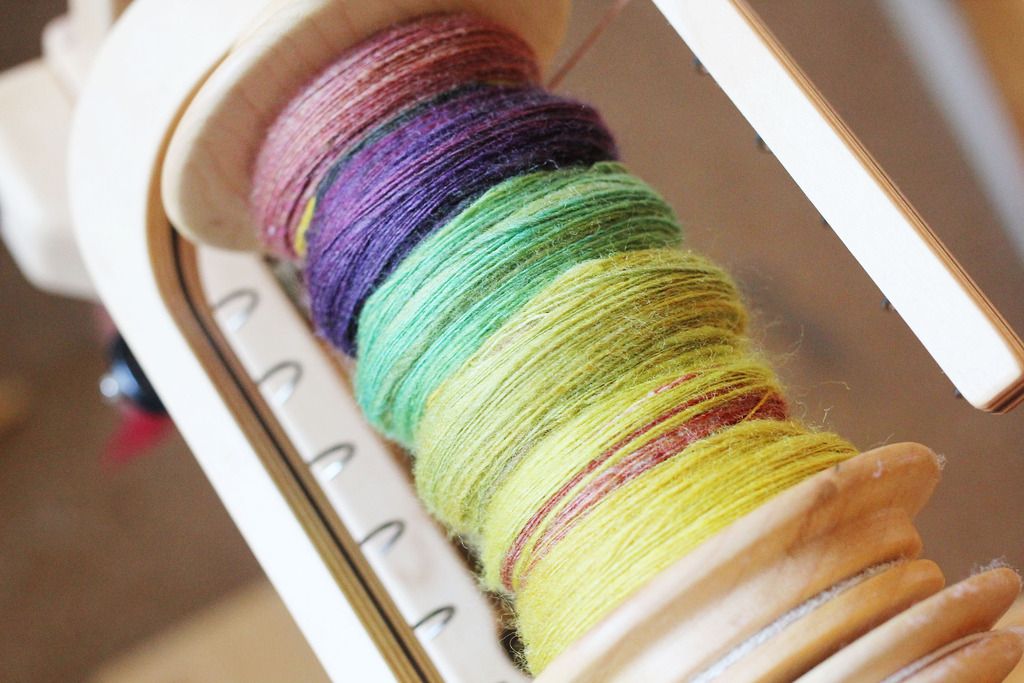 Spinning-wise I'm still working on my rainbow Polwarth, I put a few hours into it this week while finishing up Orphan Black season 3. I'm hoping to get the singles done this weekend and maybe start plying next week...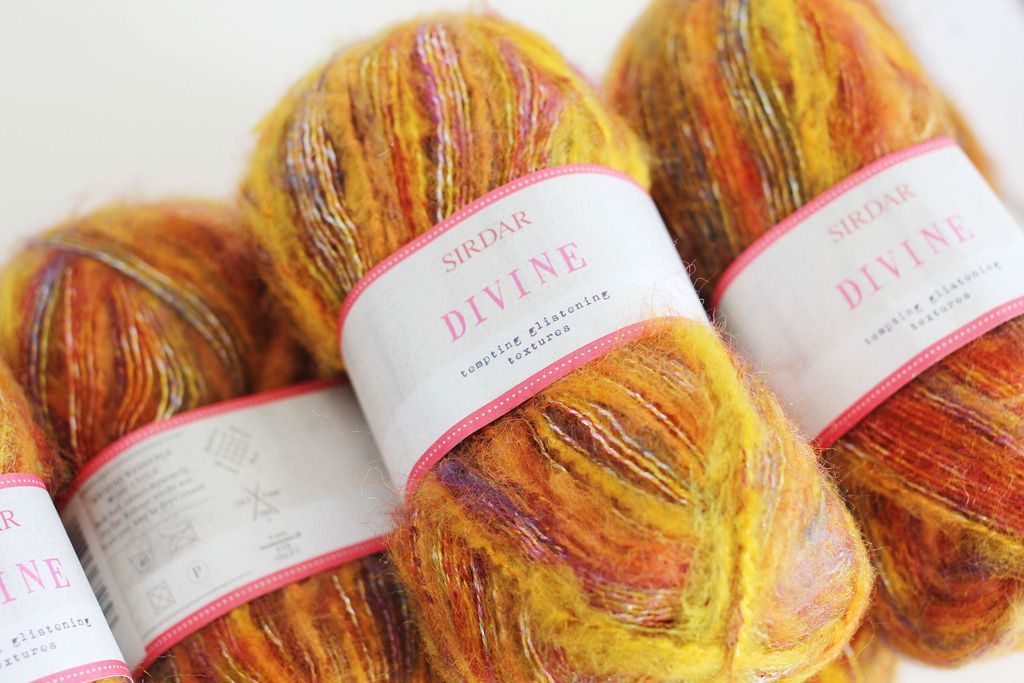 A little stash acquisition has happened lately - the above yarn doesn't really count - I ordered 6 balls of
Sirdar Divine
which is a polyester acrylic mix yarn, to knit a commission for one of my mum's friends. I'm not sure how much fun this is going to be to work with, but it shouldn't take too long. I'll talk more about the pattern when I cast it on.
Now for some stashing that's more my speed - I bought Coop Knits Socks vol II by Rachel Coopey and a skein of Life In The Long Grass 'Weathered' in the 'Estate' colourway from YAK in Brighton a couple of weeks ago. I also picked up a ball of
Sirdar Heart & Sole
sock yarn last week from a local yarn and fabric store in town - I'd gone in for emergency needles after my
Knit Pro Symfonies
snapped on me at work and they had a minimum card spend and this was the only yarn they sold that I was slightly interested in, so I bought it to push my spend up a little!
I did a little dyeing this week - I have three skeins of fingering weight merino nylon in the above colour - I'm not sure what it's going to grow up to be, I'll probably knit another pair of Dyad socks out of one skein, but who knows!
Okay. I'm going to go and work on a cardigan - not sure which cardigan, but a cardigan! Have a lovely weekend everyone!
♥