Hi everyone, another Friday and the sun is out here in my corner of the world - only very briefly I'm sure, but it's pleasant. This week it feels like I've had my finger in a lot of different fibre 'pies' if you will. If you're looking for project monogamy, you won't find it here!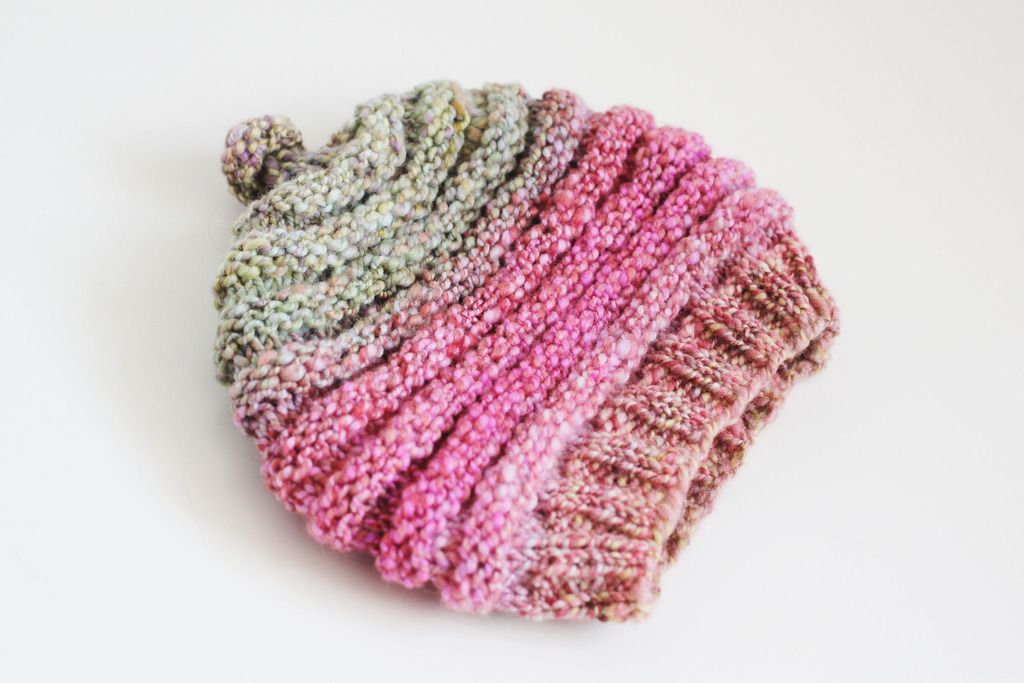 I had a huge urge to knit something little and cute out of my handspun - so I cast on a
Luuk hat
by
Annis Jones
- the keen eyed amongst you may have noticed I linked to the
Luuk
hat in my fangirly Orphan Black knitwear post and as it was fresh on my mind, I cast on one in the Toddler size. I used my Autumn Sunset handspun from fibre by
Taylor Made Yarns
and I love the way it's knit up. I have enough left for at least two more kids hats, so I'll definitely be working my way through the rest of the skein soon. I did make a minor modification to the pattern - it called for 5mm needles (US 8) for the entirety of the pattern, but I decided to go down to 3.75mm (US 5) for the ribbing so it wouldn't fall off the recipients head. I think this will probably go to my friend's daughter as part of her Christmas present, as she is the only toddler size person I know!
I've made a good start on my
Pomme de Pin cardigan
- I'm on the third repeat of the lace pattern and I am in love. Pomme de Pinne is a pattern by
Amy Christoffers
, that I'm knitting out of
Madeline Tosh Pashmina
in the 'Leopard' colourway. It's such a soft and beautiful yarn to work with - which you'd expect for a 75% Merino, 15% Silk, 10% Cashmere blend. I would have put a lot more hours into this if I didn't have more pressing projects calling for my attention!
One such project is the cardigan I'm knitting for a friend of my Mum's. I don't knit on commission as a rule - too many hours, too much hardwork blah blah blah. But to be blunt, sometimes you need the money! (Remember money Amy? That papery stuff we trade for yarn with?) So I'm knitting pattern
7176
by Sirdar (which is as inspiring as the name suggests!) out of
Sirdar Divine
in the colourway 'Lucia', which is a sparkly blend of polyester and acrylic. I'm trying not to be too down on it - but it's not MadTosh Pashmina that's for sure!! Still, I'm up to the armholes on the back so progress is being made. It's a simple stockinette cardi and I'm knitting a UK size 12 so it shouldn't take too long!
I finished my first
Dyad
sock! This is a pattern from
Sock Architecture
by
Lara Neel
, that I'm knitting out of
Malabrigo Sock
in the 'Abril' colourway. It was my first time knitting the Sideways Toe - which is exactly what it sounds like, a toe with the decreases in the centre of the top and bottom of the foot, rather than at the side. I'm not sure how I feel about it yet, but it's good to try something new once in a while! I cast on for the second one yesterday and put a little dent in it on my lunch break at work - hopefully the second one won't take me as long to finish!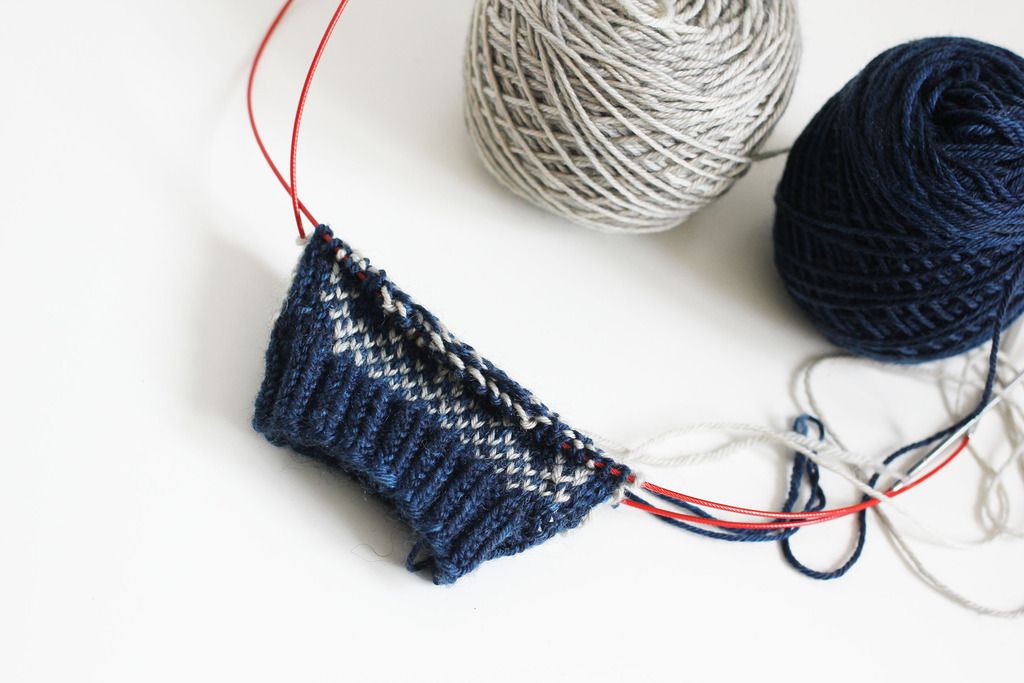 Another second object I cast on was the second
Prickly Thistle Mitten
. The ribbed cuff is done and I'm ten rows into the chart. Prickly Thistle is a pattern by
SpillyJane
, that I'm knitting out of
Eden Cottage Yarns
'
Bowland DK
' in the 'Steel' colourway and '
Oakworth DK
' in the 'Midnight' colourway. I want to have these finished by the Knitting & Stitching show on Oct 9th, as that's where I bought the yarn last year, and I'd feel better about buying more yarn, if I'd knit with some of it already!
I also put a cable repeat on my
Pianissimo Scarf
but you can't tell, so I'm holding off on photographs until the progress is more obvious. Pianissimo is a pattern by
Thien Kieu-Lam
from the
Autumn 2015 issue
of
Pom Pom Quarterly
.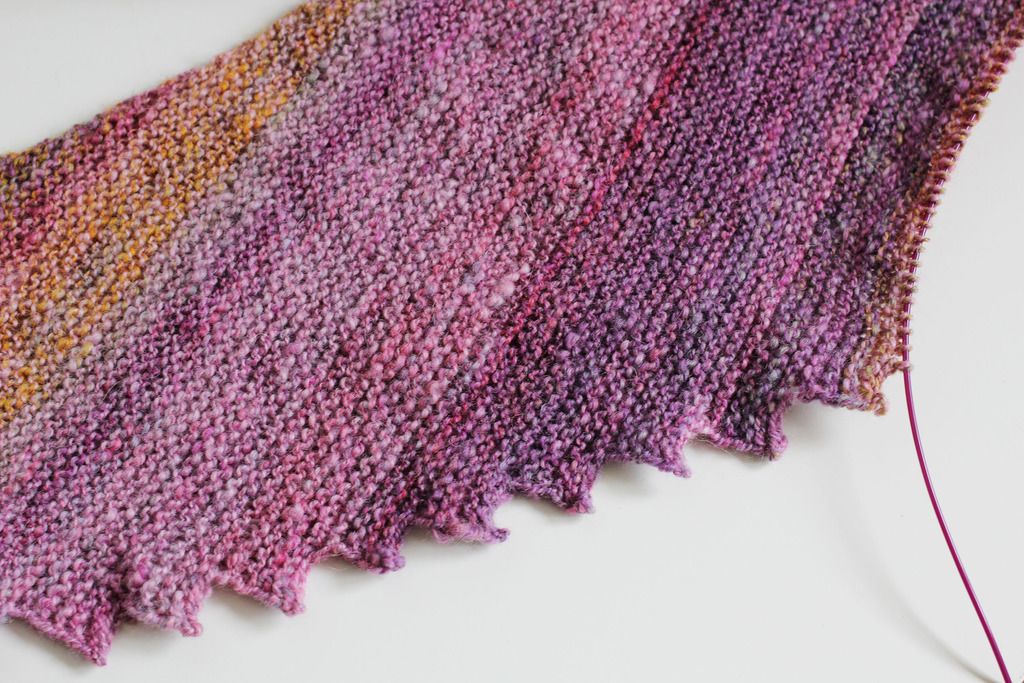 Finally knitting-wise, I put two more points on my handspun
Hitchhiker shawl
by
Martina Behm
. That brings me to a total of 26 points so far. Each row is getting longer and longer but I love working with my handspun yarn, so I shall keep plugging away at it!
I did a little more work on my crochet granny square blanket - I now have six finished squares and the centre sections for three more. I'm using this tutorial for the Starburst granny square and Cascade 220 in a whole variety of colours.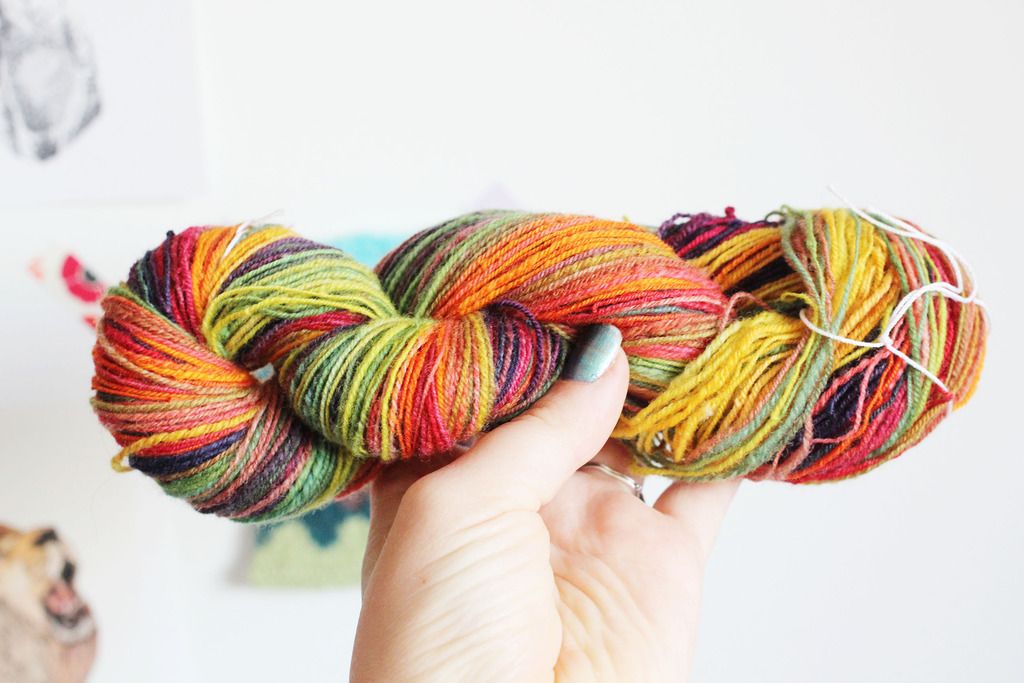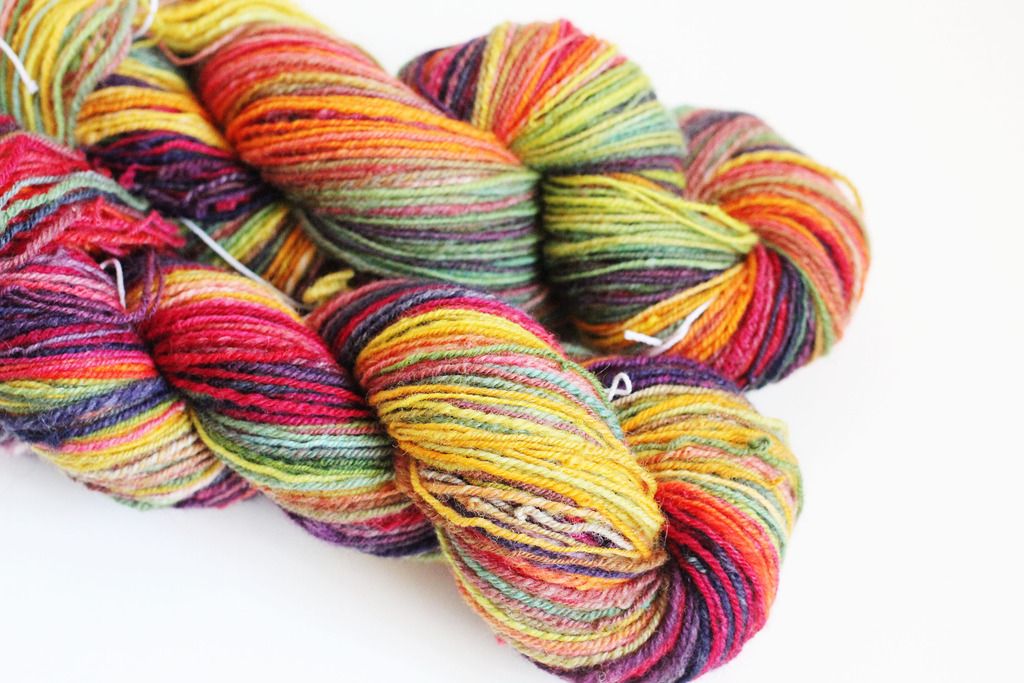 I finally finished the spinning and plying of my handdyed Polwarth! It's Navajo plied - not the most balanced n-ply I've ever done, but it's the first non-practise fibre I've spun on the Matchless and I love it! I predrafted the heck out of the fibre before I started, splitting it down the middle vertically to create two skeins of nearly matching yarn. The part I'm most proud of, was one bobbin had 250yds on it, the other 256yds! Usually I'm over by 50-100 yards on one bobbin, so I'm pleased that both skeins were so close. These will be cast on as toe up, afterthought heel socks - to maximise yardage, at some point in the not too distant future.
I also spun some natural Wensleydale that I picked up from a local wool fair last month. This was my first attempt at spinning long draw from the fold - instead of my usual short forwards draw - and oh my goodness it was a learning curve. This is definitely a bouncier yarn than I usually spin, but it's very over spun and thick and thin in spots. More practise is needed, although maybe on the Matchless rather than the Ashford - as it was a pain in the backside to ply on the Ashford - it kept catching on the flyer. This needs winding off and setting, I'm hoping there's enough to knit my Dad a hat with, for Christmas.
Finally, I started spinning some silk that I picked up from the K&S show last year, on the Matchless. It's my first time spinning silk - there are a lot of spinning firsts this week! It was hard to get started, but it's going okay now. I think this is going to take a while to get through, but I'm hoping to 2ply it and maybe knit a small shawl or something lacy out of it.
Phew. That seems like quite a lot of progress for one week - hopefully next week I'll be closer to finishing something - anything! But for now, I'm going to put a few more rows on the Sirdar cardigan.
♥