I feel like my 'knitting time' is gradually being eaten up lately - there are too many demands on my time! I think I'm going to need to start getting up earlier if I want to get anything done - this working lark doesn't half get in the way of everything! This week some knitting has happened, not a crazy amount, but that's okay.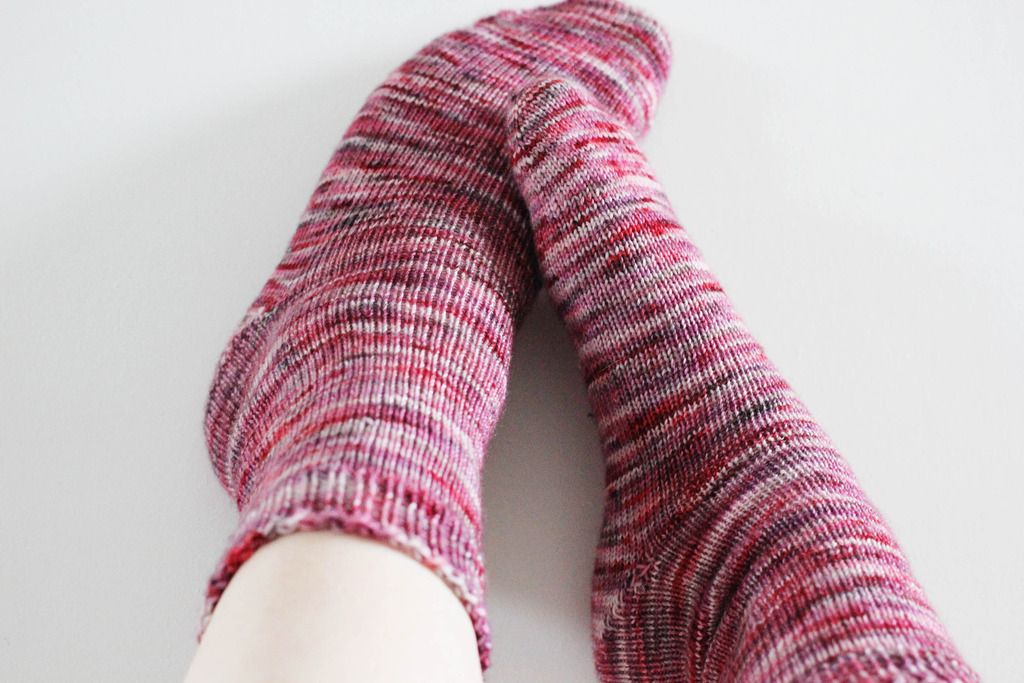 I finished my socks! I cast them off last night whilst watching
The Apprentice
(guilty pleasure) and I'm really pleased with how they turned out. These are knitted out of some of my hand dyed yarn - they're plain vanilla toe-up socks with a short row heel, I used a Merino/Cashmere/Nylon base and they are so squishy (technical term).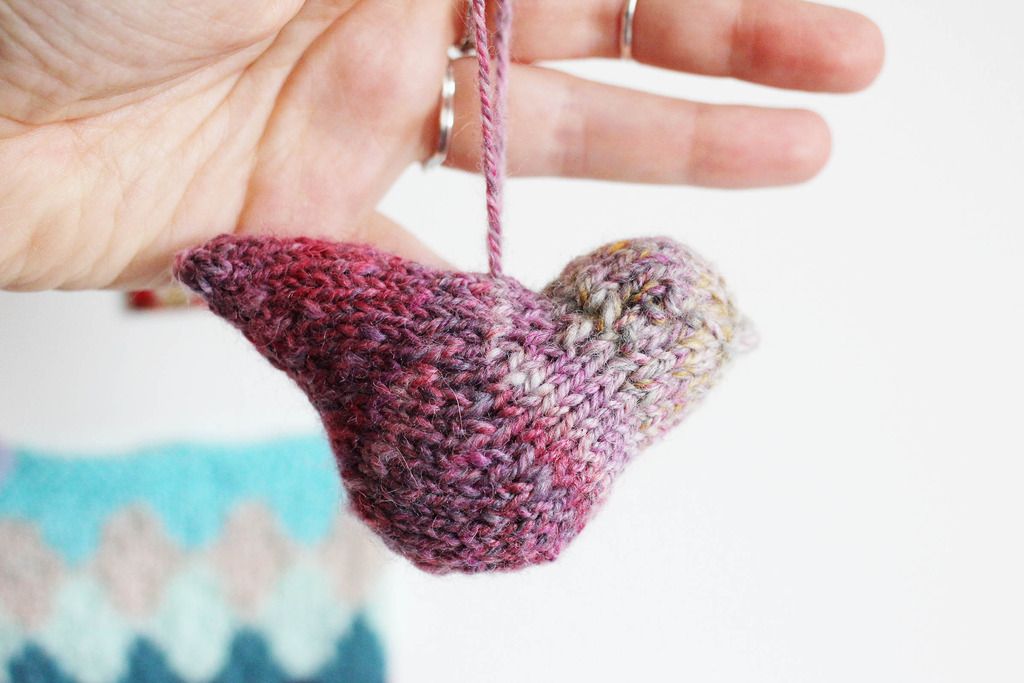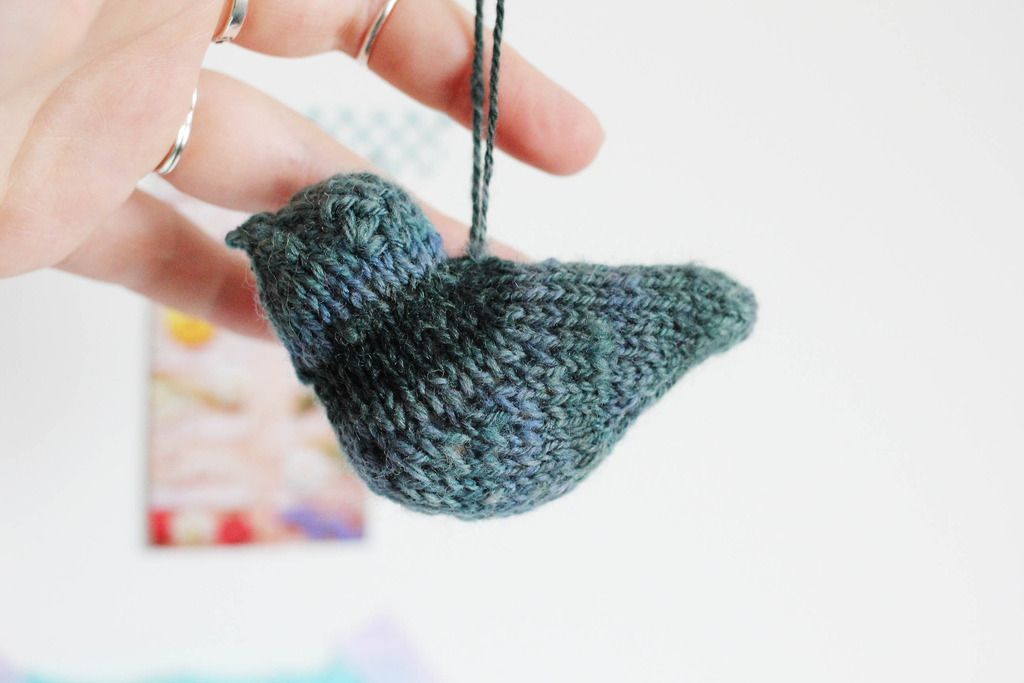 I also knitted two more handspun birds of happiness - using the
Bluebird of Happiness
pattern by
Sara Elizabeth Kellner
. I love these little birds - I'm going to put them in my Gift Drawer and give them as little Christmas presents.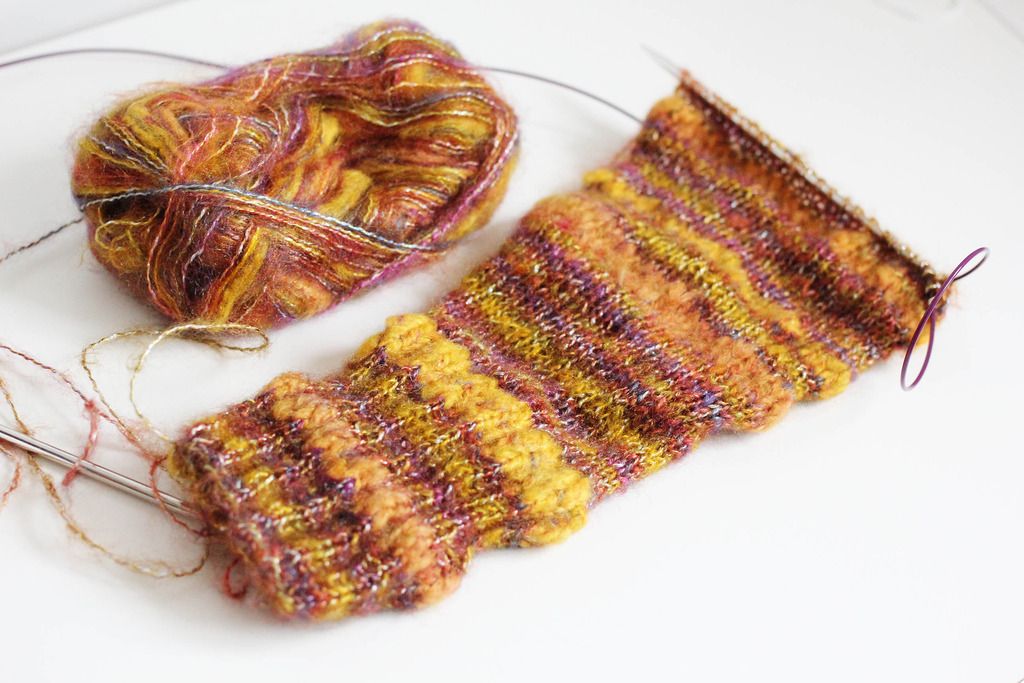 Next up is my Divine cardigan - the fronts are done and I'm onto the sleeves! I've modified the pattern to knit the sleeves in the round and I've made a bit of progress on sleeve number one. This is a commission that I'm knitting out of
Sirdar Divine
yarn (a polyester/acrylic mix...) using pattern
7176
published by Sirdar. I want this project finished by the end of the month - which I think is pretty doable - although I have to get the recipient to try it on before I do the button band, so that might slow me down...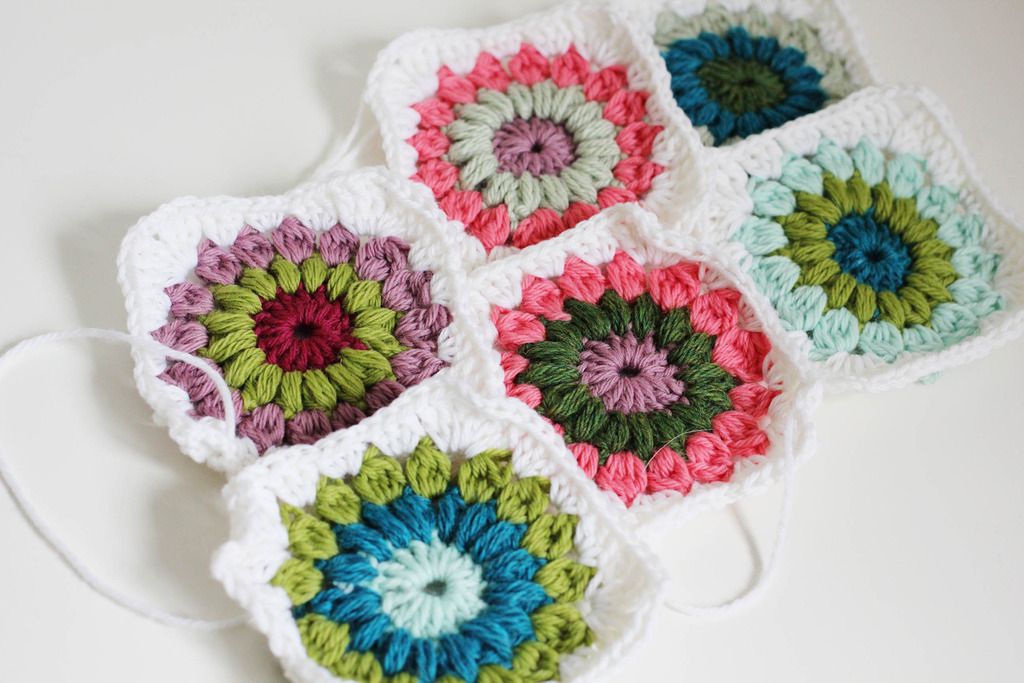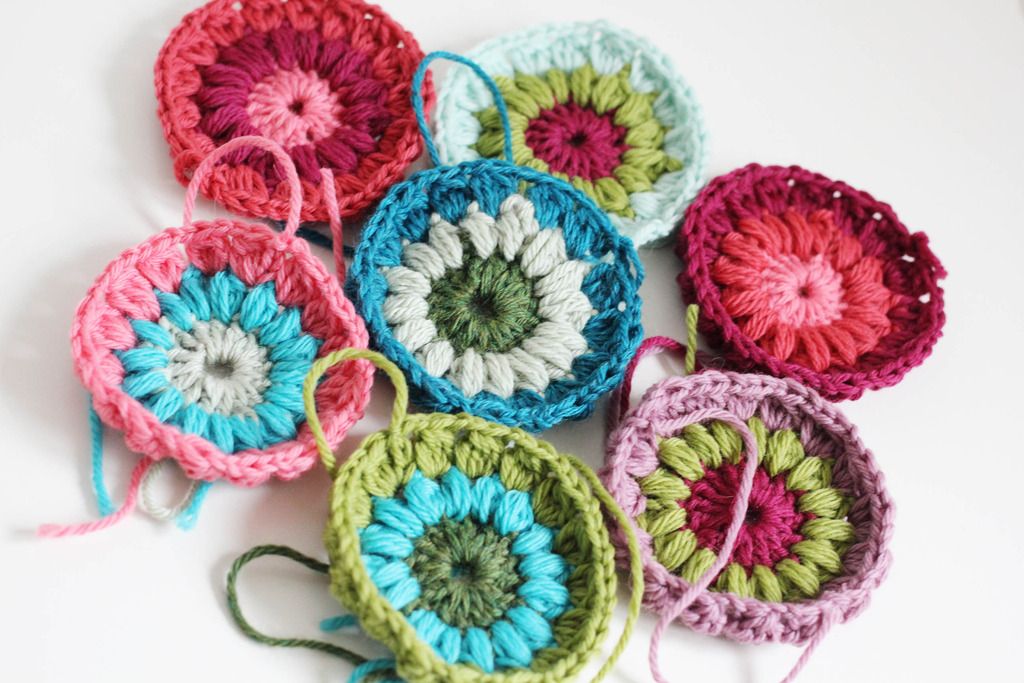 I have made some progress with my crochet granny square blanket! I put edges around the six circles I crocheted a while back and then crocheted a bunch more circles. I'm using Cascade 220 in a whole load of different colours, to make what will either be a sofa blanket, or a bedspread. This is a pretty long term project - I'm aiming to finish it during Stash Dash next year ;)
After casting off my hand dyed socks last night, I had to cast on a new pair of socks immediately. Luckily I'd already wound up some of my hand dyed, hand spun yarn - so I didn't even have to leave the sofa! I really need to knit some socks with cables or lace - but I'm on a hand dyed and/or handspun kick and I just want to use yarn I've made! Haha.
Again, another spinning-less week. I'm not going to be able to get back to my wheel until both my cardigan projects are done! But I did spend an afternoon over the dye pots and dyed up all the pretties you see on the shelf above!
They're not exactly those colours in real life, but by the time I got home from work to take the photograph - daylight was against me, so the yellow-y cast is the overhead light!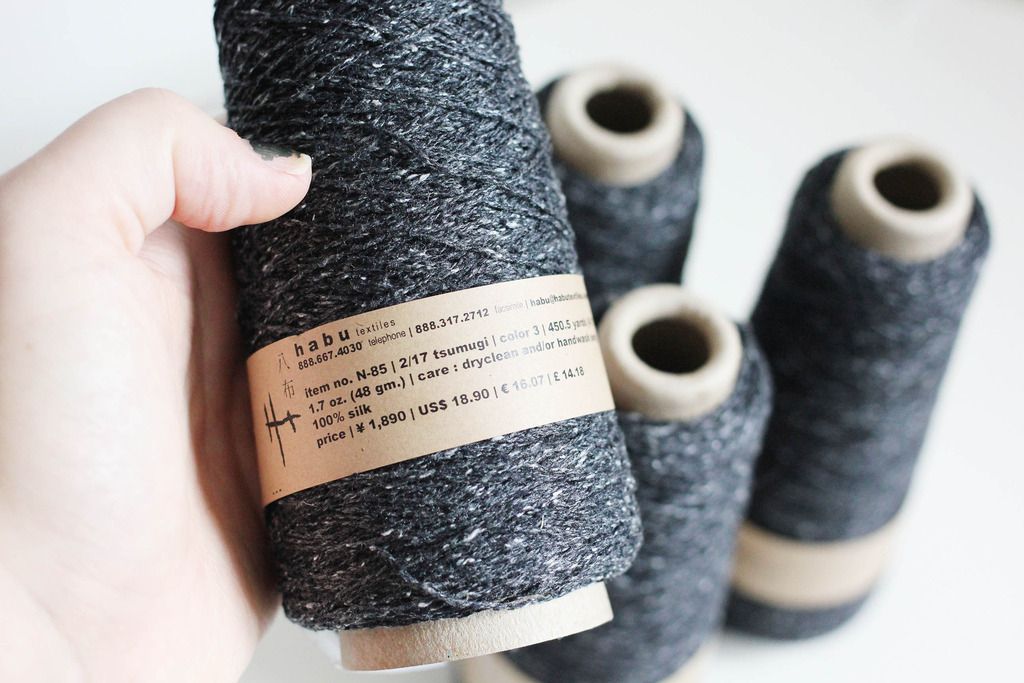 I wanted to share some of the things I purchased at the Knitting & Stitching Show (you can see my photos from the show here). I shopped very differently from how I did last year, when I essentially bought every skein of sock weight yarn in sight! Haha. This year my purchases were more considered, I bought 4 cones of
Habu Tsumugi Lace
in 'Color 3' to knit
Insouciant
by
Julie Hoover
. (Oh my goodness typing Color instead of Colour messes with my little English mind, but that is what's written on the label!)
I also bought two skeins of Fyberspates Vivacious DK in '813 - Slate' and '80805' - very pretty yarn, but not very inspiring colourway names! These are going to be used to knit the
Duotone Cowl
by
Orange Flower Yarn
. I also bought three beautiful batts from Spin City UK - but I couldn't do them justice!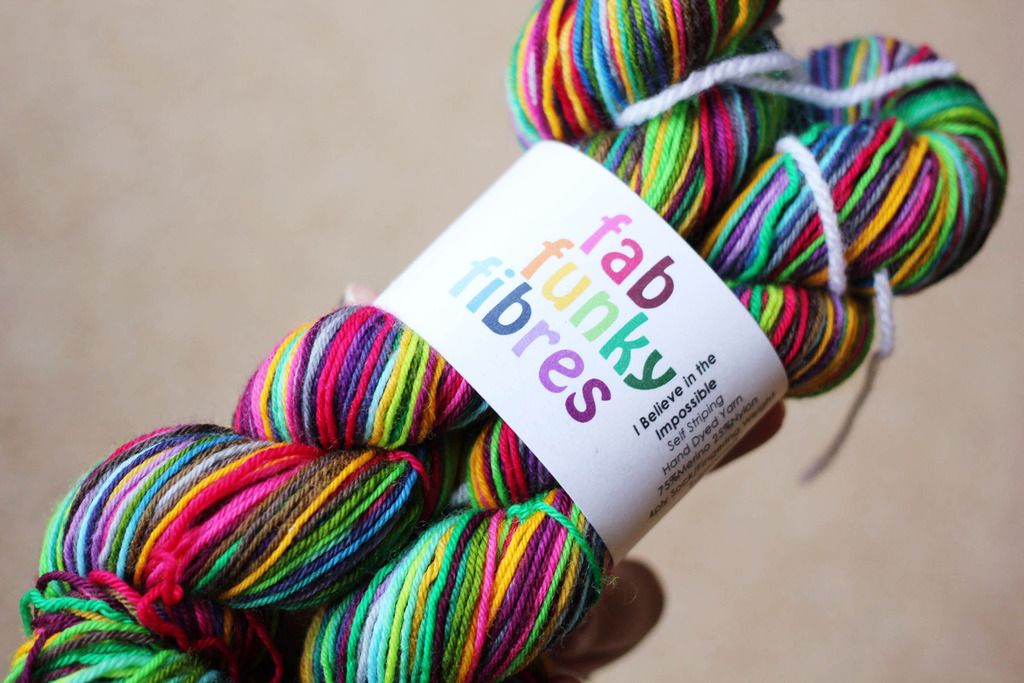 Finally on the shopping front - I was lying awake at 2am the other night and browsing etsy - which is what smart phones were invented for, right?! And
Fab Funky Fibres
popped up in my feed - I love FFF yarn and I thought Elaine had stopped dyeing because her shop's been empty for months, but she's back and the shop is full of gorgeous self striping. It's without a doubt the best UK based self striping yarn I've come across so far - which is a big deal, because sometimes buying yarn overseas works out very spendy! Anyway, I bought a set of 2 matching 50g skeins of 'I Believe in the Impossible' which is a 23 colour striped rainbow. I'm very excited to cast these on - but they might have to wait for a while!
I think my Fibre Friday posts may be a little shorter for a while - I'm working lots of overtime at my job and I need to start studying hard for my theory test - so I can take my practical driving test in the not too distant future, but I intend to keep posting what I've worked on, so watch this space!
Happy Friday everyone!!
♥