It's Friday again - and October - where is the time going? Soon it will be legitimately acceptable to start thinking about Christmas... Anyway, before I panic about Christmas knitting, let me talk about what I've been working on this week.
It's been a while coming - but my
Prickly Thistle Mittens
are finished! I'm really happy with them - I don't like colour work as a rule - it's too time consuming and fiddly and I don't particularly knitting it, but I love these mittens. The pattern is by
SpillyJane
and I used
Eden Cottage Yarns
in '
Bowland DK
' in the 'Steel' colourway and '
Oakworth DK
' in the 'Midnight' colourway. I can't wait for it to get cold enough to wear these!
Another project that feels like it's been on my needles for far too long - my Dyad socks - they're finally finished! These are the
Dyad Top Down Socks
pattern from
Sock Architecture
by
Lara Neel
. I used
Malabrigo Sock
in the 'Abril' colourway. I love the colours of the yarn, the band heel was really interesting to knit and I'm not 100% sold on the sideways toe yet - but I'll see how it wears before I pass judgement on it!
Because I finished my Dyad socks, I obviously had to cast on another pair of socks. Can you believe I only have one pair of socks on the needles - who am I!? So I pulled out a skein of the yarn I hand dyed a while back and cast on for some plain toe up, vanilla socks. I turned the heel at work today (on my lunch break, I'm not actually allowed to knit during the hours I'm being paid for - sad face) and have put a few rounds on the leg. I love how the colours are working up - with the speckles of bright red. I'm not usually a red or pink person, but I really like this colour!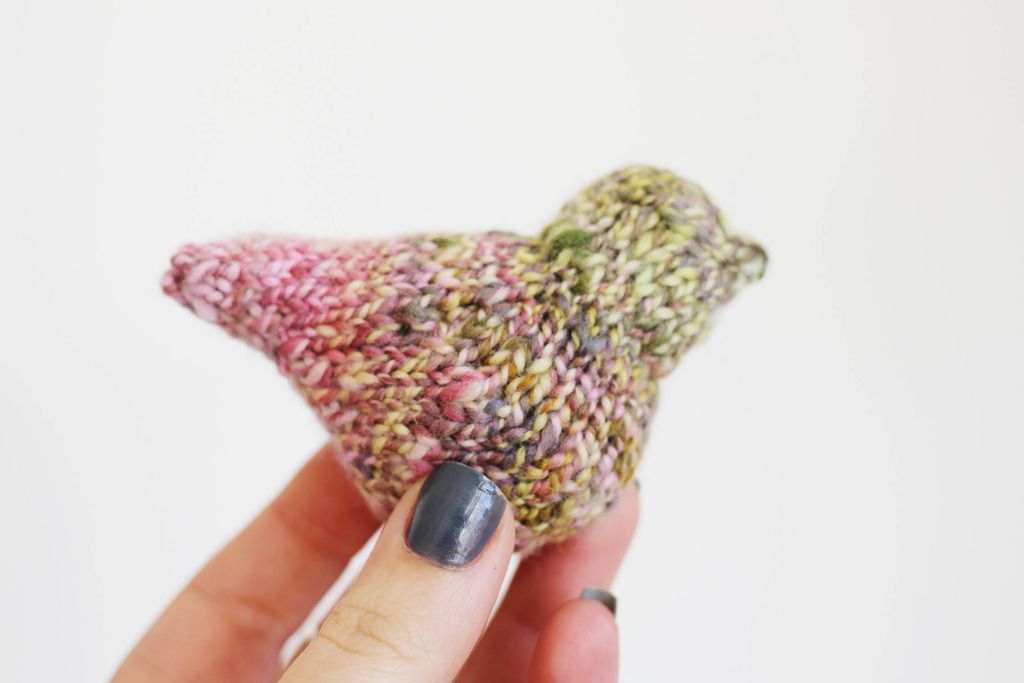 I also whipped up another
Bluebird of Happiness
this week - using the free ravelry pattern from
Sara Elizabeth Kellner
- out of more of my handspun. This time I wound off enough yarn for the head before I started (you pick up stitches for the head after you've knit the body) so I could keep the colour gradient correct. I'm thinking of making some with catnip stuffed inside - as little presents for the cats, or attaching ribbons to make Christmas decorations? Hmmm...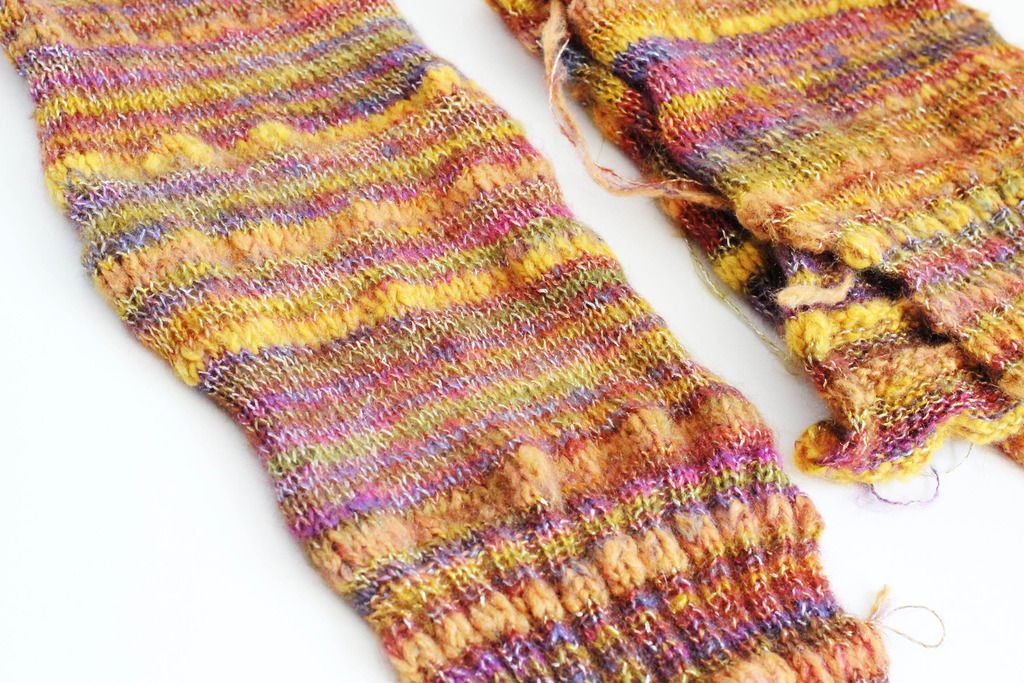 I put a fair amount of work on my Divine cardigan commission - I'd finished the back and now one of the fronts is done too. I need to cast on for the next front panel before I lose momentum on this project! This is pattern
7176
by Sirdar and is being knit out of
Sirdar Divine
yarn. It's sort of 'faux handspun' yarn but 72% Polyester and 28% Acrylic - and sparkly. But it takes all sorts!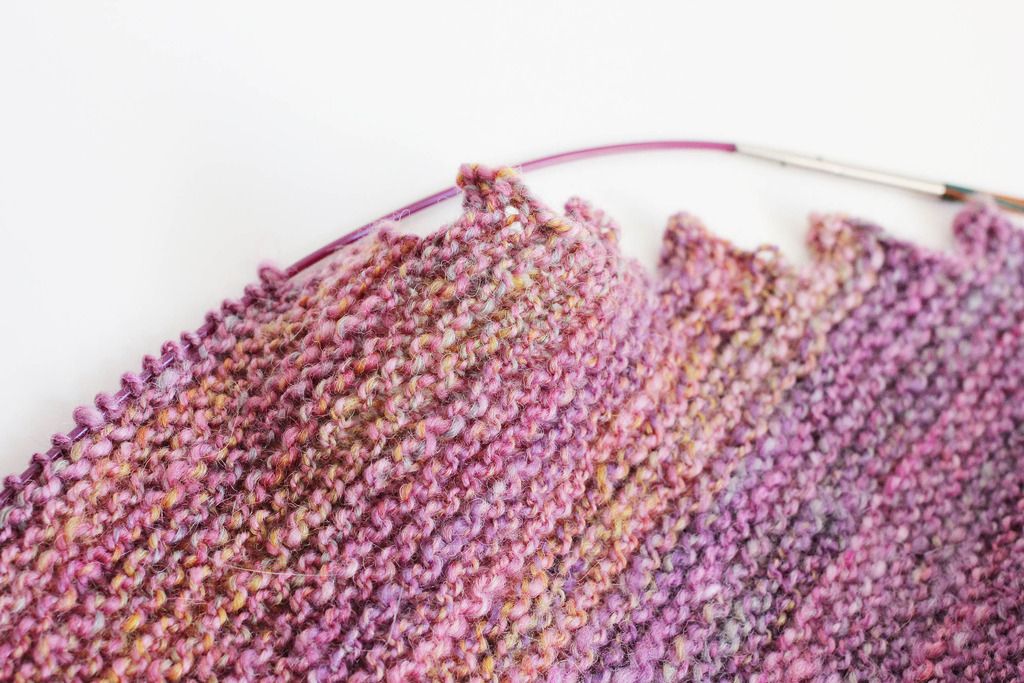 My
Hitchhiker Shawl
by
Martina Behm
was barely touched this week. I put one solitary point on it - taking it to 30 points in total. I'm using handspun for this project and I love how it's knitting up - but it's a lot of garter stitch, which is slowing me down!
The project that's probably seen the most work this week is my
Pomme de Pin cardigan
by
Amy Christoffers
, that I'm knitting of
Madeline Tosh 'Pashmina'
in the 'Leopard' colourway. I'm nearing eleven inches on it now - and I just want to wear it already!! I think I have seven inches or so to work on it before I hit the next part of the pattern - I'd really like this finished by my birthday - early November - for no reason other than I like an arbitrary deadline!
I haven't done any spinning at all this week - but I have done some dyeing.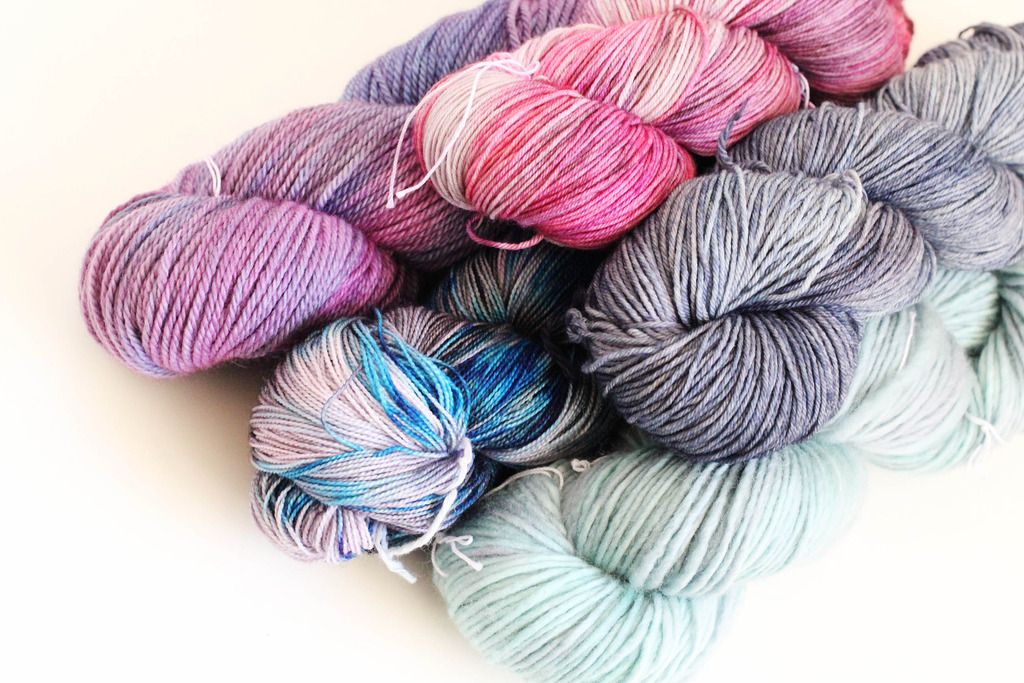 I had a lot of undyed skeins hanging out in the depths of my stash - and not anymore! I've been honing my dye techniques and I'm pretty happy with the results!
Right - I'm off to work on my Pomme de Pin cardigan and put my feet up for the evening, before working again tomorrow.
♥