Happy Friday everyone! And back to regularly scheduled Fibre Friday programming! I was hoping to blog during the week this week - as I've had some time off work - but I've been too busy, which I suppose is a good thing! Anyway. On to the knitting...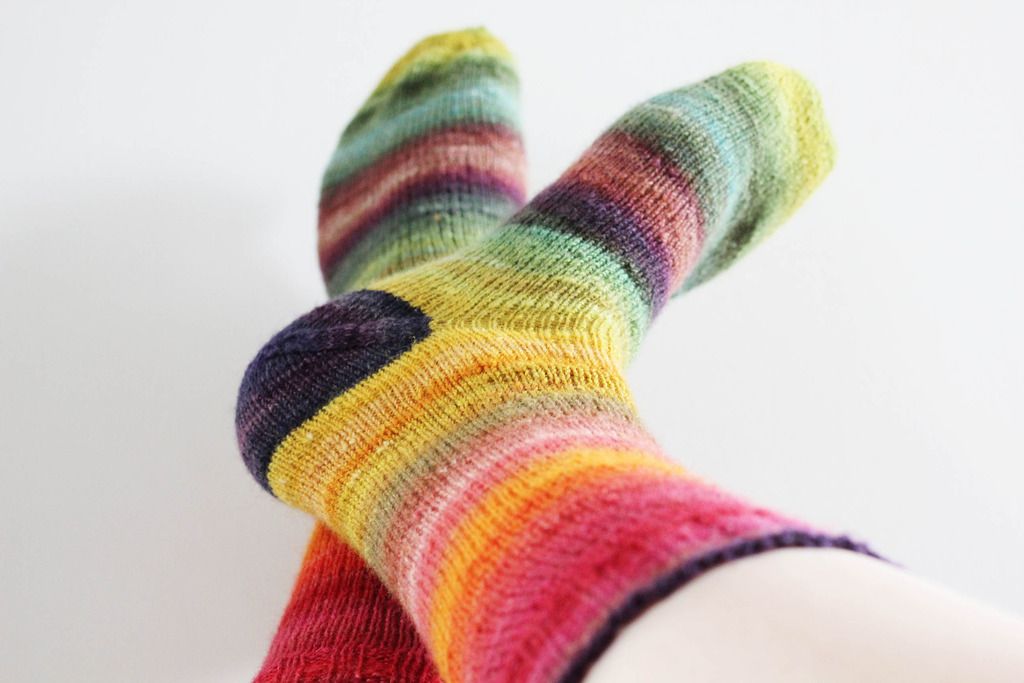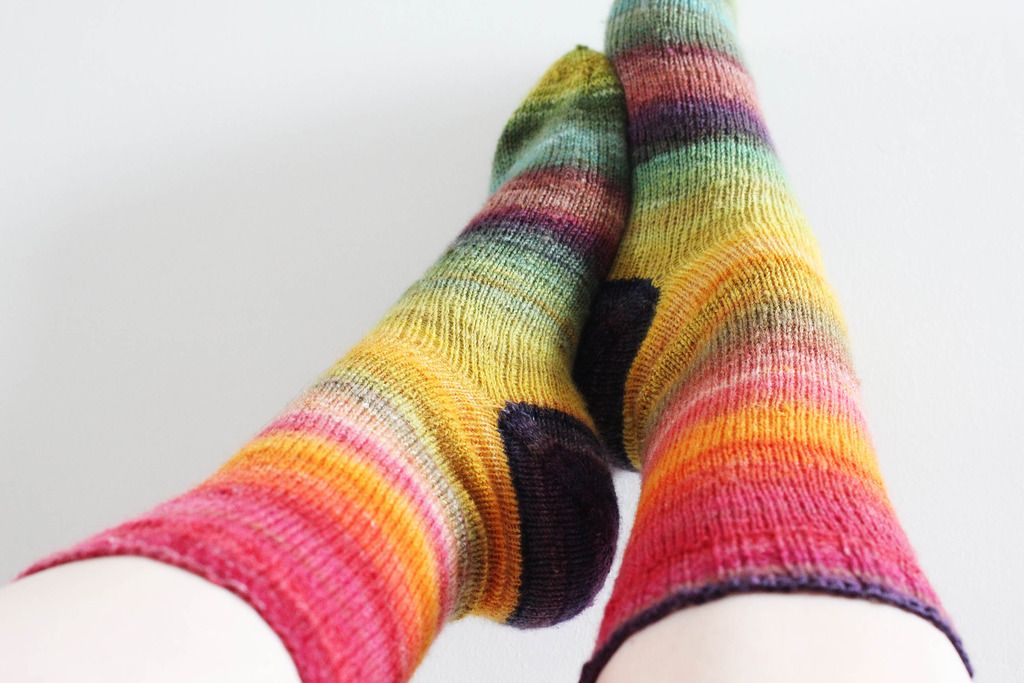 My handspun socks from handdyed fibre are finished! I'm really pleased with these as I was aiming to get socks that were as matchy-matchy as possible - and I think it worked! Before I started spinning, I split the fibre lengthways down the middle, so I had two long, thin strips of fibre, then I predrafted the heck out of them, and rolled them up into huge airy 'roving balls' (technical term!) and spun from them, then chain plied the singles. I'm really happy with them - they're not my typical colours, but who cares - they were really fun to knit! They're my standard toe-up, with an afterthought heel, that I knit using the other end of the ball, just to add contrast. Also: In the spirit of
last week's post
- this is my tenth project using my handspun yarn! Goal unlocked! ;)
In the spirit of colourful socks, I cast on for a plain toe up vanilla sock out of some very vibrant, sparkly sock yarn I picked up at a local Wool Fair in the summer. These were predominantly worked on while I was 'queuing' online for tickets for Harry Potter and the Cursed Child (I did manage to get tickets, after a heck of a lot of hassle - for December 2016). These might be too colourful for my taste, but they'll make fun bus knitting.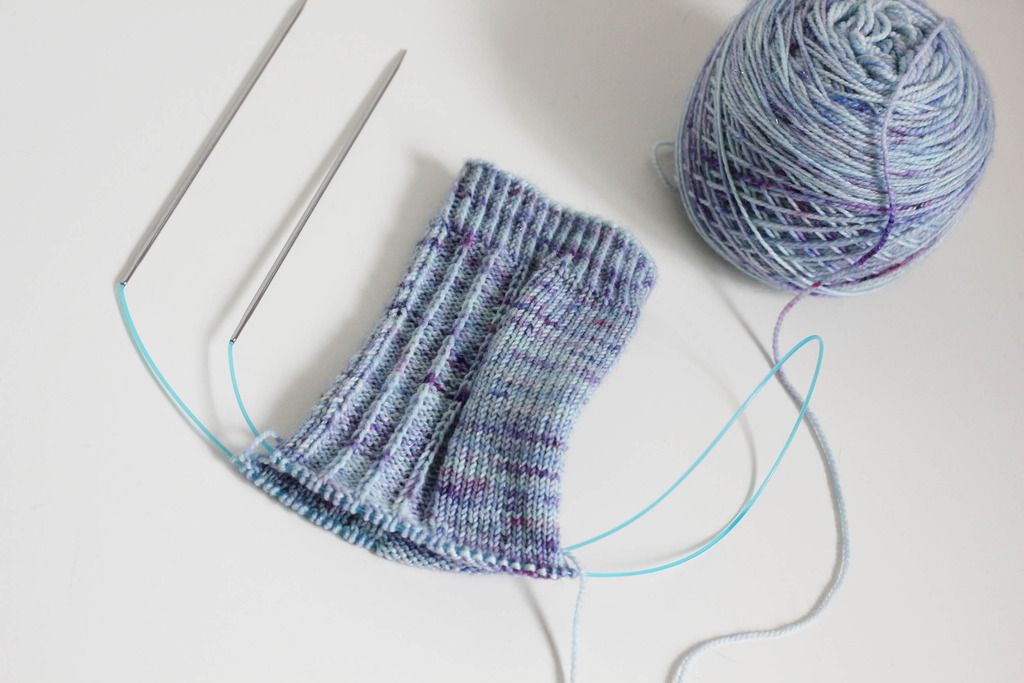 More on the sock front - and I cast on for a test knit for the lovely
Amelia Putri
. These are her Farmer's Socks and I'm knitting them out of some handdyed yarn (I'm off to a slow start because I had to the dye yarn and wait for it to dry before I could cast it on! Haha). I'm really enjoying how it's knitting up so far, but I think it may be a little small for me (although I have substantially sized feet, so they'll go to someone else if they are!).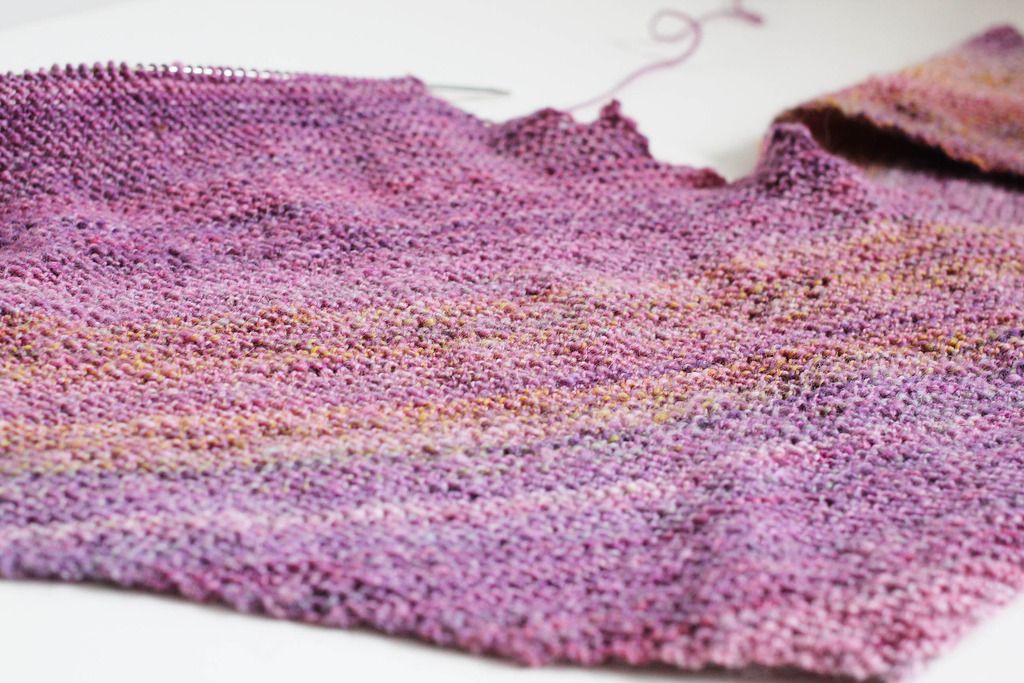 I went away for a few days - to visit some of my lovely friends in London Town - and only took two projects with me - my handspun socks, and my
Hitchhiker Shawl
by
Martina Behm
, which I'm also knitting out of handspun. I think I added four points to the shawl - I was hoping for more, but the needles I was using, snapped, rendering the project unworkable (I'm planning to do a mini-review on KnitPro's Symfonie Needles at some point - spoiler alert - I'm not keen on them!). Luckily Katy didn't me 'dragging' her to Waterloo to visit
I Knit London
and pick up a set of Addi's...
I don't think I've showed this on the blog before - I've started working on the first sleeve for my
Pomme de Pin cardigan
by
Amy Christoffers
. I'm knitting it out of
Madeline Tosh Pashmina
in the 'Leopard' colourway and the body is finished and I'm two sleeves and a neck band away from a new cardi. I have loved the pattern so far, it's been easy to follow and fun to knit. Until I got to the sleeves. The sleeves are a nightmare! There isn't any shaping, they're just a straight tube - which is fine if you're knitting the smaller sizes - but my wrist is a significantly different size to my upper arm! So I cast on the number of stitches recommended in the pattern - I can't remember the exact figure, but I think it was in the sixties... And the rest was a cuff I could've easily fit both wrists in to... So I'm working from some mods someone else on Ravelry has made - and starting at the smallest size and building in increases - if you look at the above photo you can see the strip of stockinette on the right side of the sleeve, where I'm increasing. This is slowing me down a little and I haven't worked on it at all this week!
My Divine cardigan commission is still hanging over my head! I've blocked the back, which is finally dry - it turns out that wet blocking an acrylic/polyester mix on a blocking mat (essentially plastic-on-plastic) takes forever to dry! So I'm going to do the fronts next, while I work on the second sleeve, which I've just started. This is taking me a lot longer than I'd like! The pattern is
7176
by Sirdar and I'm using
Sirdar Divine
to knit it.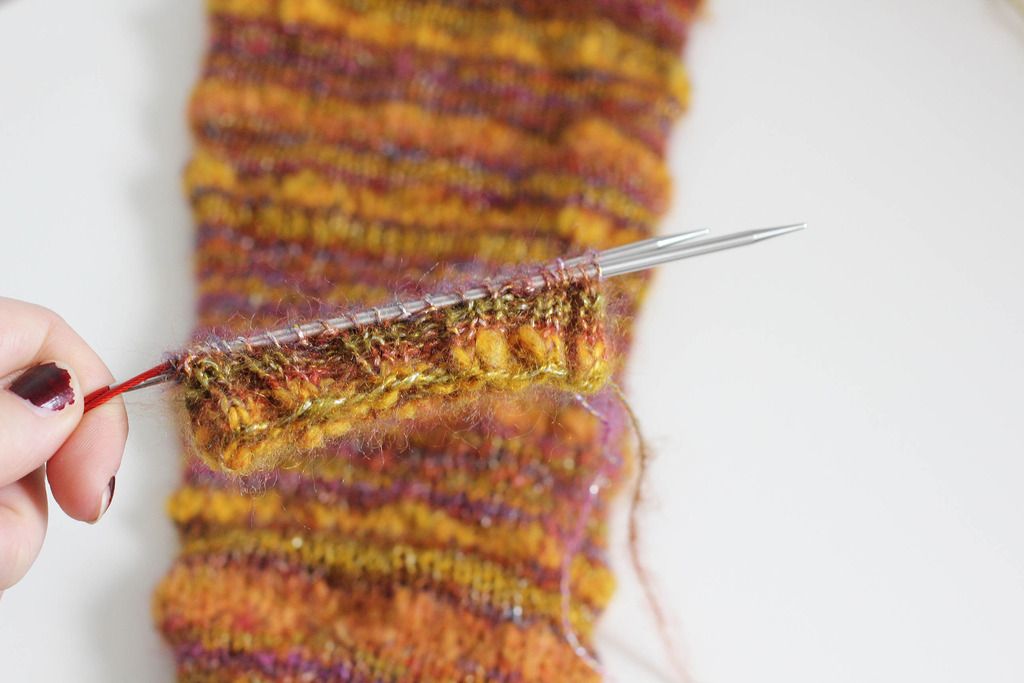 I've done a little bit of dyeing this week! This is one of the colours I dyed up - a really fun blue-turquoise mix.
As I mentioned above, I needed to stop by
I Knit London
for the emergency purpose of picking up some more needles - and obviously I had to have a little look at their yarn while I was there! I picked up another skein of Vivacious DK from Fyberspates and two skeins of
Socks Yeah!
the new yarn line from Rachel Coopey, in the colourway 'Malachite'.
Phew. That was a pretty wordy post - I guess that's what happens when I skip a week! Okay, I'm off to actually do some knitting, as I haven't had a chance to much over the last couple of days. Happy weekend everyone!
♥