Hi everyone! This week's Fibre Friday is prettttty short on actual knitting content - if I wasn't lucky enough to have received lots of woolly goodness for my birthday this week, then it would be a super short post all round! The reason for this week's shortness is primarily because I'm writing on Thursday morning, instead of Friday evening (for daylight reasons, today is the only day I have for photographing things) so that cuts off two days of knitting time! Stupid work - getting in the way!
I have split most of my time this week, between two projects. My test knit of Farmers Sock for Amelia Putri (you should look her up on instagram
@amelia_put
- her feed is gorgeous!) is coming along wonderfully. I'm knitting these out of some handdyed yarn and I'm really enjoying how the speckle effect is knitting up - I think it showcases the travelling slip stitch rib really well. The first sock is finished and I've just started the pattern on the leg of sock number two. I'm aiming to get these finished by next week - but we shall see.
The other project that's eaten up a bunch of my time is my Divine Cardigan. If you're not familiar with the saga of the Divine Cardi - firstly, lucky you! - and secondly, let me fill you in. This is a cardigan commission I'm knitting for a friend of my mum's, I've been working on it for what feels like a thousand years and it's knit out of a polyester/acrylic blend with a thick and thin texture - lots of sparkle, lots of felted slubby patches and lots of knots. The yarn is
Sirdar Divine
- I'll admit, I am a massive yarn snob, but I also appreciate a good acrylic because it has it's uses. This, in my opinion, is not a good synthetic yarn and it's very unpleasant to work with. I'm knitting the pattern
7176
by Sirdar and I'm on the second sleeve. I've finished the increases and I just need to knit it to length and do the cap shaping, then I can start sewing it together and add the button band (which isn't in the pattern but I heavily recommended to the recipient that it should have one, as it looked lumpy and unfinished without it). Okay. Rant over. Next thing...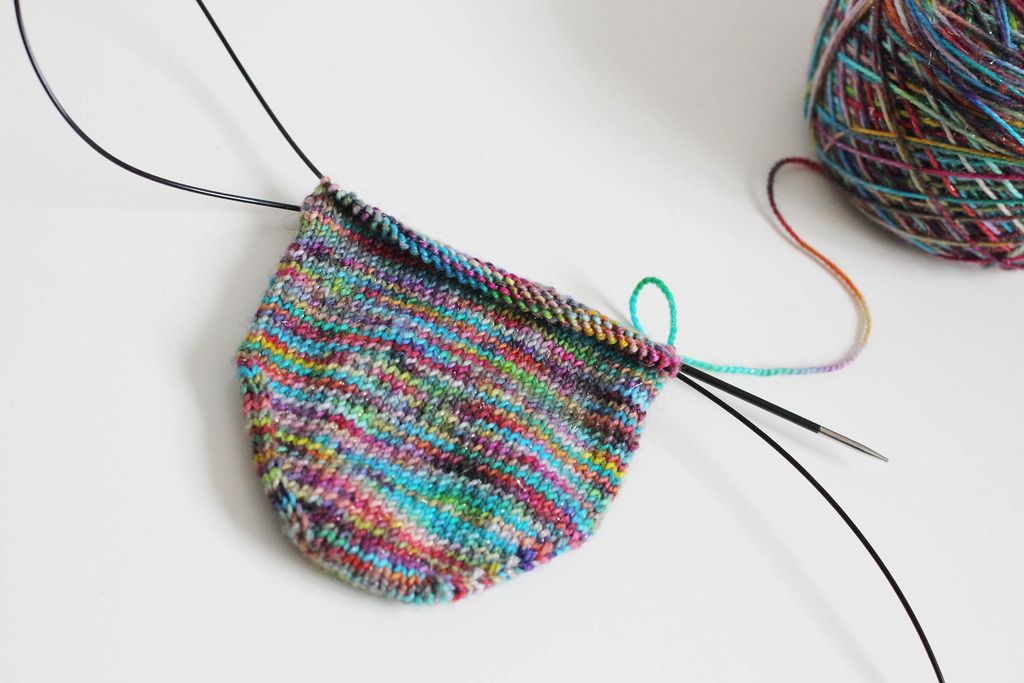 Finally, and you can be forgiven for noticing any difference from last week's shot of this project, is my very rainbow vanilla sock that I'm knitting out of some yarn from a local wool fair. I've put a few rows on it here and there this week - on car rides in the dark primarily - but it hasn't seen much progress because my Farmers Socks have been my take-along knitting. Also, they're very sparkly in real life, but that was hard to capture on a grey November day!!
And that's it - that's all I've knitted this week. I haven't done any spinning or any dyeing. I cannot wait to get that cardigan done so I don't feel guilty about starting new things! Luckily my parents know me very well and all of my birthday gifts were yarn and fibre based...
My mum was in Scotland in September and she picked me up some Scottish goodies - some North Ronaldsay Roving dyed in fabulous colours. I've never spun, nor even heard of North Ronaldsay wool - this has been predrafted and feels lofty and fairly soft - not quite soft enough to be worn next to my face / neck, but would be perfect as mittens or wristers - I have 45g in total, so I'll probably ply the greeny-blue with a grey so I have enough to make something small. I've also got a pretty hand dyed silk hankie to spin - which is something else I've never used before, so it's going to be a learning curve all round! These are all from
The Little Orkney Dye Shed
and they have a small online shop.
I also received some beautiful sock yarn - on the left, a skein of 'Ollie's Sock Yarn' from
Wren & Ollie
in the colourway 'Serendipity' and on the right, a skein of
Hedgehog Fibres
'Sock Yarn' in 'Birthday Cake'. I cannot wait to cast on both of these!
This pretty braid is from
All The Pretty Fibers
, it's hand dyed German Merino and I love the colours. I think it's going to need quite a lot of predrafting before I spin it as it's a little bit on the felted side (sidenote: it's so hard to tell the quality of fibre from photographs!).
I also got a copy of
Curls
by
Hunter Hammersen
- I am excited to cast almost all of these on! Just need to finish my Divine Cardigan first...
I also got some little batts from
JellyBeans Yarns
in 'Candyfloss' and (not pictured) two fibre packs from
Nunoco
in 'Fen'. Lots and lots of goodies from my wishlist and I'm very grateful. I just want to play with all of them right now!
Okay, that's enough show and tell for one day I think - I should probably get back on with some of my projects!
♥