I have been dyeing yarn for myself for years - I started out with Kool-Aid and progressed to acid dyes fairly quickly. Selling my own yarn has always been in the back of my mind and it's something I've been working hard on over the past few months - so today it's my great pleasure to introduce you to the reason a lot of my Fibre Friday posts have been on the short side of late:
Stranded Dyeworks
!
Currently I'm just stocking fingering weight bases - Oasis - which is 75% Superwash Merino, 25% Nylon and Paradise - 80% Superwash Merino, 10% Cashmere, 10% Nylon - as well as a range of fibre braids for spinning. The majority of my colourways are repeatable and I'm excited to expand my range of colours as I progress. Above we have (L-R)
Bonanza
,
Goldfish
,
Garden Pansy
and two skeins of
Bonfire Night
. And below...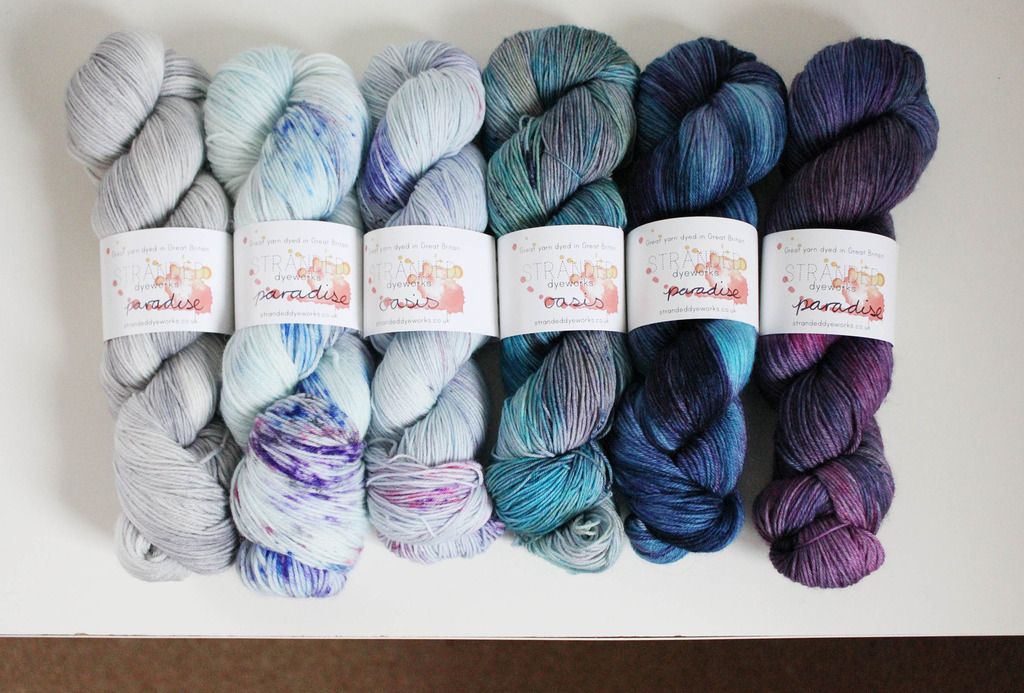 (L-R)
Spook
, two skeins of
Ice Skating Party
,
Skyscraper
,
Blue Rinse
and
Buddleja
.
The keen eyed amongst you may have spotted that Ice Skating Party is the colour I'm using for my Farmers Socks test knit - it's currently my favourite colourway, but that's already changed several times!
I have very big plans for my shop - essentially ending with World Domination - haha. But before that, I plan to have an update with some hand painted Sock Blanks - so I'm sharing sneak peeks of two that I've already dyed. I love sock blanks - they're so much fun to knit with. If you're not familiar with them, they're a hand dyed piece of pre-knit fabric, that you unravel and knit from, it creates interesting gradients and effects - especially for sock projects. These are currently all going to be one of a kind sock blanks - because I don't have enough bandwidth to write out recipes for each one yet!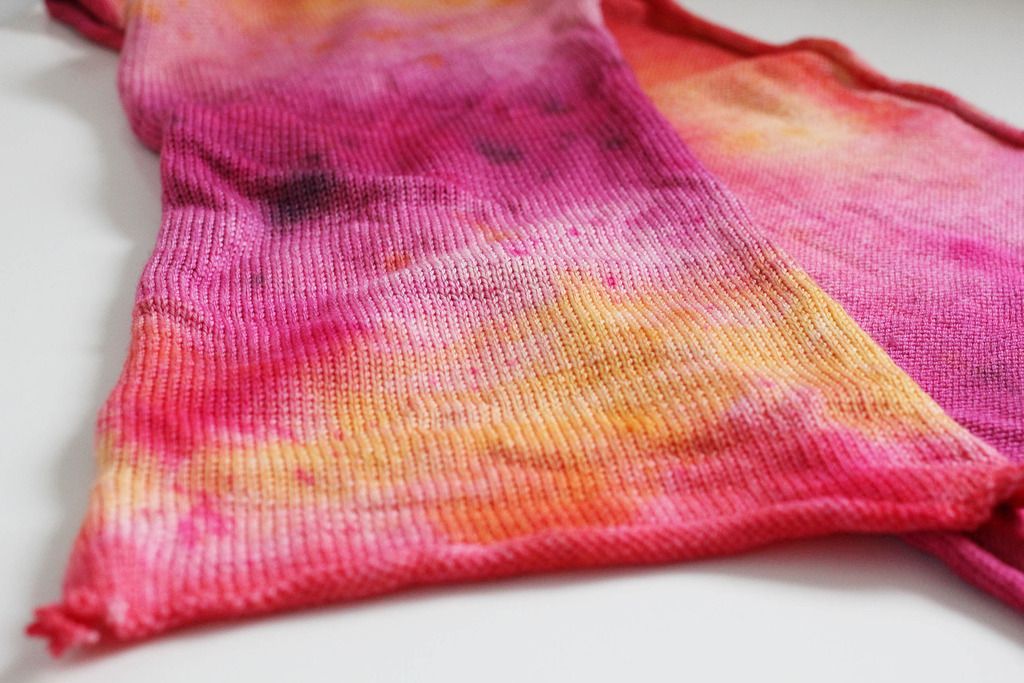 So there you have it - my baby. She's eating up a lot of my time at the moment, after all - you only get out, what you put in! This, and my Divine Cardigan are the reasons my poor spinning wheel is giving me sad eyes from the corner of the room - there are just not enough hours in the day!
I will be having a giveaway for a skein of yarn on my instagram at some point in the next couple of weeks - you can find me there as
@amyflorence
for details of that, when I decide them! But I'll probably mention it here too...
I hope you have a lovely week!
♥