Happy Friday! I'm one day away from a week off work - and pretty pleased about it. This week, I've actually done quite a bit of knitting - although I've just realised I've completely forgotten to photograph an FO and now it's dark, so it's going to have to wait until next week!
This week I cast on for a
Duotone Cowl
by
Orange Flower Yarn
. This has been in my queue for ages and I've been waiting to cast it on for ages. I'm using Vivacious DK by
Fyberspates
in the colourways 'Slate' and '80805' and it's looking rather Slytherin-ish - which isn't a bad thing, but not quite what I was planning...
I also cast on for another
Slable Hat
by
Woolly Wormhead
out of a lovely burnt orange 100% Merino fingering weight yarn that's been in the stash for a while (You can see my first
Slable Hat here
). This was going to be a Christmas gift - but after knitting the three inch ribbed cuff, the yarn is so hard and unforgiving, like knitting out of cotton rather than merino, that I decided it wasn't acceptable to gift to someone, so it's been frogged and going back to the stash. I'm not going to name and shame the yarn company, but I've had similar problems with other skeins, so I'll think twice before buying from them again.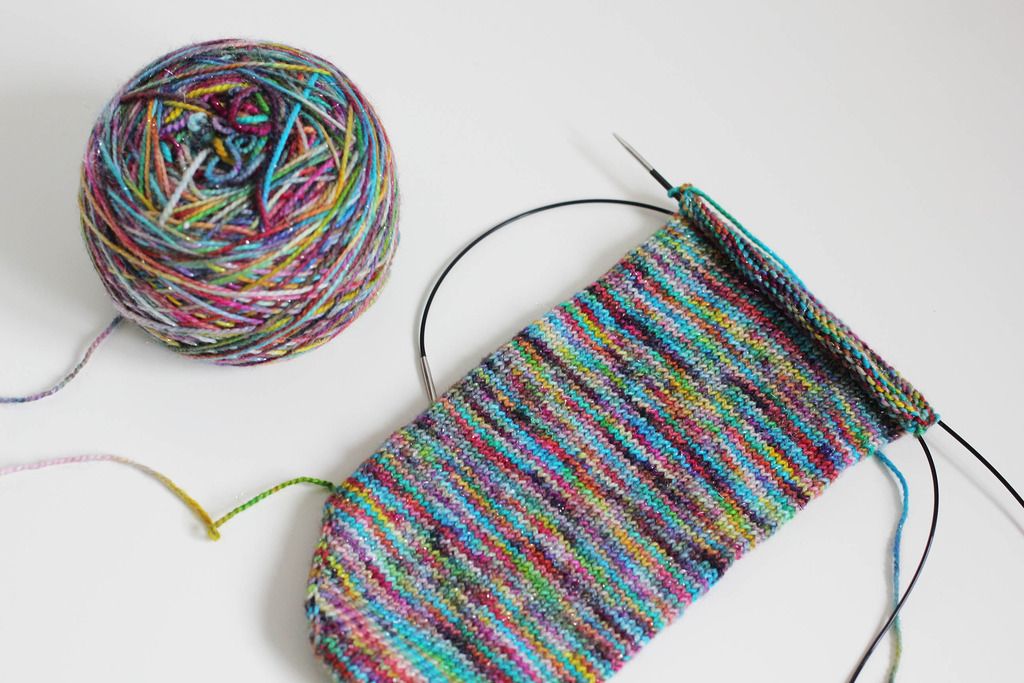 I have made progress with the sparkly rainbow vanilla socks, which are being knit on 2.25mm (US 1)
Karbonz needles
. I bought this yarn from a local wool fair in the summer and it's very cheerful! I've actually worked on them a little more in between taking the photo and actually writing the post, it's got a heel now! It's ready to be my cinema knitting* at the movies tomorrow night - for Mockingjay Part II obviously.
*cinema knitting differs from take-along knitting or handbag knitting, because in the dark, at the movies, I can only knit stockinette in the round - so sock legs are perfect! I can go and go until the film's over. While I can knit without looking in general, when I'm trying to concentrate on something like seeing a film for the first time (especially one with Jennifer Lawrence in it), I can't be worrying about messing up a stitch pattern!
Also on 2.25mm (US 1) needles is the beginnings of a
Skinner hat
by
Melissa LaBarre
- I only started this last night, after abandoning the Slable, so it's got a ways to go yet! This is going to be a yarn sample for my shop - I'm using Stranded Dyeworks '
Oasis
' in the 'Shiner' colourway, which is a colour I created this week, that I'm really happy with. I just love muted tones.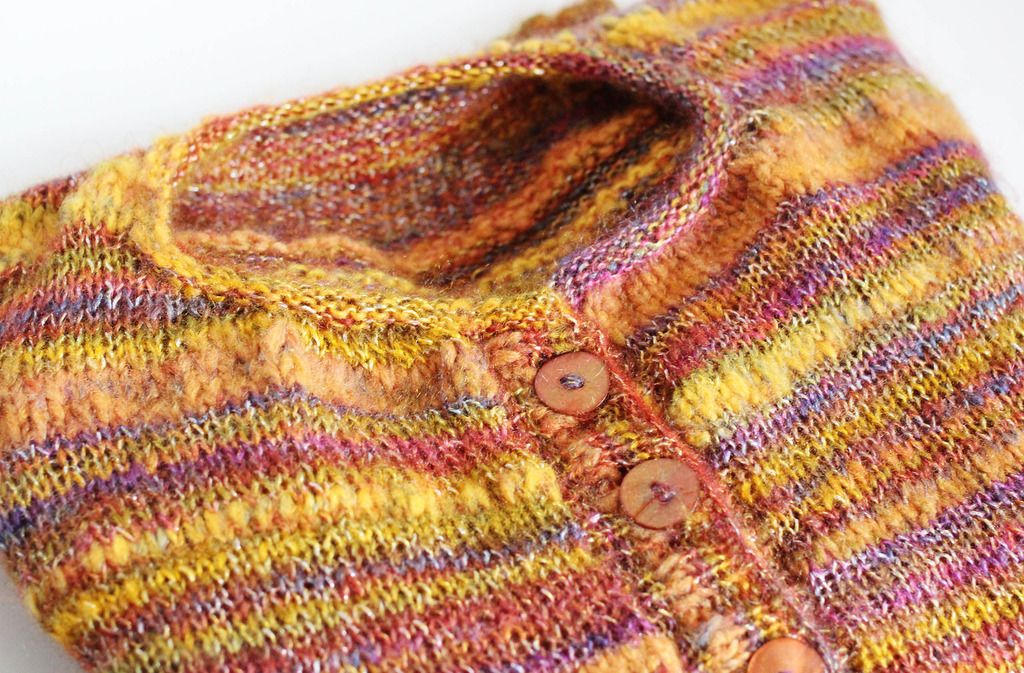 The reason for all this casting on is because I finally finished the Divine Cardigan!! I have been working on, and whining about, this cardigan for months - and now it's finished! It was all but button-band last week, and now I've knitted the button-band, added a neckband and sewn on the perfect buttons. It's still lumpy, it's still questionably ugly. But it's done, and it's exactly what the lady it's for, wanted it to be. I'm going to reblock it now it's finished and then it's out of my life forever! If my whinging hasn't put you off making a similar cardigan for yourself, this is pattern
7176
by Sirdar, knit out of
Sirdar Divine
in the 'Lucia' colourway. I modified it to have a button-band as there wasn't one in the pattern and eight buttons rather than six.
I have also done a little bit of dyeing this week - I have yet to list anything new in the shop, but I created a few new colourways - see above - and dyed on a new lace weight base - see below!
Drift is an 80% Merino, 20% Silk base, it's a 2ply with 800m per skein - perfect for shawls, or maybe a Featherweight cardi....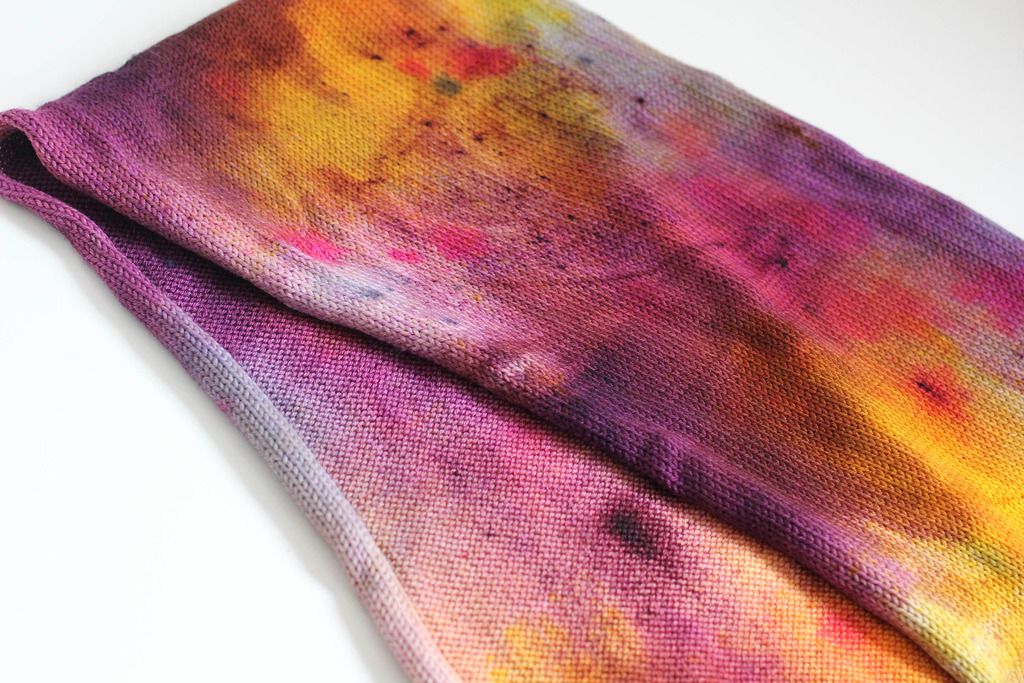 I also had fun dyeing up a couple of sock blanks - one for a custom order, and the one above - just because!
I'll share my forgotten FO next week - but here's a hint - it's my eleventh project knit out of my handspun! Okay. I'm off to check more things off of my to do list / watch back-to-back episodes of the Gilmore Girls - I haven't decided yet! Have a lovely weekend, whatever you get up to!
♥