I seem to be saying this every week at the moment - but it's another short post this week! There just isn't enough hours in the day. I'm not sure where time is going, but I wish it would stop running away with me!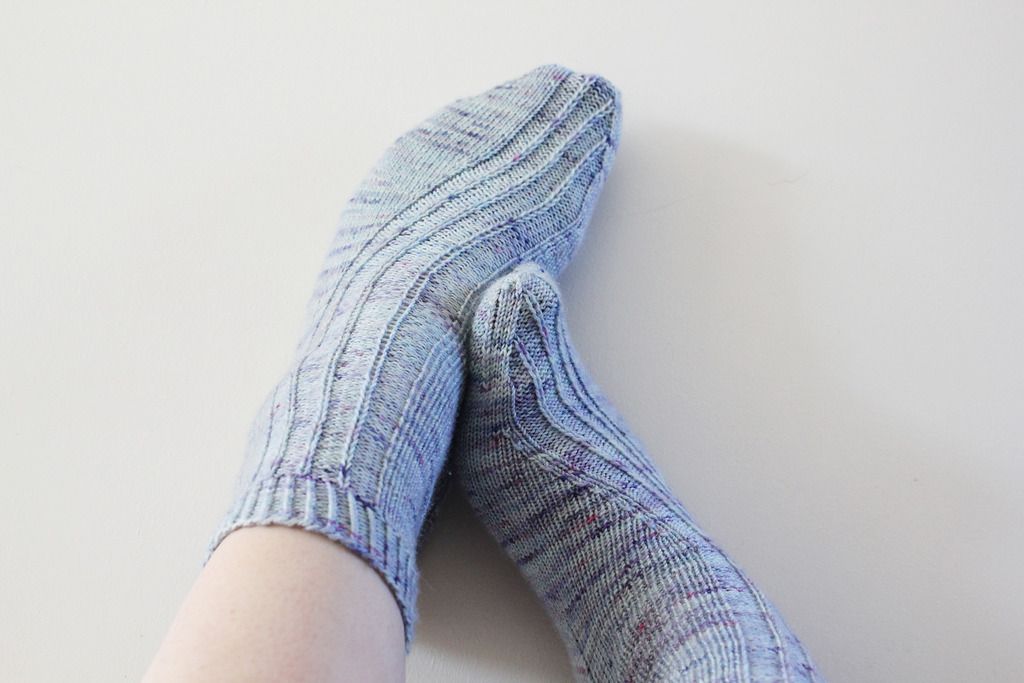 I do have one FO this week - I finished my Farmers Socks test knit! This is a pattern by
Amelia Putri
that will be released in the not too distant future! I love the mirroring travelling rib. These are knit out of hand dyed yarn on a sparkle base I'm not sure if I want in the shop or not yet... in the colourway Ice Skating Party. I love this colourway, it's my current favourite colour! The socks are a little small for my feet - that's partly because I have huge feet, and partly because I went down a needle size.
My Divine cardigan is so close to being finished. All it needs is the button band. It looks very lumpy and unflattering in this photo, which makes me a little sad, but apparently using lumpy yarn means a lumpy finished object! I did a very good job setting in the sleeves though - setting in sleeves is my knitting super power! Haha. This is
7176
by Sirdar and I'm knitting it out of
Sirdar Divine
. The recipient tried it on this week and apparently it looks really good on her (I wasn't there to witness it). However it's going to be tight across the bust, if it meets at all. That however, is not my fault as I did advise going for the bigger size in the first place! I just need to buy buttons and then I can get it done and out of my life forever.
I put one my point on my handspun
Hitchhiker shawl
in bed last night - after finishing my Farmers Socks - now I'm at 38 points and it is still very very small. I can wear it as a tiny kerchief at the moment, so I have a lot more knitting to do! Hitchhiker is a fabulous pattern by
Martina Behm
.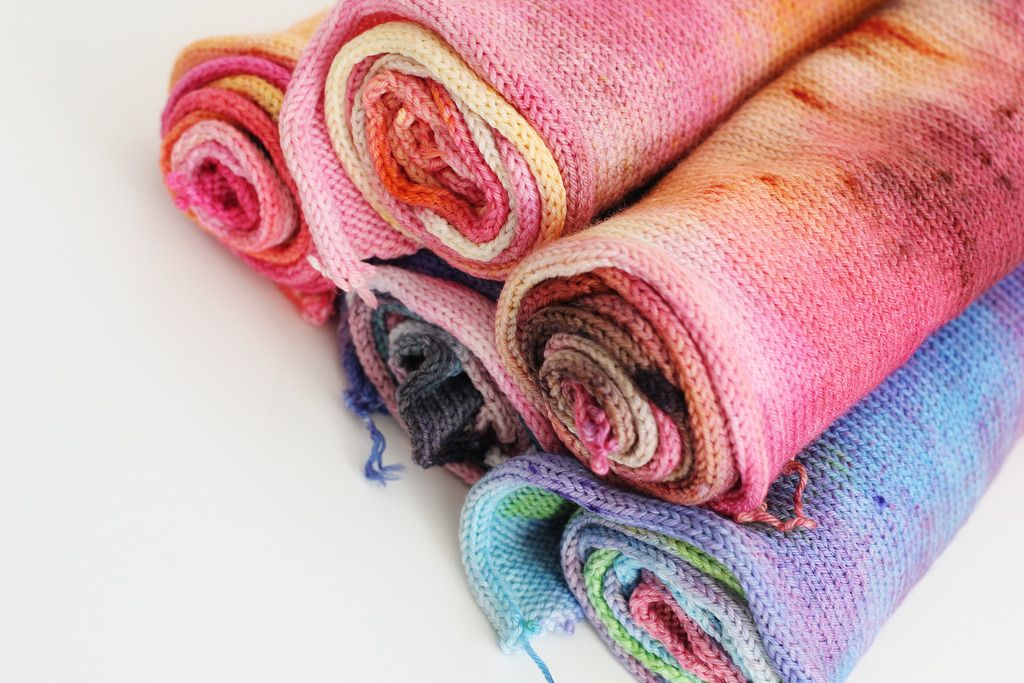 I spent my day off this week dyeing sock blanks. This isn't the most colour accurate photograph of them - I was having a 'My camera has 30 seconds of battery life left and the daylight is fading' moment - and one is still drying so isn't included, but they're all quite fun! I'm tempted to keep one for me... I've also done a little bit more dyeing today, but everything's soaking wet, so I'll photograph it for next week's post!
Now my cardigan is nearly finished and my test knit socks are done, I'm going to have a lot more time for knitting my own projects!
♥