I've had the week off work this week - and I've been enjoying it immensely - I must get out of retail! ;) I've achieved a fair amount on the fibre front this week - without further ado...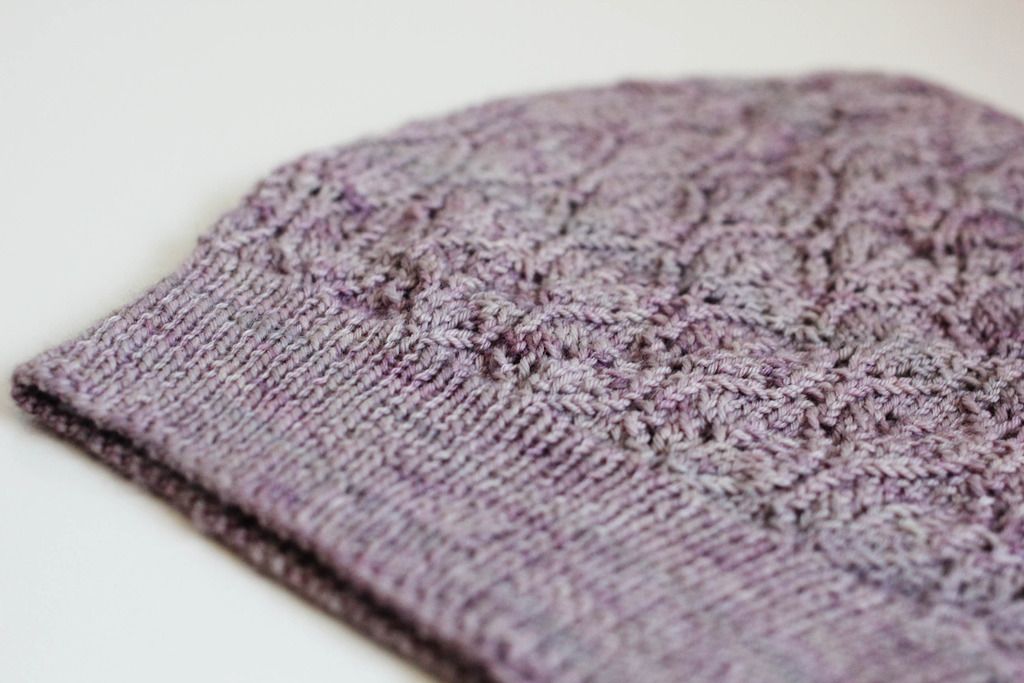 I finished my
Skinner
hat by
Melissa LaBarre
! This is knit out of my handdyed yarn - Stranded Dyeworks Oasis, in the '
Shiner
' colourway (which I listed in my
shop
this week)! I love how the colour has knit up, the lace was enjoyable to knit and the finished hat is very pretty. BUT. It's too close fitting for me - I like my hats to have a certain amount of slouch, otherwise I worry that I look like I'm wearing a swimming cap! Not a good look. But this is a sample for my shop and not for me to wear out and about - although I would've done if it looked better on me - so it's not the end of the world! If I was going to knit it again, I'd consider increasing after the ribbing, to fit another pattern repeat into the stitch count widthwise and possibly add another repeat in length...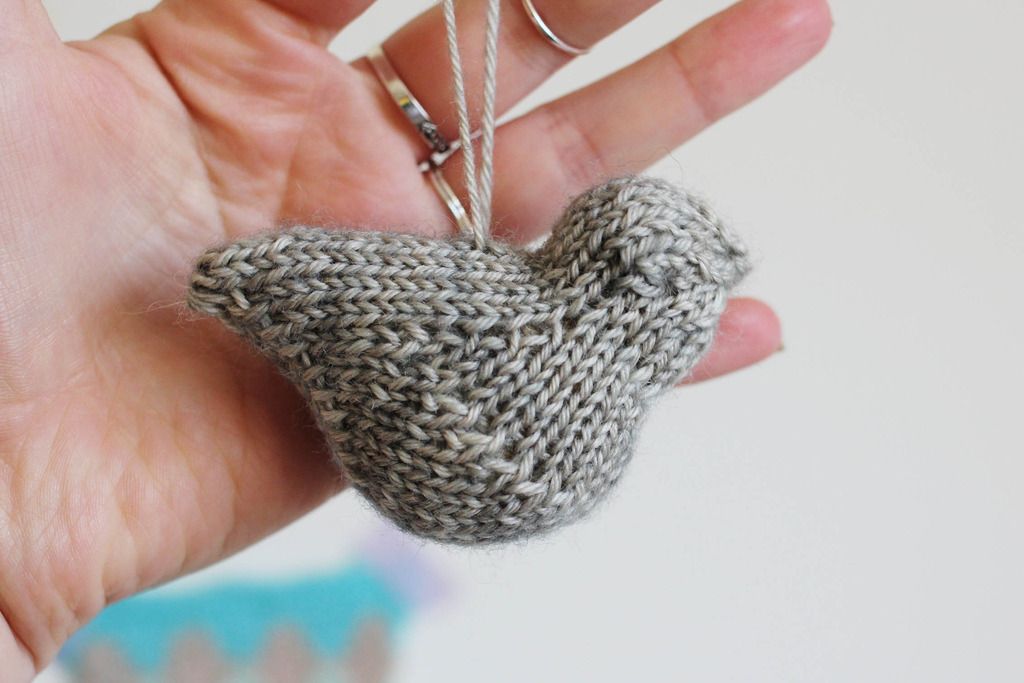 I have also knit another Bird of Happiness! This is knit out of leftovers from my Prickly Thistle Mittens - the 'Steel' colourway on
Bowland DK
by
Eden Cottage Yarns
. The pattern is
Bluebird of Happiness
by
Sara Elizabeth Kellner
. This is the first I've knit out of something other than my handspun - and I really like it! I'm going to be knitting a few more of these as Christmas gifts I think.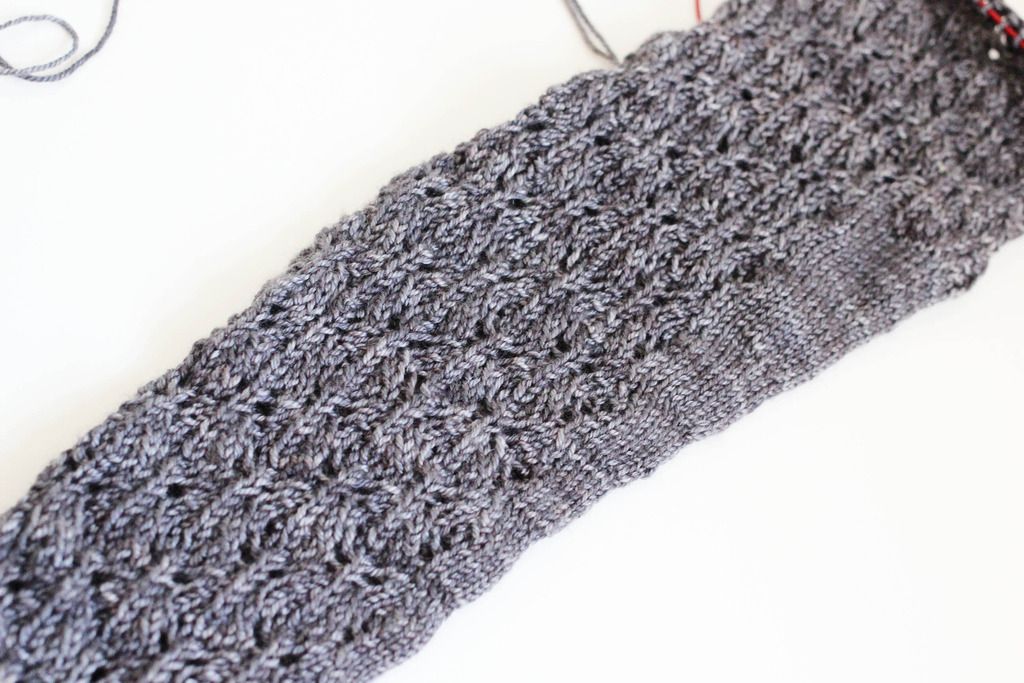 I've put some work into the first sleeve of my
Pomme de Pin
cardigan by
Amy Christoffers
- after avoiding it for weeks in favour of the dreaded Divine cardigan... I'm knitting it out of
Madeline Tosh Pashmina
in the 'Leopard' Colourway. The sleeves are driving me a little crazy if I'm honest. I looked back over past FF posts, but I haven't talked about it before - despite having cast on for the sleeve about a month ago. There are no increases on the sleeve, you cast on with the full amount of stitches, knit the ribbed cuff and then knit the pattern until the length desired. Now, I have seen a few podcasters knit this cardigan - Laura of
The Dyer's Notebook
and Kristen of
Yarngasm
- and I don't think either of them mentioned this, but they are both slim ladies so perhaps this wouldn't have been an issue. However, I am more upholstered person, and my wrists and my upper arms are not the same width! The first time I cast on for the cuff, I knit the recommended amount of stitches for the third size and it was huge! Like a wizard's sleeve... Haha. So I'm knitting the smallest size and increasing up twice at the end of each pattern repeat - until I reach the stitch count of the size I'm knitting! These are mods written by
Meljay
on ravelry. I have a stockinette panel going up the centre of the inner arm - which I'm not thrilled about, but who's going to see the inside of my arms, right?! I just want it done now!
My
Duotone cowl
has seen a bit of work, I'm at 11 stripes - with 4 more to go until I switch the colours. However, it's not anywhere near as long as it's supposed to be - I didn't swatch, because who swatches for cowls?! And my row gauge is way off. So this will be frogged and restarted with bigger needles... The Duotone cowl is a pattern by
Orange Flower Yarn
that I'm knitting out of
Fyberspates
Vivacious DK in 'Slate' and '80805'. I may switch out the green for another colour, because it's just a bit too Slytherin for me and while I'm a huge Harry Potter nerd, I don't think I want a house coloured cowl.
The sparkly rainbow socks have progressed - I've passed the heel and I'm working my way up the leg of sock number one. I'll be pleased to get these off my needles to be honest, there are too many colours for me to cope with! These are being knit out of some yarn I picked up at a local wool fair in the summer.
My Sunburst granny square afghan is progressing! I have 19 squares finished and another 7 inner circles to edge. I'm making it out of Cascade 220 in a variety of colours, using a 3.5mm hook - I'm a really loose crocheter...
Dyeing-wise, I've been working on some tonal solids this week - and I'm pretty happy with the results - although today's dye session was a bit hit and miss, but I guess it goes like that sometimes.
I'm heading to Milton Keynes for a dress fitting this weekend - one of my good friends is getting married next Spring and I'm a bridesmaid - which is exciting - so there's a lot of hours of train journeys ahead of me, so hopefully plenty of knitting time! I haven't decided what project I'm going to take with me yet - probably socks... Anyway. Enjoy the weekend everyone!
♥