It's December. How has this happened?! This year has flown by. Okay, so now I've got that off my chest - I shall push my disorganisation regarding Christmas shopping and the holidays to one side so I can talk about my knitting...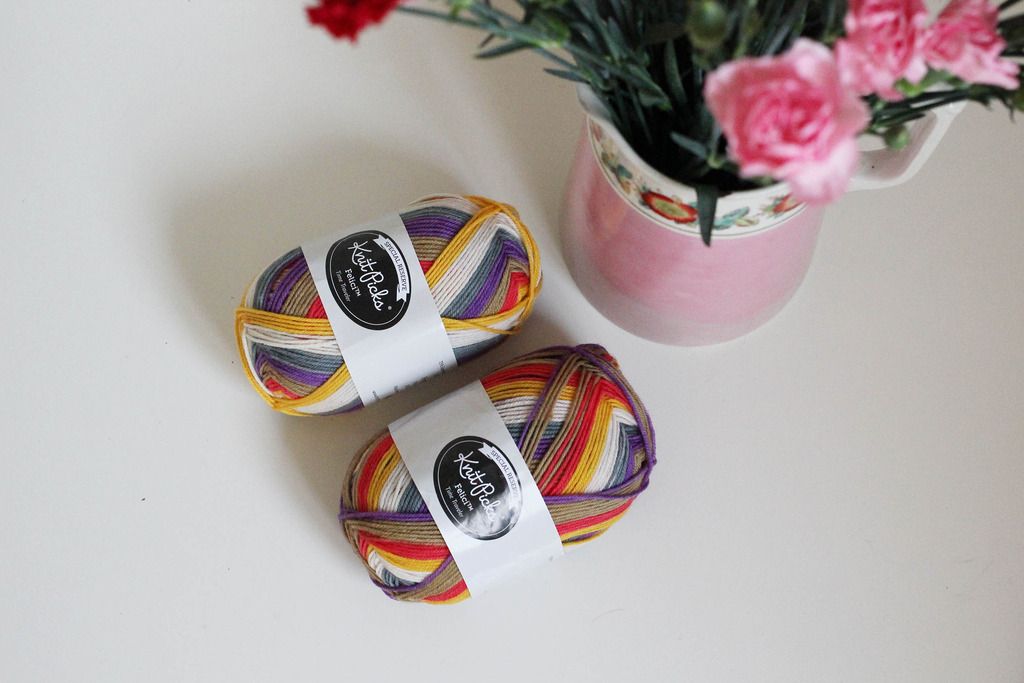 Starting with a little stash enhancement to mix it up a little this week - primarily because I wanted to show off the carnations that a customer at work bought me!
(She collapsed outside the shop I work in, I called 999 and sat with her until the paramedic arrived - the flowers were a very thoughtful thank you - not everything about retail work is horrid!)
I got my first ever skeins of
Knit Picks Felici
in the post this week! There's a long winded story behind this - Knit Picks just started shipping to the UK - which I was very excited about - because it's always nice to have access to affordable things and I think their
Caspian needles
are very pretty. Anyway. I saw Felici in the 'Time Traveller / Traveler' colourway and fell in love - and put it on my Christmas wishlist. But I neglected to tell my mum that it's sold in 50g balls and thus I would need two - by the time I realised this the colourway was sold out, and she'd ordered me one ball - not enough for a pair of socks for my size 8 (US 10 - I think...) feet. I found two balls in the same colourway for sale on eBay in the US and paid $30 / £20 for it. So even though Knit Picks now ships to the UK for £6.99 - I still ended up buying yarn from America. I give up!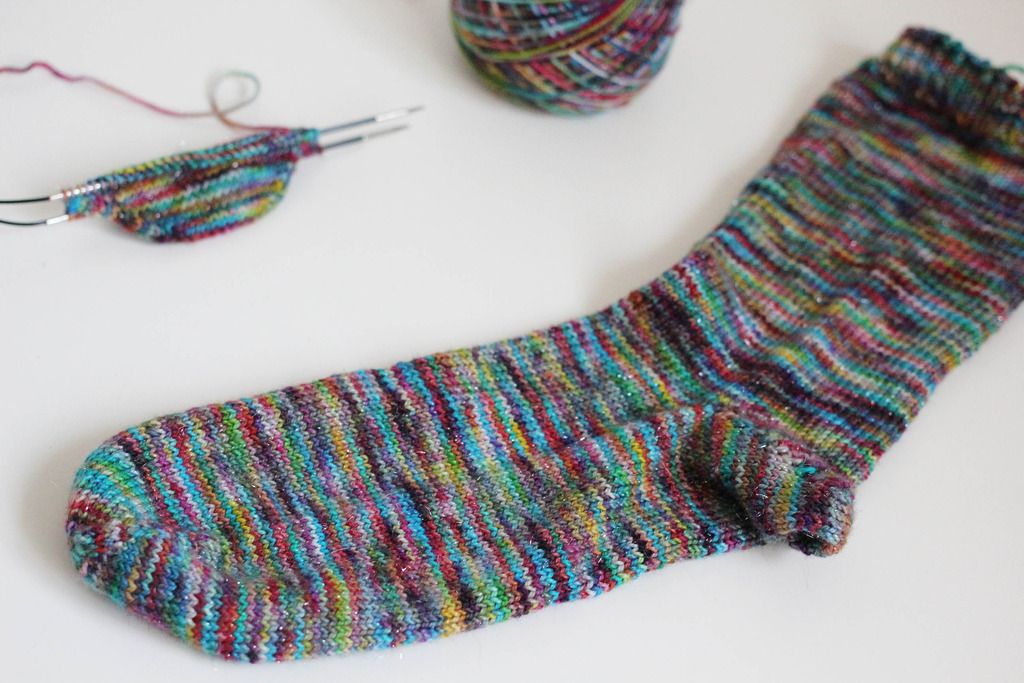 Knitting-wise - my first sparkly rainbow sock is finished! I bound it off on the train last weekend and I've cast on for the toe of the second sock. These are toe up vanilla socks with a short row heel, knit out of some locally dyed yarn I picked up at a wool fair in the summer.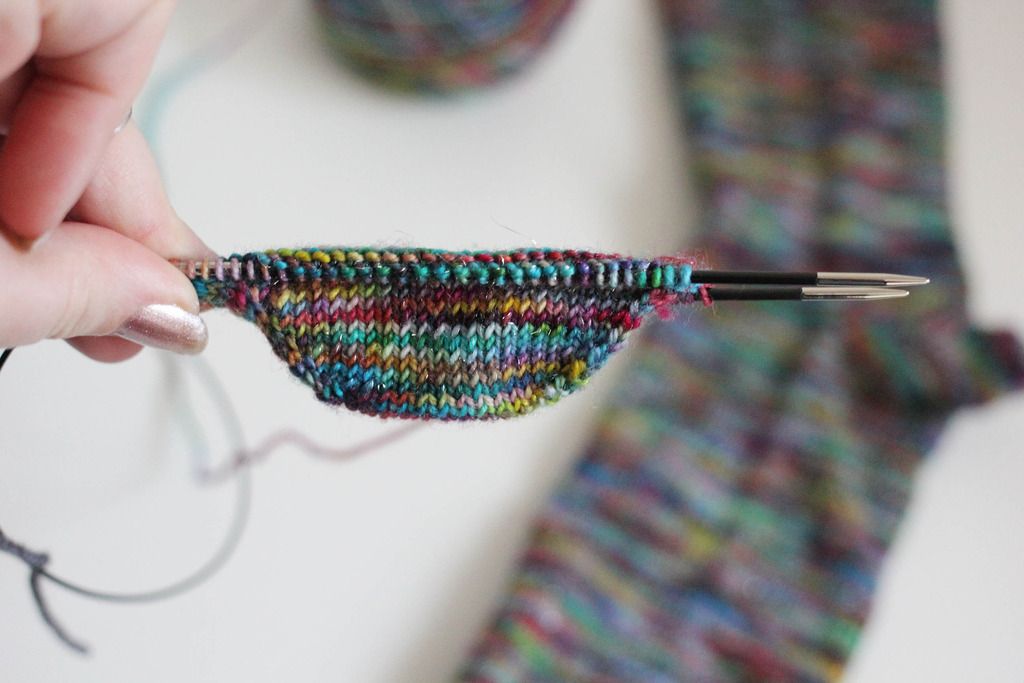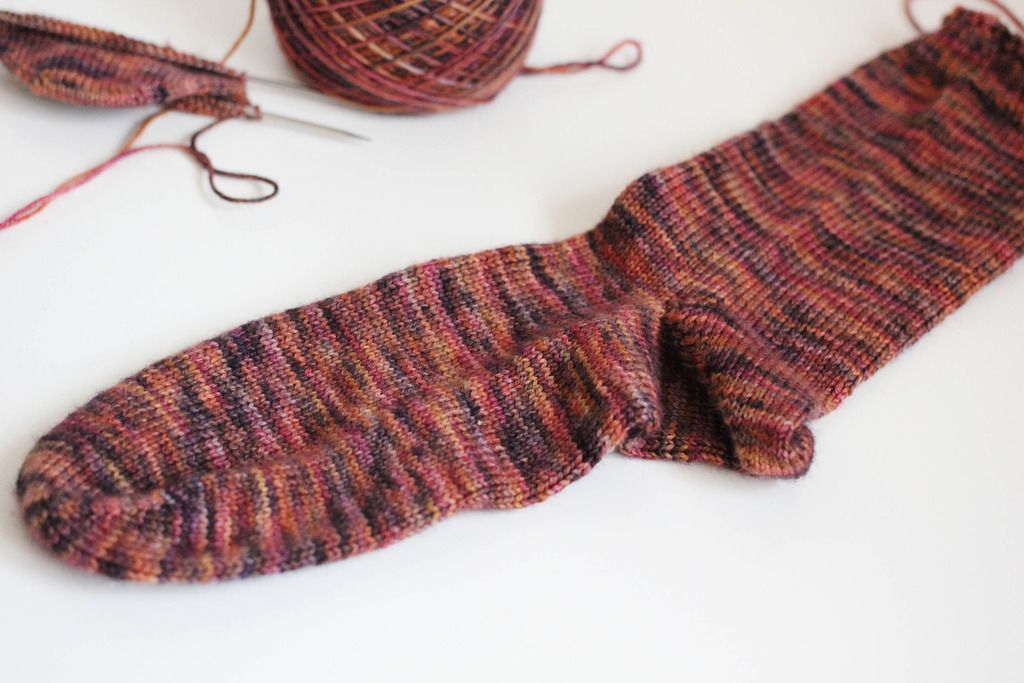 Continuing with sock knitting - I cast on and knit a whole sock since last week's post - on the train to and from Milton Keynes. I wanted to work on another sample out of my yarn - so I chose '
Bonfire Night
' on the Paradise MCN sock base - and knit another toe up vanilla sock. I love love LOVE how this colour has knit up. I'm so pleased with it, it's autumnal and perfect. There may be a sweater knit up in this colourway in my future... I've also cast on and knit the toe of the second sock. So I have two plain socks as takealong knitting for the next couple of weeks!
(In case you're interested - I am now two single socks away from completing my goal of 25 pairs of socks in 2015! Easily achievable I think...)
I have also made two more Birds of Happiness (from
this
pattern by
Sara Elizabeth Kellner
) that will be little Christmas gifts for friends. The top one is some Manos Del Uruguay that's been in my stash for YEARS and the one below is out of some handspun.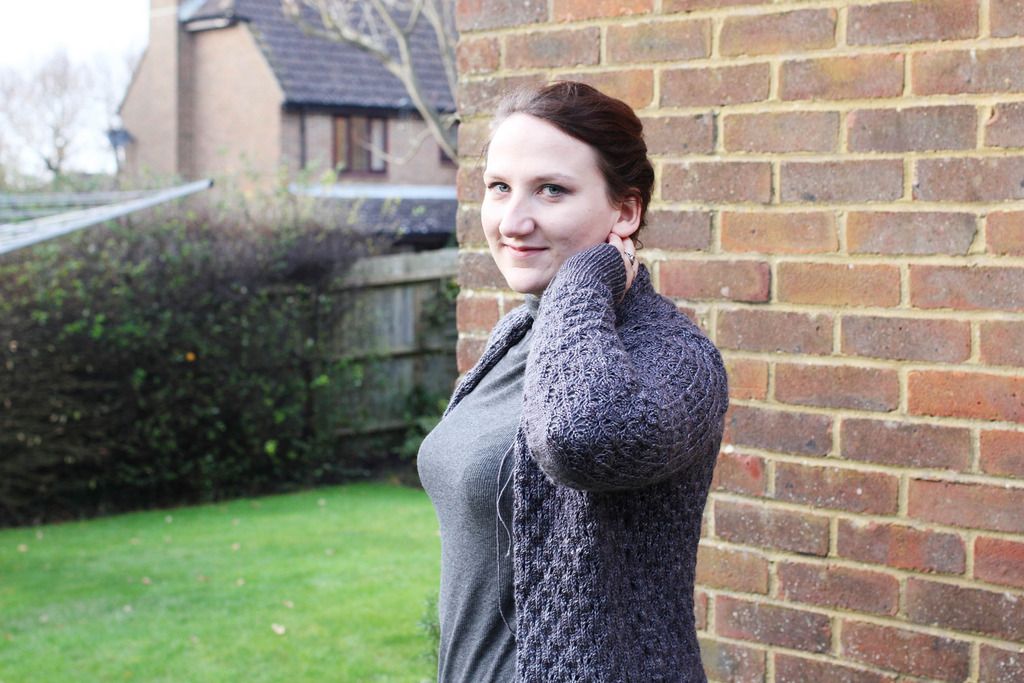 I have made significant progress on my
Pomme de Pin cardigan
by
Amy Christoffers
. The first sleeve is finished, I've eased it in, and I've eased in the back of the neck to the collar part. It's starting to look like a cardigan at last! I'm knitting it out of
Madeline Tosh Pashmina
in the 'Leopard' colourway - this yarn is such a dream to work with and I will wear it to death when it's finished!
Keen eyed people will be able to tell two things from these photographs; one is that the right sleeve is missing - it's still on the needles. Two - unless I knit a button band that's a foot wide, it's not going to do up. Actually, this is a deceiving photo and it probably will do up when it's blocked flat, but I never wear my cardigans buttoned because I think it looks a little weird, so although I will add a button band, I'm not going to be adding any buttons.
(The theme behind the above photos is called 'Goodness me I need a haircut' - I like to think I've committed to the look wholeheartedly! My hair is my least favourite thing. It drives me mad when I wear it loose and I look like a headmistress when I tie it back.)
A pretty productive week I think - I'm aiming to have my cardigan finished by next weekend - but this might be a little ambitious - it depends if I block it before adding the button band... I'd also like to get one of those second socks done... Go big or go home! Haha.
♥