Another Friday... The first of May - this year is flying by! I've spent most of this week working on my Olivia Shawl - which is a test knit for my friend
Nina La Fountaine
- host of the
Fuzzy Love Knots podcast
(which I'm so behind on - sorry Nina!). I'm knitting it out of some hand dyed laceweight yarn and I'm finally on to the applied edging. This is my first time knitting an applied border and I'm really enjoying it - I love learning new things! I think I could end up playing a little game of yarn chicken though, as the ball is looking remarkably small now... I need to get it finished by Monday - so it's full steam ahead!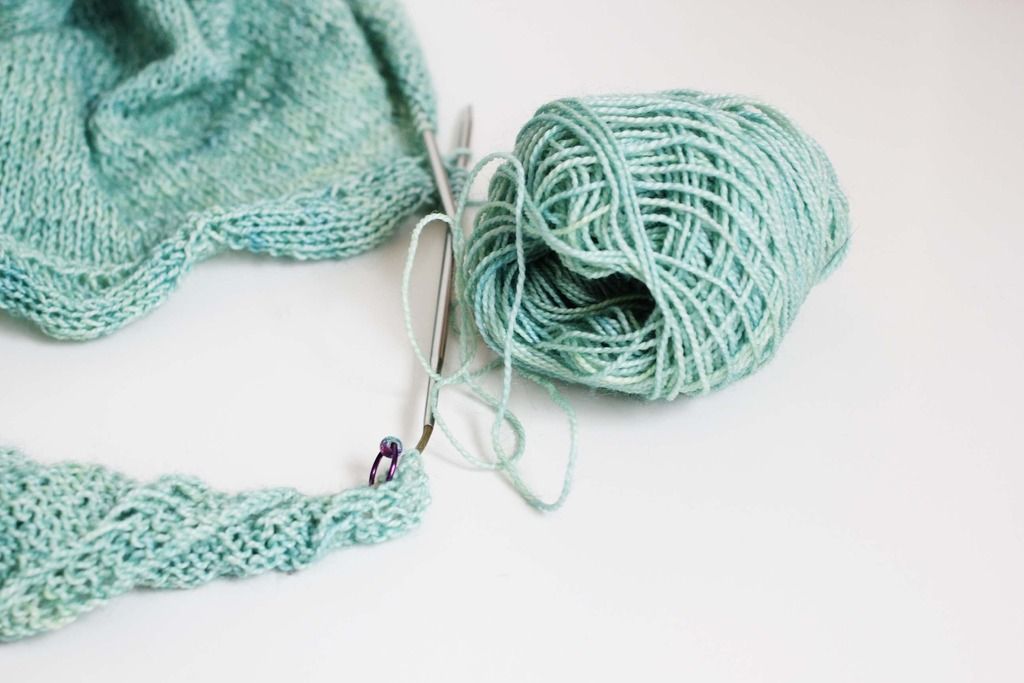 I put about an inch on my toe up 3x1 ribbed sock out of Trekking XXL in colourway '534' - this is my Out and About Knitting - so it gets a bit of work on it when I'm at the bus stop or on slightly longer bus journeys. Thankfully this is the second sock, because I'm getting a bit sick of it - I think I need to work on something other than socks for a while...
I've also knit a few swatches for a secret project I'm planning - more information on that soon!
Spinning wise - I spent a large amount of last weekend catching up on tv shows and finally finished the second bobbin of my BFL/Cashmere/Nylon fibre by
Lime Green Jelly
. I have one more bobbin to spin - but I'm breaking it up a bit by spinning something else (see below) in the meantime - as spinning finer means it takes a lot longer to work through a braid!
Finally, after finishing the LGJ bobbin that's been on the wheel for ages, I rummaged in the stash and pulled out some fibre I dyed back in March - I was about to say I couldn't remember the fibre content, but realised I
blogged it
- hooray for blogging! It's a 50g braid of 100% merino that will eventually be plied with a similarly coloured braid of fibre.
Well, I need to get back to the Olivia Shawl - I still have about 24 repeats of the border chart to knit! I hope you have a lovely Bank Holiday weekend if you're in the UK - or a lovely regular weekend if you're not! I'm paying the price for my four day weekend by working nine days with one day off, but it keeps me out of trouble! ;)
♥