15 weeks of Fibre Friday - which means it's been around 15 weeks since I moved to the seaside. Time flies!
This week I put around 7 inches on the body of my
Old Romance cardigan
- which is a feat in itself as each row is nearly 300 stitches... Anyway. The Old Romance is designed by
Joji Locatelli
and I'm knitting it out of
'Tosh Sock'
in the 'Moorland' colourway by Madeline Tosh. I'm hoping to get it finished in a month, which feels achievable - even though there's still around a foot of body to knit!
I've also worked on my rainbow 3x1 ribbed socks out of Trekking XXL in colourway '534'. I know, I'm just as sick of seeing these socks as you are! ;) But this is the
last time
you'll see them on the needles, I promise - as they're a bind off away from being done. But I was saving that bind off for the start of Stash Dash, which is today - so they'll be off the needles by tonight, all being well! (After all -
I have messed up sock bind offs before
...)
As I was uploading the photographs for this post I was pleased by how much knitting I had - but then I realised that 4 photos were directly related to baby hats... but they are so addictive! The pattern is the
Easy Peasy Newborn Hat
by
Keri McKiernan
- I have two finished hats and one on the needles.
Excuse the hats being modelled by my fist - but it's surprisingly difficult to photograph baby hats without a baby's head... Anyway. This is knit out of leftover 'My Precious' sock yarn by
Vickevira
. This hat was originally intended for my Mum's new Great Niece who was recovering from major heart surgery, but sadly she passed away before I had a chance to get the ends woven in. RIP Mila Faith, I will think of you every time I knit one of these little hats.
So, I knit another Easy Peasy Newborn Hat out of leftover
Easyknits
yarn in their '
Cherish
' base* which is Merino/Nylon/Cashmere and is super soft - perfect for tiny little heads!
*I'm sorry - I don't know the colourway name and I couldn't find it on their site!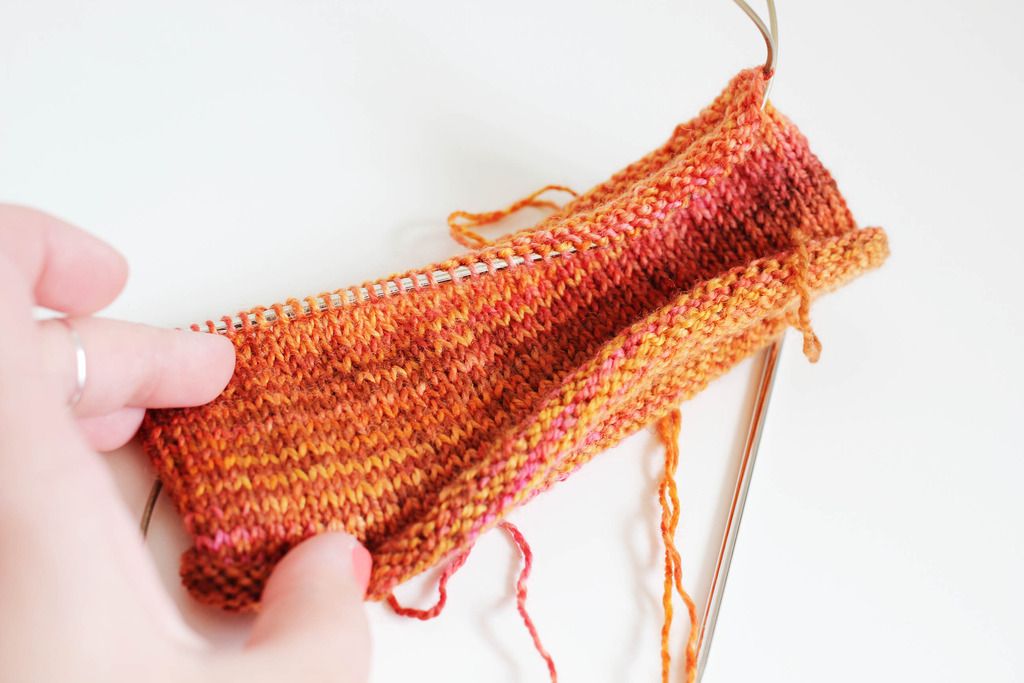 Finally hat wise, I cast on for one more EPN Hat - out of leftovers from a sock blank I dyed last summer (the majority of it wound up as a pair of
Monkey socks
).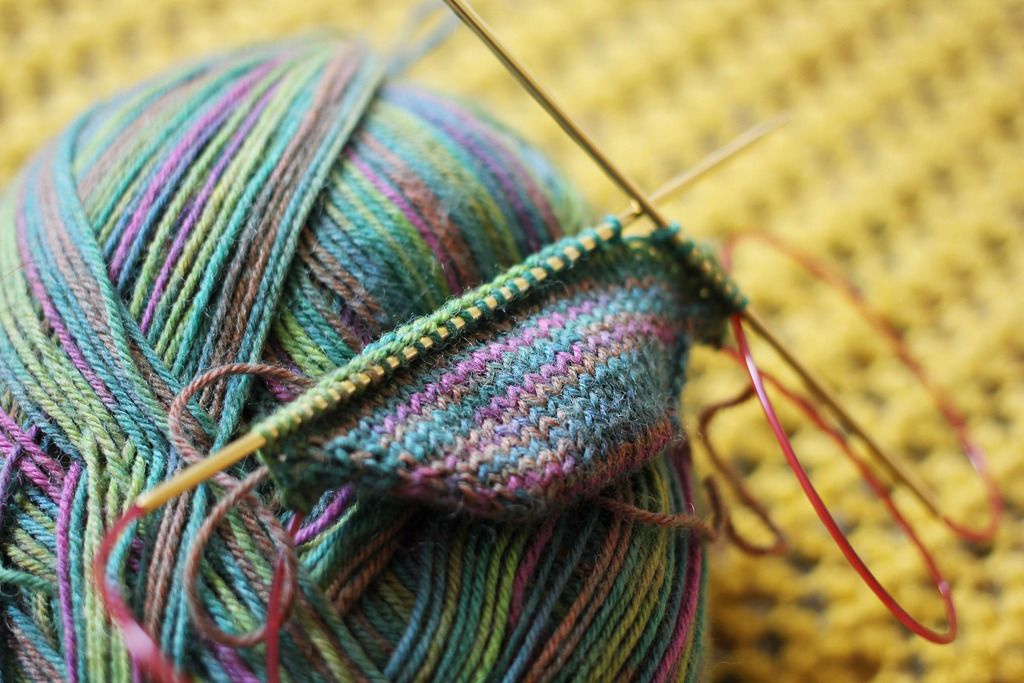 I cast on for a new sock to replace the Trekking Rainbow socks for my carry around knitting - but after knitting the toe I realised I wasn't very inspired by it - it was too similar to the rainbow socks that I've been working on - probably because it's Trekking XXL in muted rainbow shades... So I frogged it and started...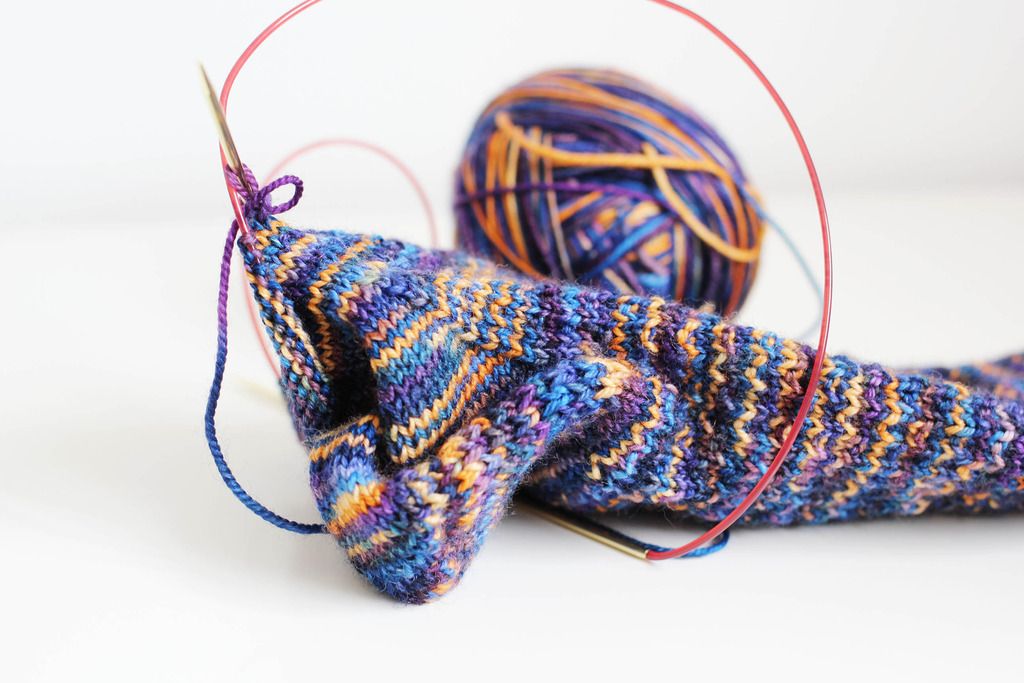 A pair of
Hermione's Everyday Socks
by
Erica Lueder
out of
Manos Del Uruguay 'Alegria'
in colourway '
7105A
'. I was worried the colours would pool really unattractively - but I'm so pleased with how it's knitting up.
Not fibre related - but my Hermione's sock is living in this little drawstring project bag I made this week. It's been ages since I've sewn anything and now I want to make a thousand more of them in different sizes... If you're interested in making your own I followed
this tutorial
.
I also got a little more spinning done on the BFL/Cashmere/Nylon blend by
Lime Green Jelly
- but I haven't included a photo because it looks remarkably similar to all of the photos I've shared before! ;)
Okay, I'm off to bind off my Rainbow socks and get my Stash Dash off to a good start. If you're in the UK enjoy the Bank Holiday weekend - if not, well enjoy the weekend anyway!
♥