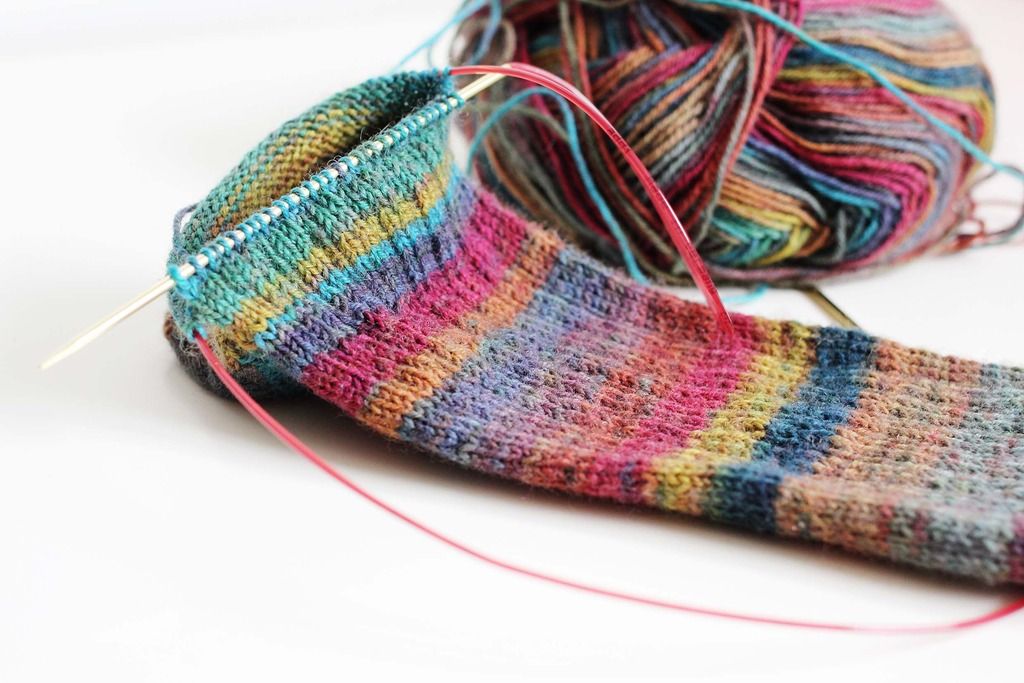 This week I have been struggling with my knitting mojo - there are lots of reasons behind this, but I think something that hasn't helped is I'm not in love with any of the projects in my UFO* box and the only things I'm working on are second socks. Not a good place to be in! That being said, I got a chunk of knitting done on my muted rainbow socks out of Trekking XXL in '534' and I'm now past the heel and on to the leg. In case you've missed previous posts, this is a toe up sock with a 3x1 rib and a short row heel, knit on 2.25mm (US 1) needles.
*UFO - Unfinished Object (the same as a WIP - work in progress, I alternate terms as and when I please!)
I put another pattern repeat on my
Tic-Tac-Toe-Up
Socks by Wendy Johnson, from her book
Socks From The Toe Up
. This a slow going sock - it's not enough of an autopilot project to make it into my handbag for On The Go Knitting, so I only put a few rows on it here and there, but I love the colour of the yarn, so that's helping. This is knit out of a skein I hand dyed a while back, on 2mm (US0) needles.
I did get my Olivia shawl finished in time for the test knitting deadline! I ran out of yarn with five repeats of the applied edging to go - yarn chicken beat me! The yarn was a skein of hand dyed lace weight and luckily I had a skein of fingering weight in the same colourway - not the same dyelot, but (and I guess this is a testament to my dyeing skills, or my note taking skills...) close enough that if it wasn't for the difference in yarn weight, you'd never spot it.
Olivia is a shawl designed by
Nina La Fountaine
, although this was a test knit and the pattern isn't available yet, but you can see Nina's finished shawl
here
.
I don't have any finished photos of it yet - the above photo is from a botched blocking attempt - it's going to have to wait until next payday when I can buy blocking wires - which is something I've been meaning to do for a long time!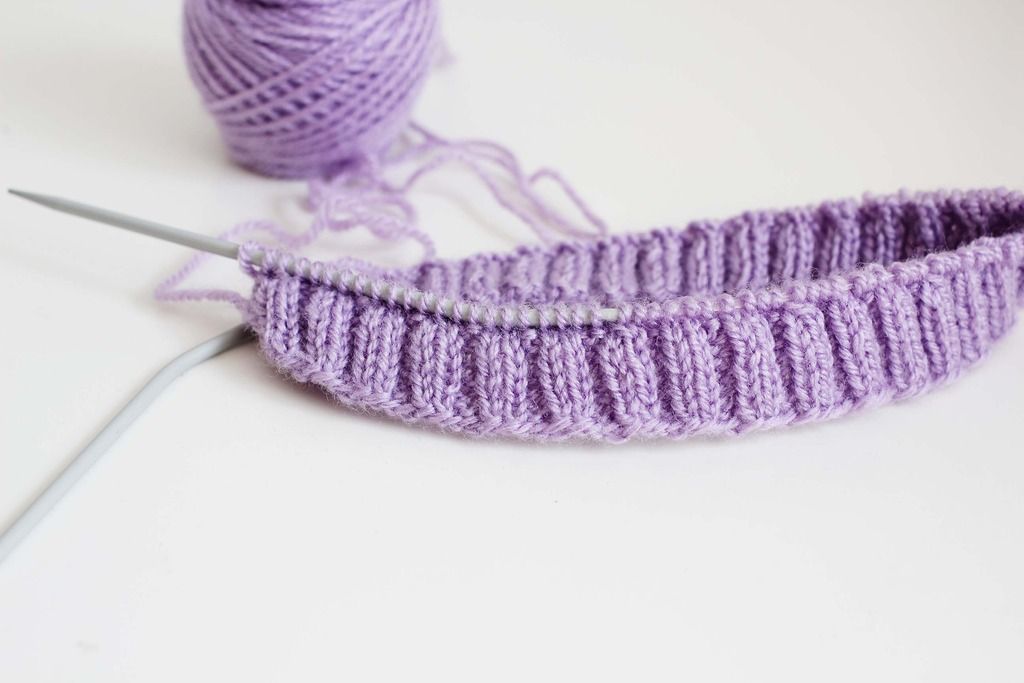 I also cast on and knit the rib for another
Sirdar '1310'
baby sweater out of some mystery lilac acrylic from my mum's stash. This isn't something I intend to finish - I started it for my mum, who's going to knit it for her new Great Niece, I just needed to knit something and lacked inspiration to start anything of interest! You can see the sweater of the same pattern that I finished a few weeks ago
here
.
Spinning-wise I finished the bobbing of hand dyed Merino I was working on last week - I love the navy flecks it has. This is going to be plied with a similarly dyed braid that I have in the stash - I'm not sure what it's going to grow up to be - possibly a hat, if it doesn't clash horribly with my hair! Or maybe some fingerless mitts...
I also got a good start on the third (and final!) bobbin of my BFL/Cashmere/Nylon blend from
Lime Green Jelly
. Moving my wheel up to my room was a good idea - I got a whole lot done whilst watching a Spooks boxset the other night... Anyway, I've been working on this 100g braid on and off for nearly 3 months, so I'll be glad when it's finished!
Right, I'm off to spend my weekend finding my knitting mojo - wish me luck!
♥