This week I feel like I've done a
lot
of knitting - which is a productive feeling! I think I can blame that on Stash Dash and my intense desire to finish ALL the things. If you haven't heard about Stash Dash, you can find out more about it in The Knit Girllls ravelry group right here.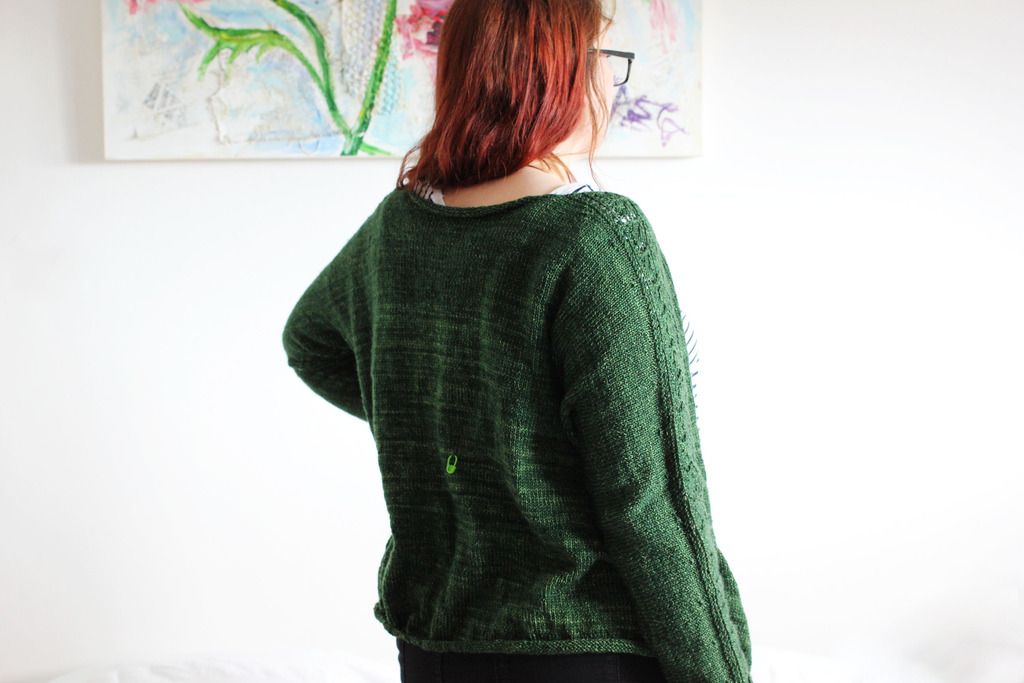 My
Old Romance
cardigan has seen the most work this week. I put 10 inches of stockinette stitch on the body (that's nearly 300 stitches every row) and it's grown so much since
last week
. The novelty of this pattern has definitely worn off - knitting the body feels like a chore now - but it's good TV knitting - I finally finished the second season of Orange Is The New Black whilst working on it this week
(sidenote: I'm eternally late to the party of everything but OITNB is incredible and I'm super excited for season 3 next month)
. If it wasn't for #stashdash2015 I'd probably have put it in time out for a bit, while I worked on something else - but this should give me around 1700m so I'm powering through! I have one more inch to knit before I start the rib and I can't wait to get it finished; partly because of tedious amount of stockinette, but primarily because I will wear this cardigan to
death
.
It's knit out of
Madeline Tosh 'Tosh Sock' in the 'Moorland'
colourway and the pattern is 'Old Romance' by
Joji Locatelli
.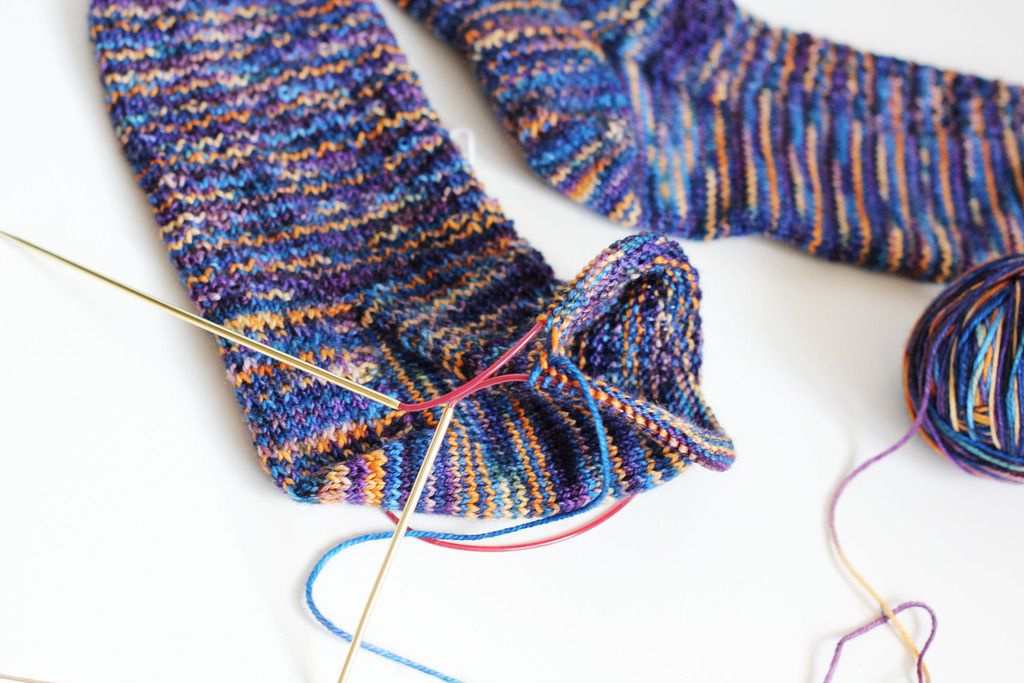 The
Hermione's Everyday Socks
I started last week are nearly finished. The first sock is done, I've finished the gusset decreases on the second sock and I'm powering down the foot. I'm knitting these out of
Manos Del Uruguay Alegria
in colourway '
7105A
'. I think these look just like the packaging for Jaffa Cakes and I love it! They're not normally colours I'd choose for myself, but I really like how the yarn is knitting up. Another two lunch breaks at work should see these finished.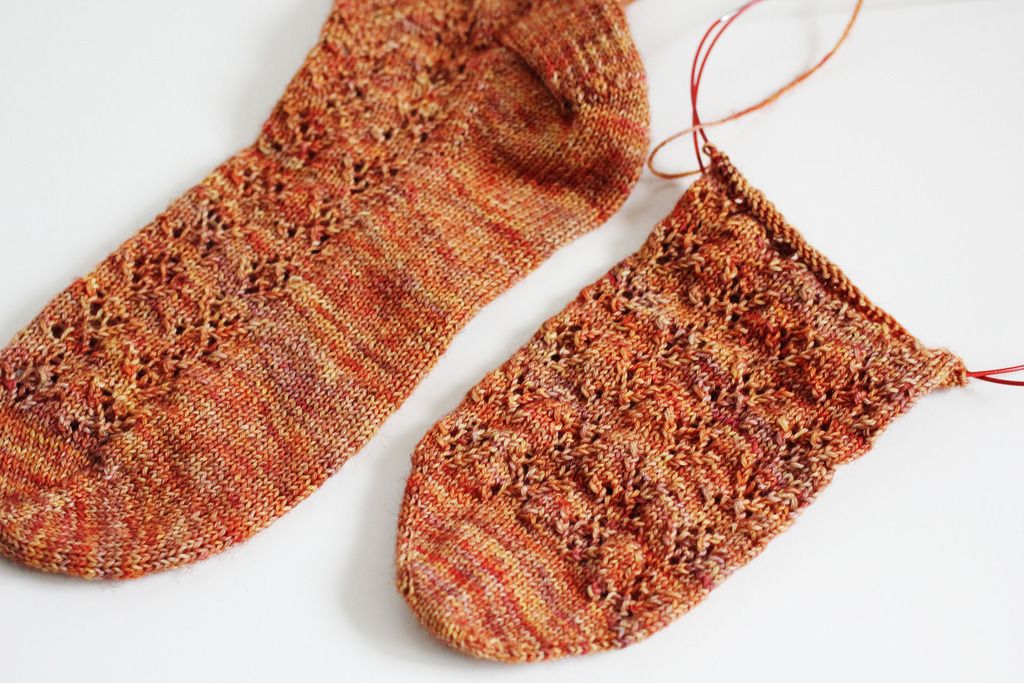 I had to force myself to put another pattern repeat on my
Tic-Tac-Toe-Up socks
by
Wendy Johnson
- from her book
Socks From The Toe Up
. It's not that I don't like them, I think they're really pretty, but progress on them is so slow thanks to the 2mm (US 0) needles. I'm ready to start increasing for the gusset on the second sock - so soon the progress will be even slower! Haha. I'm knitting these out of some yarn I hand dyed a while back.
In order to knit something a little more interesting - I had to counteract the stockinette induced exhaustion brought on by the Old Romance - I cast on for a
Budleigh
sock by
Rachel Coopey
, from her book
Coop Knits Socks
. I love Rachel, I've seen her at a couple of events and she's the sweetest. The Budleigh socks have two different types of cables and they're so much fun to knit. I'm using
Skein Top Draw
in 'Blackcurrant' and 2.25mm (US 1) needles. These are not going to be a fast knit, but it's nice to have something to concentrate on.
I finished another
Easy Peasy Newborn Hat
by
Keri McKiernan
this week - knit out of leftovers from a sock blank I dyed last summer and I cast on for another out of some
Austermann Step
in the 'Ennis' colourway. I have a jar of leftover sock that I intend to knit more of these out of. I'm not sure if I'm going to save them for any future babies that my friends may have, or to donate them to a local hospital or other charity...
Finally knitting-wise, I bound off my Rainbow Trekking socks - knit with Trekking XXL in the '534' colourway. These were knit toe up with a 3x1 rib up the foot, a short row heel, more ribbing up the leg and an inch of 1x1 rib at the top of the cuff. I've talked about these a lot and I have nothing more to say about them!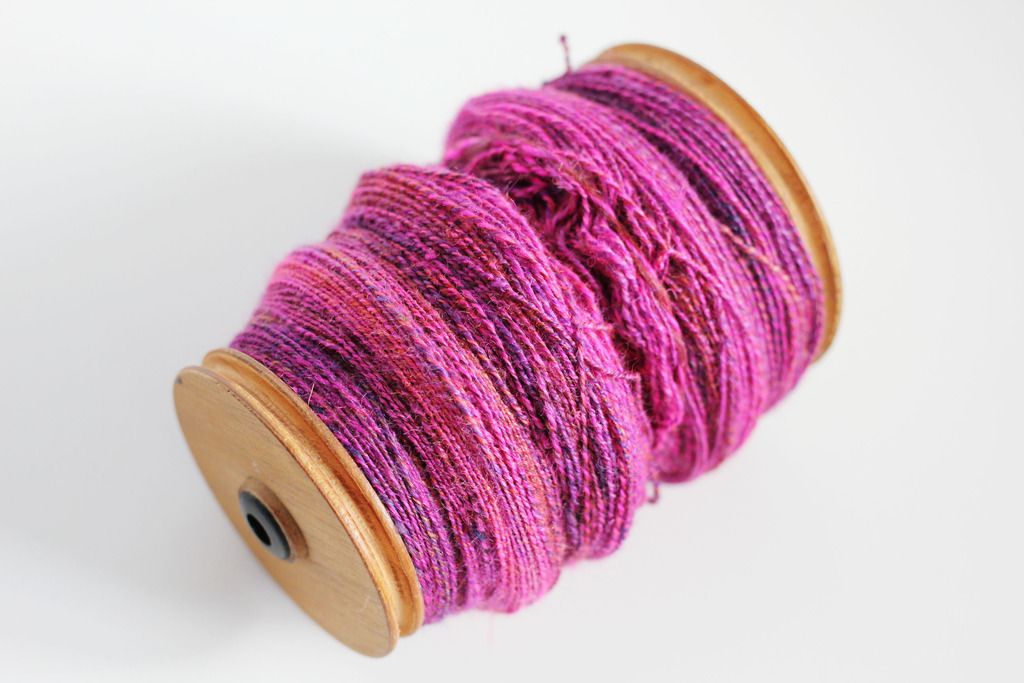 I also managed to finish spinning the singles out of my BFL/Cashmere/Nylon blend from
Lime Green Jelly
and now it's plied too! Please excuse how messy it looks on the bobbin - one of the hooks decided it was going to snag every time I tried to use it, so there was a whole section of the bobbin that was out of action. It's a 3ply - I'm about to wind it off the bobbin and count the yardage, but this will probably end up as a pair of socks. Eventually...
Phew. I feel pretty exhausted just from typing all of that! It's been a busy week - I have one more day at work and then I can have a lie in (which is always the highlight of my week!). I hope you've had a lovely week - can you believe it's nearly June? Crazy stuff.
♥