I wanted to share a few more photos of my finished
Old Romance
cardigan, which is a pattern by
Joji Locatelli
and I used Madeline Tosh Sock in the 'Moorland' colourway. We went to the beach to photograph - the beach is my favourite place for knitwear photos, and I'd intended to model it myself, as I knit it for my measurements, but I'm a control freak when it comes to photography - so a big thankyou to my mum, who hates photographs of herself, for stepping in!
I followed the modifications that
ittybitty
used for cardigan, titled '
Modern Romance
'. I eliminated the contrast colour for the lace panels - as I knew I'd get more wear out of a single coloured garment, and I replaced the picot edging on the lace with stockinette stitch. I also neglected to add ribbing to the cuffs as the sleeves were more than long enough without it.
I love this cardigan, it's probably the garment that I'm most pleased with to date. The construction was really interesting and there wasn't any seaming involved either - but a fair amount of kitchener stitch, which I find quite satisfying, even if it is a bit tedious!
It's designed to be worn with 10-12 inches of positive ease, which means knitting an enormous swathe of stockinette, but results in incredible drape. I wear a UK size 16 on top and knit a size Large and I'm really happy with the fit. I shared this photo of me wearing it in a
Fibre Friday
post a couple of weeks back....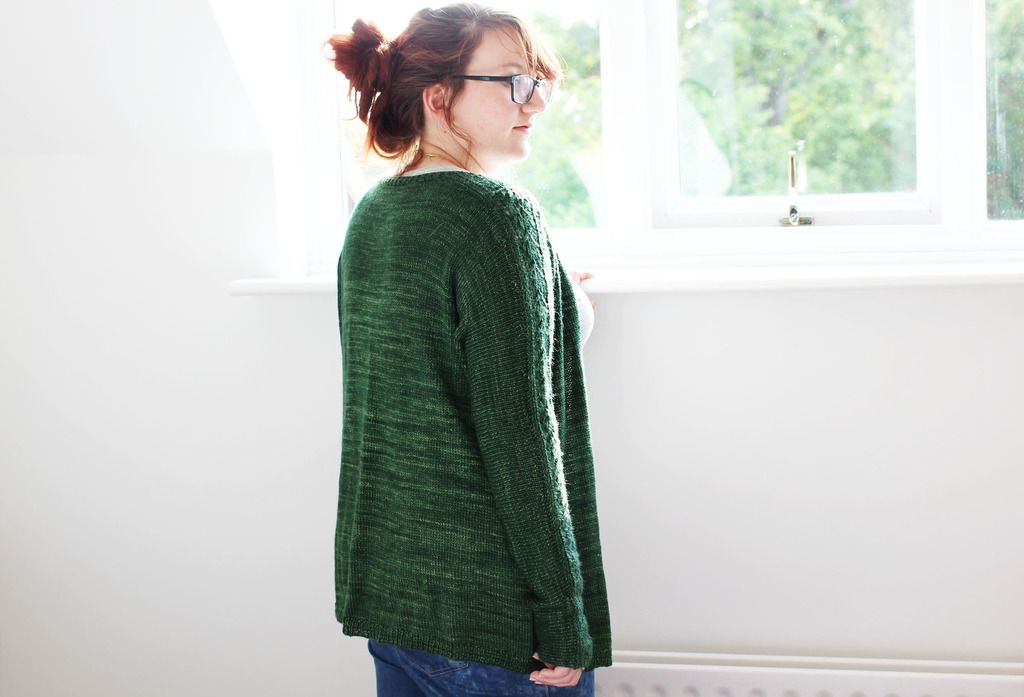 I will definitely be getting a lot of wear out of this cardigan! And I think I'll be knitting more of Joji's patterns in the future...
♥