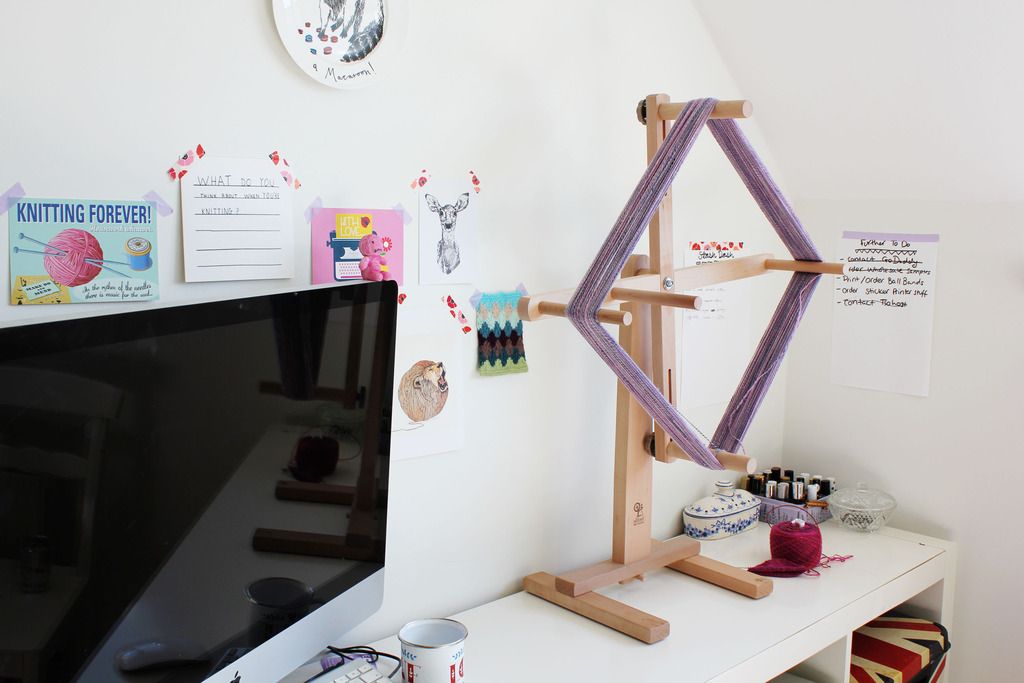 I love gadgets and I love good tools. I have a tools wish list that is as long as both my arms and runs into the thousands, pounds wise (£'s not lbs)! But, like most of us, I have a limited budget for yarn, fibre and fibre-related tools and have to prioritise over what I want to splurge on, or what I'd rather save on.
A skein winder was always pretty low on my priority list - I used to rewind occasional skeins of my hand dyed yarn on two horizontal umbrella swifts - which works, it's not ideal, it makes your arms hurt like hell, and if your swift slips down as you're winding, then you have to rewind again afterwards... And I used to wind my handspun straight from my Lazy Kate on to my swift - again, it works, but after a big drama when I was winding 1000yds and the swift kept slipping and the skein circumference got smaller and smaller, I vowed Never Again and looked into getting a skein winder.
I currently don't wind a ridiculous amount of yarn - this may change in the future, but I didn't want to invest in a fancy winder if there was a chance that it wouldn't get used, which left me with a choice between the
Louet Skein Winder
* or the
Ashford Kiwi Skein Winder
(sometimes just called the Ashford Skein Winder) - the only real difference being the Louet winder clamps to a table, like an umbrella swift whereas the Ashford is free standing.
I settled on the Ashford purely because I don't have a lot of table top space - finding homes for my ball winder, swift and yardage counter is hard enough - and I thought free standing would be more practical. This backfired on me a little - but I'll get to that in a second.
Plus Points:
The Ashford Kiwi Winder is priced at around £75-78, it's at the lower, more affordable end of the winder spectrum (I know, £75 doesn't exactly sound like a bargain, but some winders run to £400+).
It's also pretty solid, considering it arrives flat packed and I put it together myself! I don't feel like it's going to break as I'm winding yarn - which I used to worry about in the umbrella-swift winding days.
Down Sides:
The freestanding structure doesn't work as well as I'd hoped. The base of the winder isn't very heavy and as you're winding, it moves across the table top, or the floor, depending on your set up. Which might not sound like a big deal, but it slows you down and can get mighty irritating! I've taken to clamping the base to the table with
G clamps
- which solves the problem nicely.
The biggest problem I have with it, is the circumference of the skein that you can wind. It's adjustable, which would be useful, except that at the largest width it's still not very wide - and winds a 60 inch skein (that's just over 1.5m or just over 1.6yds). I can't think of a reason you'd need a smaller circumference than this, except perhaps if you were winding mini skeins...
Also - and this goes for any hand operated skein winder - be prepared for your arm to ache!
It's a case of getting what you pay for - if you're looking to do some occasional winding, you're not bothered about the length of your skeins and you've got a couple of G clamps or a stack of heavy books to weight it down with - then go for it! It's a lot easier than winding with two swifts, I can tell you! But if I ever have the need to wind a larger volume of skeins - then I'll probably be destashing it and switching up to a
Crazy Monkey winder
(y'know after I've saved up / sold my soul..!)
I purchased my winder from
Sara's Texture Crafts
, but it's no longer listed on their site - however if you're interested in getting one for yourself, UK folks can find it
here
and US folks can find it
here
.
*The Louet Skein Winder is the only piece of fibre related equipment that I have ever seen be more expensive in the US than in the UK. It's listed at $185 (around £120) on Louet's site, and it's £87.50 right here. Most intriguing.