I have three finished objects this week. Three. I'm going to go right ahead and start with the biggest one...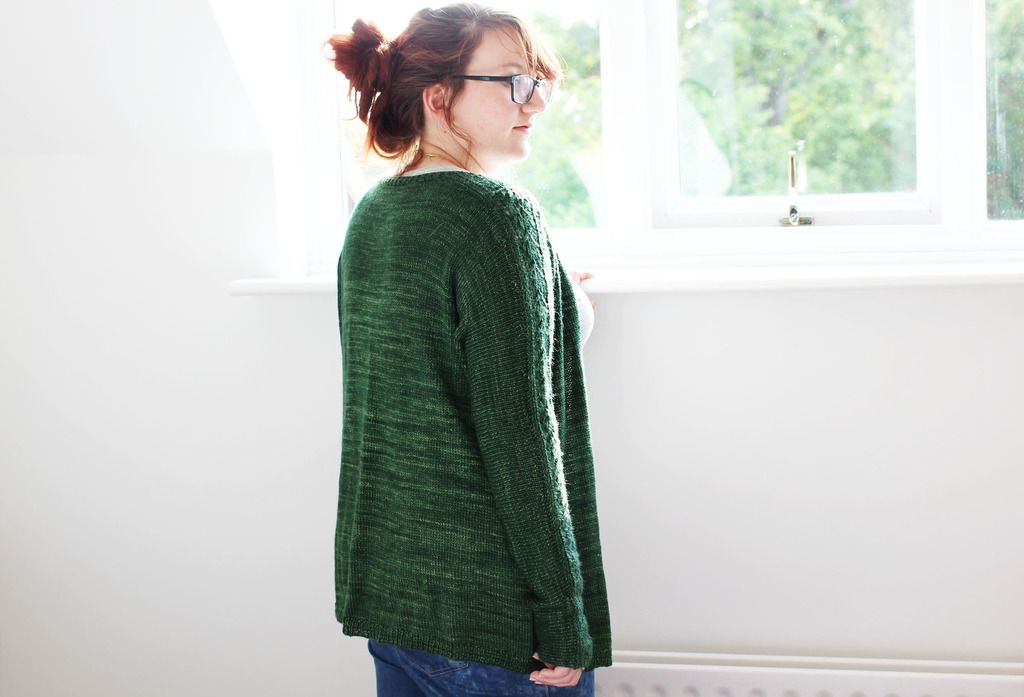 My Old Romance cardigan is done! The knitting is finished, it's been blocked and the ends have been woven in. I'm currently in the process of sewing in grosgrain ribbon to stabilise the button band - even though there aren't any buttons, I want to keep the fronts looking polished and not stretch out over time. In case you haven't been following the progress of this cardi - the pattern is
Old Romance
by
Joji Locatelli
and I used
Madeline Tosh 'Tosh Sock'
in the 'Moorland' colourway. I'm going to post more photographs as soon as I have all the ribbon sewn in - but I think this is probably the best garment I've ever made.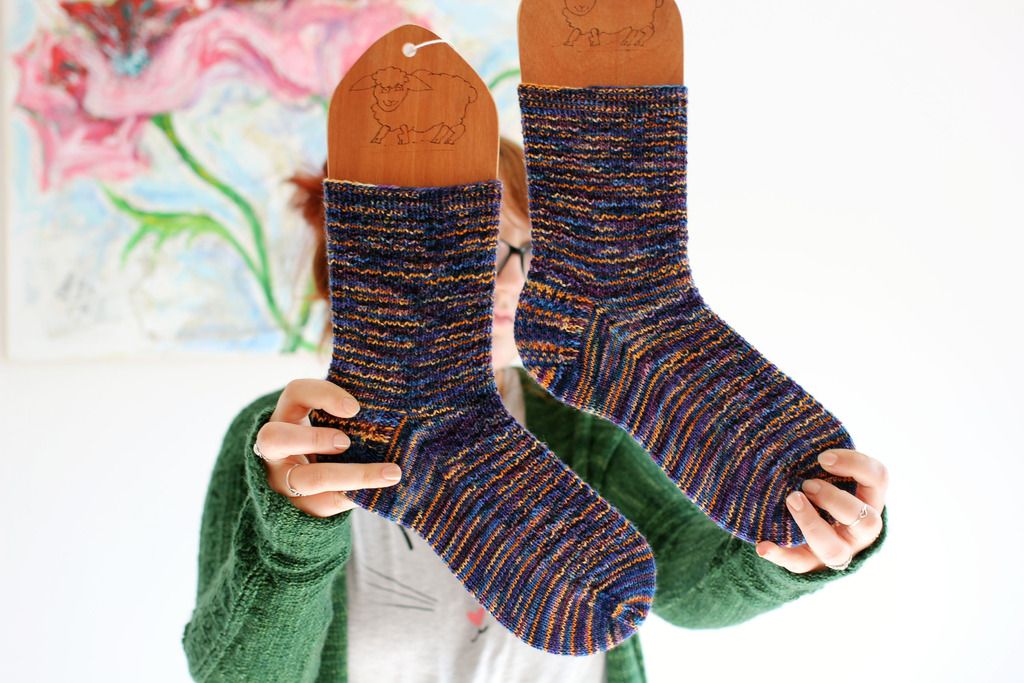 On to smaller things - and the first pair of socks I finished this week. My
Hermione's Everyday Socks
out of
Manos Del Uruguay Alegria
in '
7105A
'. I've been referring to these as the Jaffa Cake Socks because the colours remind me so much of the
Jaffa Cake packaging
. I've made a pair of these in the past, but this was the first time I used the heel written in the pattern - and I love the garter edging on it - it makes picking up the stitches for the gusset so much cleaner!
Finally, on the FO front - I finished the
Tic-Tac-Toe-Up Socks
by
Wendy D. Johnson
from her book
Socks From The Toe Up
out of some yarn I dyed a while back. These have been on the needles since February - longer than the Old Romance - and I'm very glad they're done.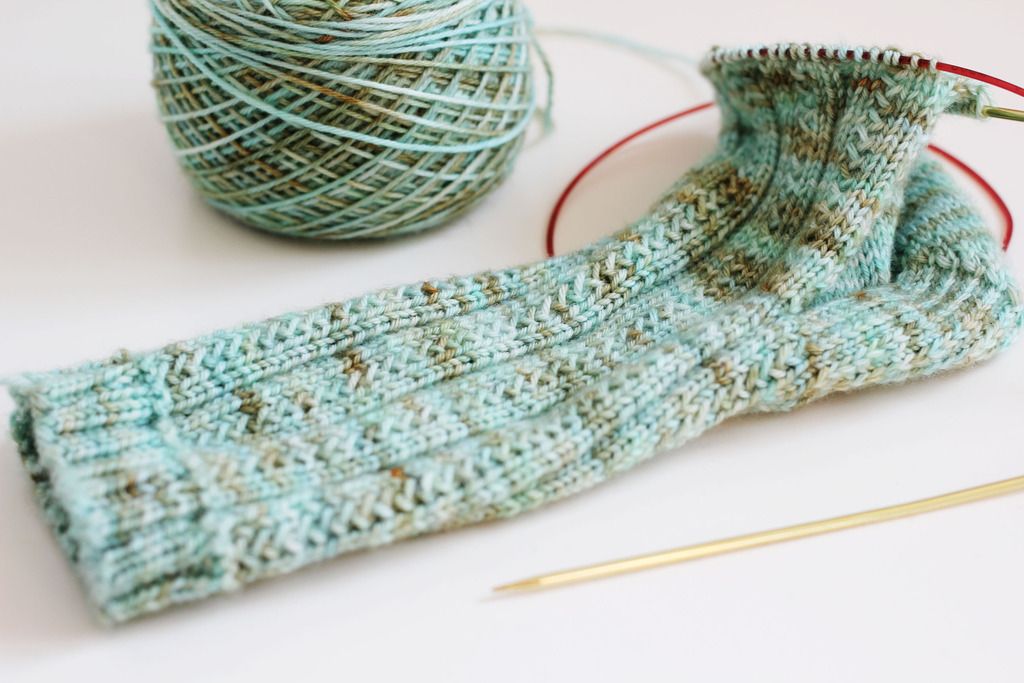 I operate a one-out-one-in process with socks (or a one-off-one-on process) - so as soon as the Hermione's Everyday Socks were bound off, I cast on for the
Simple Skyp Socks
by
Adrienne Ku
out of
Hedgehog Fibres
Sock Yarn in the 'Seaglass' colourway. I've just finished the gusset decreases and I'm steaming ahead down the foot. I love love love how the yarn is knitting up - and it's so soft which is a bonus!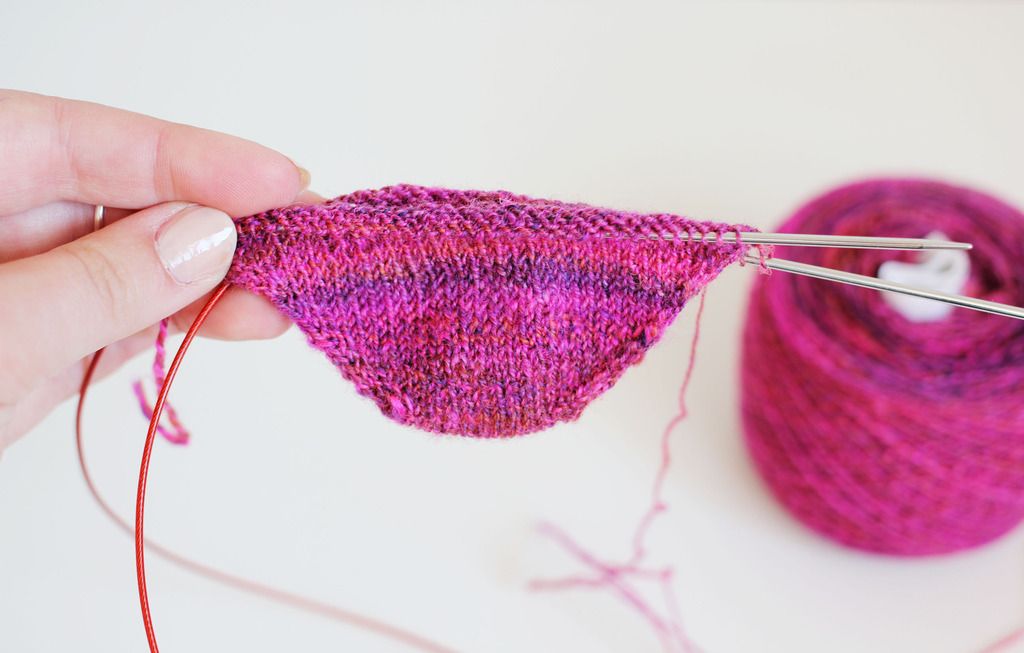 The main reason why I wanted to get the Tic-Tac-Toe-Up Socks off the needles was because they were hogging the only set of 2mm needles I own (after I stood on a pair of Knit Pro Symfonies and they snapped...) and I wanted them to cast on for a handspun sock out of the yarn I finished spinning last week - from fibre by
Lime Green Jelly
. I have a feeling this toe may have to be ripped back, I went for a 72 stitch circumference over my usual 64sts - and it could wind up being enormous, but we shall see!
Not only have I been finishing knitting projects, I finished spinning and plying some hand dyed merino fibre - it's a two ply and is really barber pole-y, because both braids of fibre were dyed slightly different colours. I'm going to wind it off and count the yardage tomorrow - for Stash Dash of course - but I'm not sure what it's going to grow up to be. Possibly some mittens or wristers...
It's been a busy week! I'm probably not going to get anything finished for the next couple of weeks - as everything I have left in the UFO boxes is a long way away from completion!
I hope you've had a good week - and have a lovely weekend - I'm working both days, but I'm hoping to get my first Skyp sock finished at some point, and maybe put get some new fibre on the wheel...
♥