This week marks the start of the Tour De Fleece, so I actually have spinning content for once! But first - onto the knitting chatter...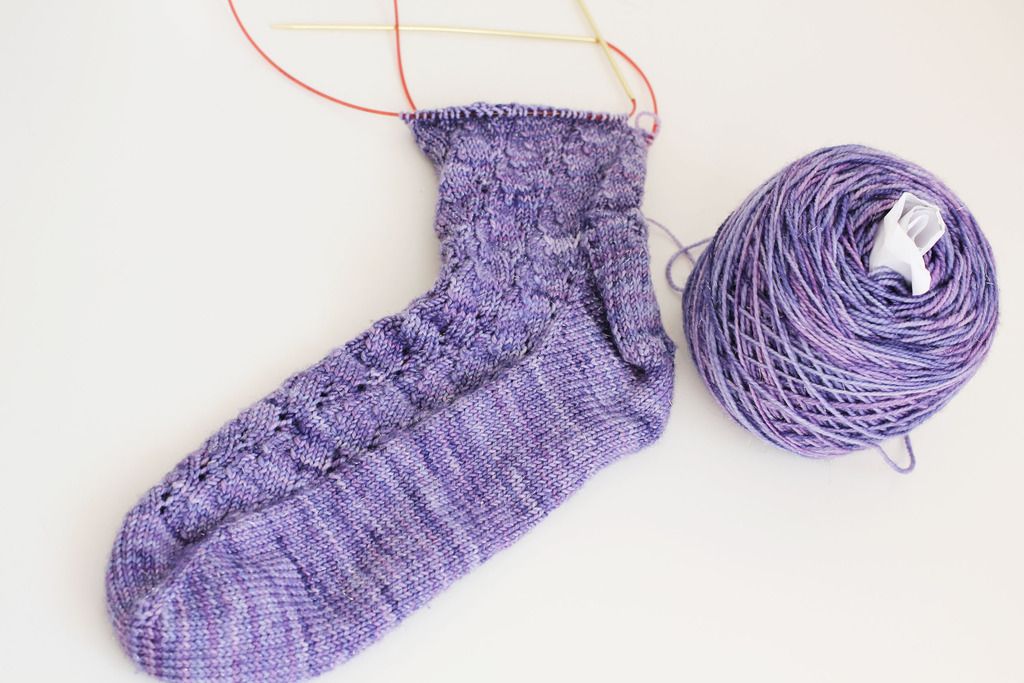 I turned the heel of my
Seaweed Socks
by
Wendy D. Johnson
last night and managed to knit a couple of pattern repeats on the cuff in my lunchbreak today. Seaweed is a free pattern with a simple, easy to memorise lace chart and I'm knitting it out of a 75% Merino 20% Nylon 5% Stellina blend from
Hand Dyed By Kate
in the 'Midnight Sparkle' colourway. I'm very much enjoying the sparkle factor - this is the first time I've worked with a stellina blend and it's fun!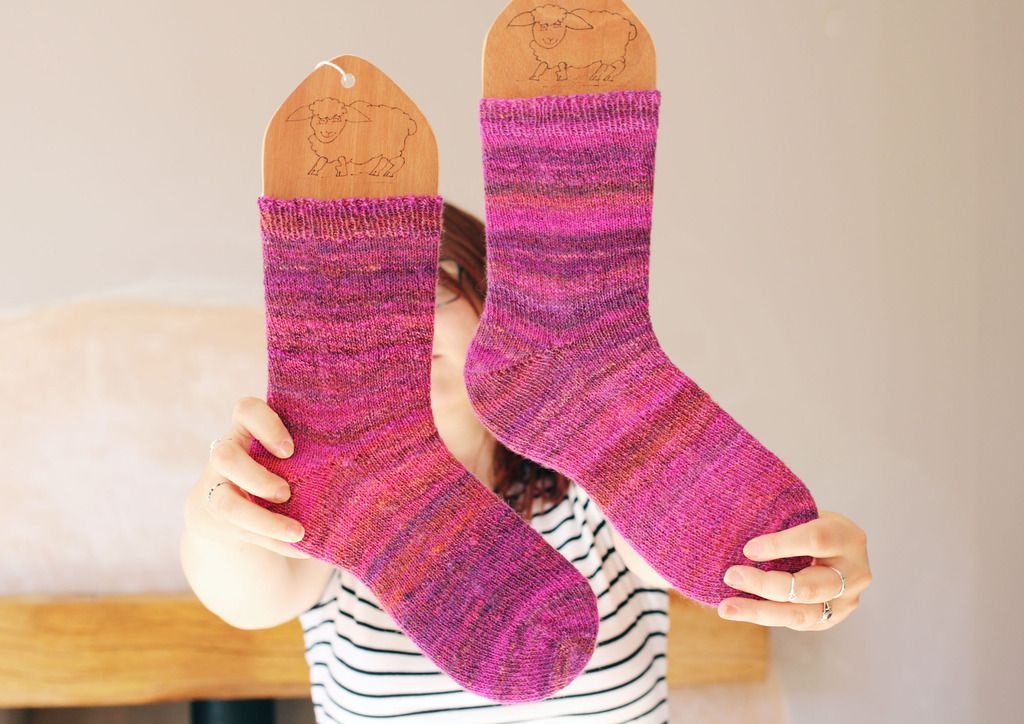 The Seaweed socks have replaced my handspun socks as take-along knitting, because the handspun socks are done! These were knit out of a 3ply yarn I spun from a BFL/Cashmere/Nylon blend by Jo of
Lime Green Jelly
. A simple toe up sock with a short row heel - I'm so pleased with how they turned out. I've only knit one pair of handspun socks before and these are a big improvement on them. I will definitely be spinning more yarn for socks in the future. Also! If you're interested in spinning sock yarn - The Knitmore Girls talked about it in their podcast this week - '
Episode 341 Monogam-ish
'.
I also finished the
Easy Peasy Newborn Hat
I started last week, whilst waiting for a doctors appointment yesterday - so that's another hat for the collection. The E-P-N-H is a free pattern by
Keri McKiernan
and this one is knit out of leftover
Manos Del Uruguay Alegria
in colourway 'A8106'.
So as I mentioned at the top of the post, last Saturday was the start of Tour De Fleece (and also the Tour De France if you're interested in such things) and I have been spinning everyday this week and have remembered that I actually really like spinning and can't quite work out why I haven't done much of it recently... Anyway. I've spun a braid of Faux Cashmere (which I'm 99% sure is just a super fancy nylon fibre) by
Spin City UK
- pictured above - it's a 2ply and I got 126yds. It's incredibly soft - I've never spun actual cashmere so I can't say how it compares, but I do think it will have a lovely drape when knitted up. However, I'm not entirely sure what I'm going to do with it - the lack of elasticity won't make for a good hat and there's not really enough of it to do that much with, so it'll sit in the stash for a while I imagine.
I spun the second bobbin of my
Taylor Made Yarns
merino braid in 'Autumn Sunset' and 2plied it to get 212yds of a very barber poled yarn. Again, no idea what this is going to grow up to be. I really need to get some more inspiration for projects to knit out of handspun...
I clearly did a very poor job of evenly splitting the braid of my Taylor Made Yarns, as I had a whole chunk left on one bobbin, so I Navajo plied it to get another 40yds. I think it's fascinating to see how different the two yarns look when side by side. I think I might prefer the Navajo ply - so maybe I'll do that for the second of my Taylor Made Yarns braids...
Finally I spun up the
Nunoco
batt my mum bought me for Christmas - a Merino/Silk/Silk Noil blend called '
Wild Wood
' - I split the batt and spun it up from light to dark, so when chain plied it should create a nice gradient. We shall see!
All in all, quite a productive week! I had a bit of a shoulder injury early in the week - too much spinning and not enough breaks I think - but I iced and rested and it feels fine now, which is a relief - it's Tour De Fleece after all, not Tour De Shoulder-Injury. I think I'm going to spend the rest of my evening making a start on plying the Nunoco singles, as I've yet to sit at my wheel today. I hope you have a fabulous weekend, whatever you've got planned. Mine will consist of working and car boot sales, so that'll keep me out of trouble!
♥