Happy Friday! It feels like I don't have as much content this week, which is often the way when the previous week is a full one...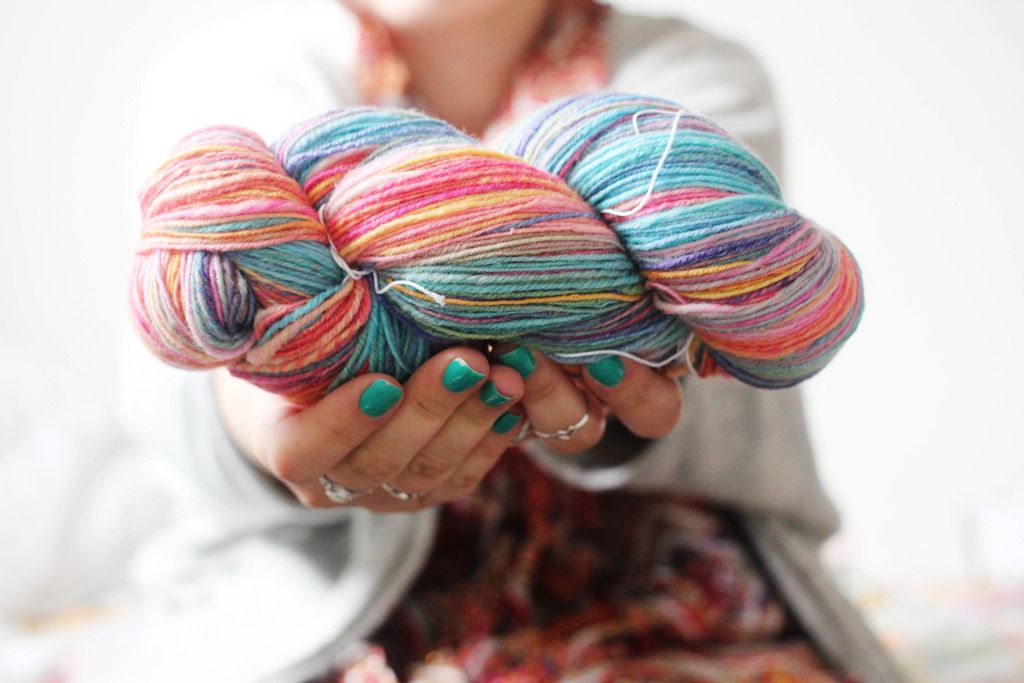 Now, I don't usually start with spinning, but I'm so excited by my spinning this week, that it had to go at the top of the post. I finished spinning the singles from the
Taylor Made Yarns
merino fibre in the 'Autumn Rainbow' colourway last weekend and I plied it over several evenings this week. Navajo (or chain) plied to keep the colours cleaner and prevent barber poling, it wound up being 540m of a fingering weight - although, as you can see in the photos, there are a several thick and thin spots. This is the best yarn I have ever spun. When I took it off my skeinwinder it was almost perfectly balanced, which never happens when I n-ply, so I'm really proud of it. I'm going to cast it on for the world's most beautiful socks, as soon as I've freed up some sock needles.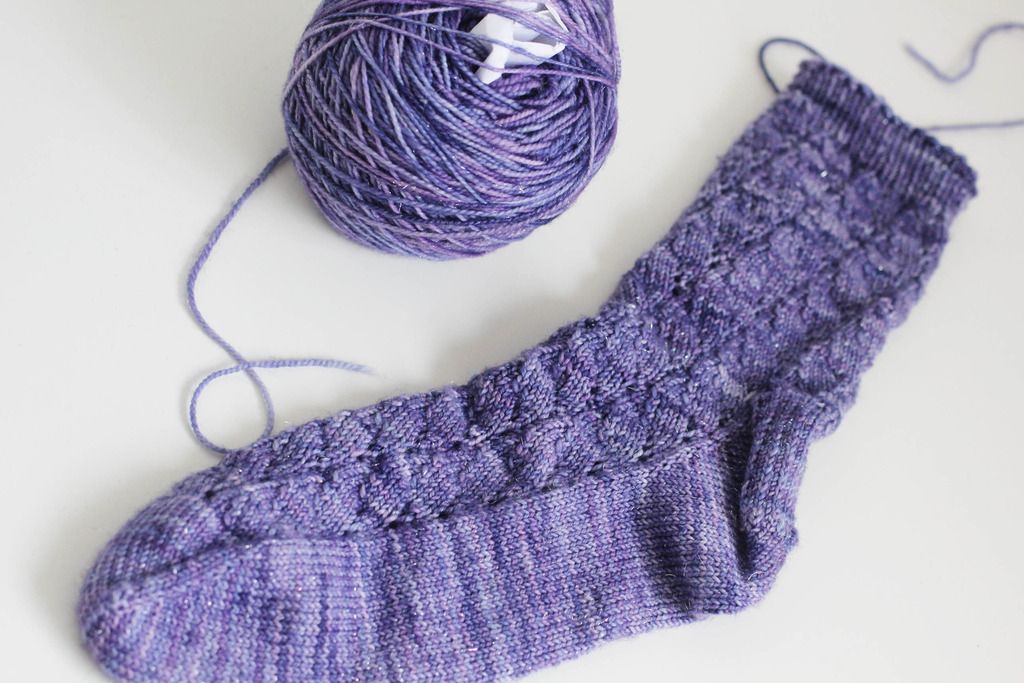 My first sparkly
Seaweed
sock is done! This is a free pattern by
Wendy D. Johnson
that I'm knitting out of
Hand Dyed by Kate
in the 'Midnight Sparkle' colourway. I need to cast on the second sock, but I'm waiting to cast off my Budleigh sock for that, I'm playing a huge game of Musical Needles*
*(like musical chairs but without music, or chairs, and a whole lot more tedious), where I switch up all the needles I'm using for my projects, so I can free up a set to cast on my Beautiful Handspun.
Speaking of Budleigh, I'm decreasing for the toe on the second sock, which has actually progressed a little since this photo, as photobucket doesn't like to work on my Macbook and everything takes 5347539x longer, so I got a few extra rows on it.
Budleigh
is a sock pattern from
Coop Knits Socks
(volume one) by
Rachel Coopey
and I'm knitting them out of
Skein
Top Draw in the 'Blackcurrant' colourway. This will be finished this evening, unless something disastrous happens!
My
Spring Beret
by
Natalie Larson
is done! I would be modelling it, but it's damp and blocking over a dinner plate - so I'll try to remember to get a photo for next week! This is knit out of
Debbie Bliss Cashmerino Aran
in colourway '300076', which like I said last week, is greener in real life and very awkward to photograph! Natalie has two versions of the pattern, and this is the Ms. Slouchy version.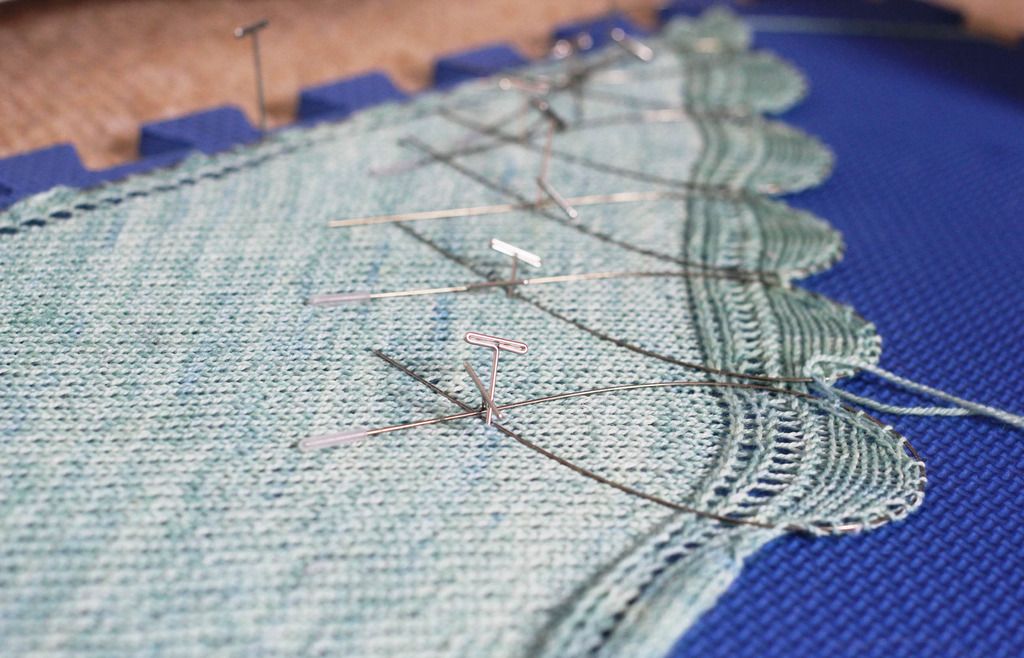 I have also been blocking the
Olivia Shawl
by my good friend
Nina La Fountaine
, that I test knit for her at the beginning of May. This is my third attempt at blocking the scalloped edging - I gave up using T Pins and instead bent my shorter blocking wires and pinned them in place. This needs to be finished by next weekend because I'm giving it as a very belated birthday gift!
On the subject of blocking, I picked up the big blue interlocking mats that my Olivia is blocking on, from Aldi. The individual squares are a lot larger than the standard 12inch knitters block squares, and you get 6 in a pack for £12.99 - I've been holding out on paying for 'proper' knitters blocks for ages, so I was really pleased when I found these.
Now my Autumn Rainbow is off the wheel, I'm spinning some Polwarth/Baby Alpaca/Nylon that my friend Anna (aka
PlaySweetMusic
) sent me earlier in the year. The plan is to ply it with a braid of Merino from
Little Owl Crafts
- both braids pictured below - and hopefully get enough yardage to knit a Baby Surprise Jacket, but we shall see!
So that's it for this week, I did just realise that I have completely forgotten to photograph the vanilla sock out of
Austermann Step
that I've been carrying around in my handbag and knitting at work - but I can't summon up the energy to photograph it and deal with photobucket again, so you'll have to take my word for it that I'm past the heel and on to the foot!
I'm going to finish off the toe of my Budleigh sock, maybe watch some back episodes of
The Knit Girllls
, or perhaps
Silent Witness
(not the current seasons because I'm angry at the cast change!) - because knitting podcasts and forensic pathology dramas are essentially the same thing! Haha.
♥