It seems like it's another short week in actual knitting content this week - I've been pretty monogamous with my knitting - mainly because I went away and only took one project with me!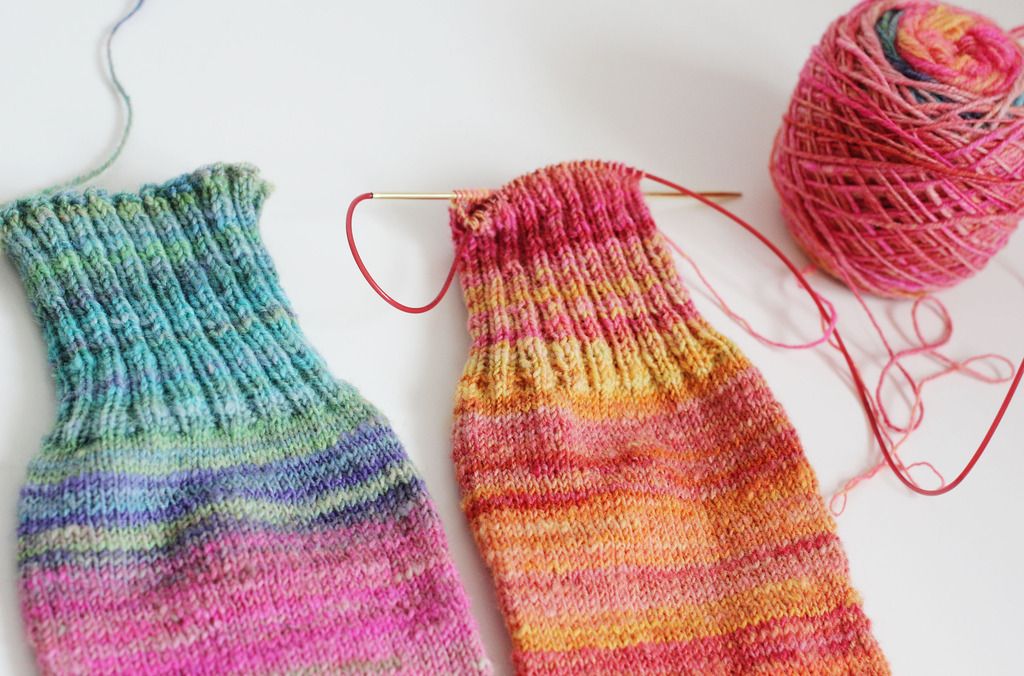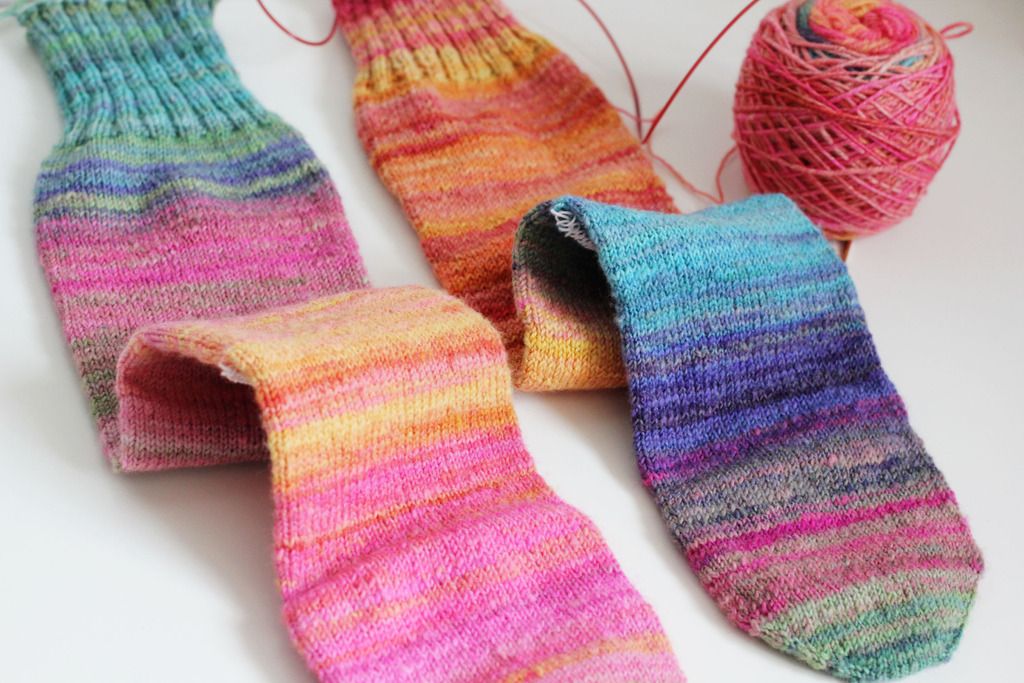 The project that has seen nearly all of my attention this week - are the socks I'm knitting out of the handspun I shared
last week
. From fibre by
Taylor Made Yarns
in the 'Autumn Rainbow' colourway, I'm knitting toe up socks, in order to maximise the yarn usage, with afterthought heels to keep the colour gradient correct. They're longer than I usually knit my socks - it's hard to tell exactly how long they'll wind up, as I haven't put the heels in yet - but I added a little calf shaping and approximately 3 inches of ribbing on the cuff. The first sock is done - aside from the heel - and the second sock has a few more rows of ribbing to go. I'm hoping to get them done this evening!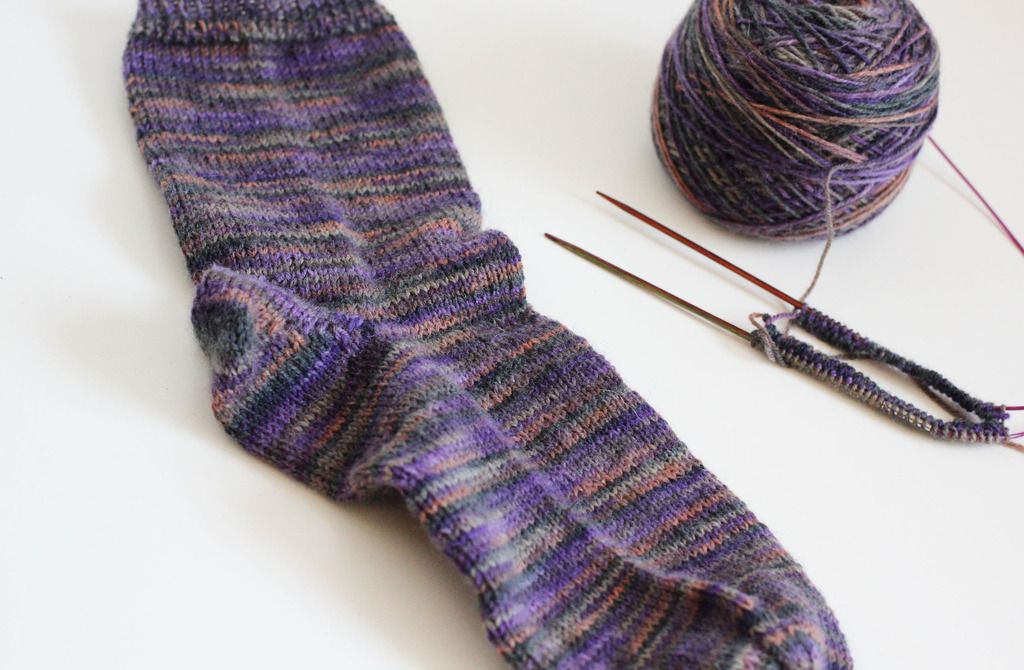 I worked a little on my vanilla socks out of
Austermann Step
in the colour way 'Aubergine Easy' - because I left my handspun socks at work on Sunday and needed something else to knit on that night! The first sock is finished - top down, with a tubular cast on and short row heel. I have cast on the second sock and knit a round of ribbing - then I put it aside in favour of my Autumn Rainbow socks! I'll go back to it when they're finished!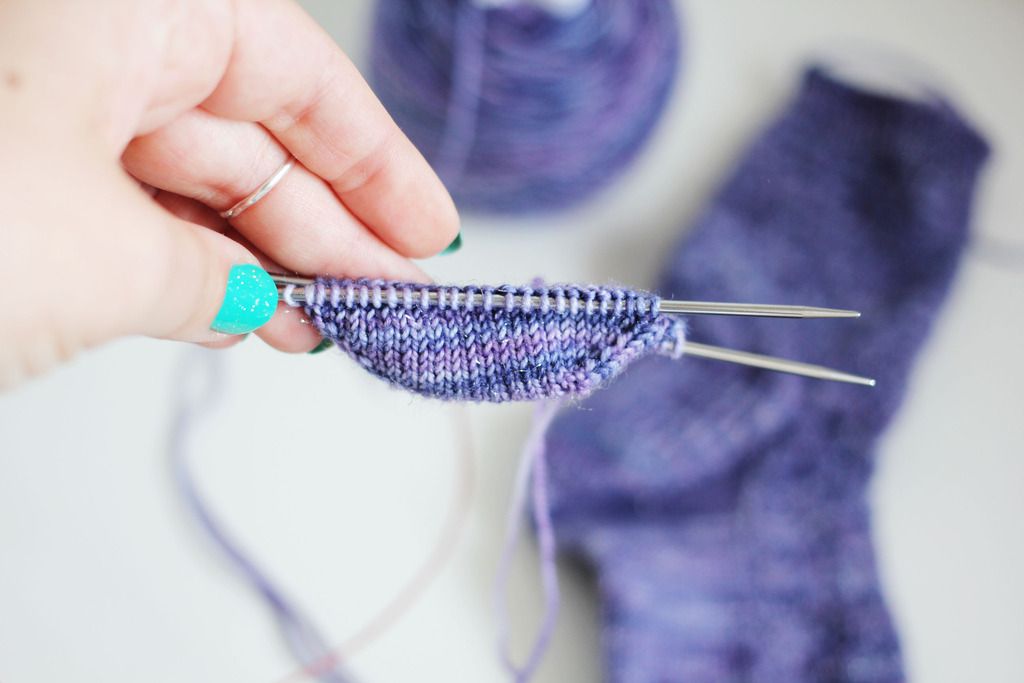 I also cast on and knit a little of the toe of my second
Seaweed socks
by
Wendy D. Johnson
. Seaweed is a free pattern available on ravelry. I'm using yarn from
Hand Dyed by Kate
in the colourway 'Midnight Sparkle'. This is going to replace my
Budleigh socks
as my 'at home' knitting for a while, until they're finished and I can cast on either some more cabled socks, or a pair of mittens I've been meaning to knit...
Spinning-wise, I've spun a little more of my Polwarth/Baby Alpaca/Nylon blend from
Playsweetmusic
- but I haven't had much time to spin this week. I need to get this finished and off the wheel, so I can start on the fibre I intend to ply it with and get it all done and dusted - because this week, I finally ordered a
brand new spinning wheel
! I'll talk about it, and my reasons for buying it, when it arrives - which should hopefully be next week! But they'll be a lot more spinning happening soon, I can assure you!
Right - I'm off to get my handspan socks finished! Have a lovely weekend folks! I'm working tomorrow, but we're visiting friends for the evening, which should be lovely - and I'm gifting my
Olivia Shawl
- which will hopefully be well received!
♥