This is probably the longest Fibre Friday post to date, which shows that I have been doing too much knitting and not enough studying for the theory part of my driving test - but hey ho, a girl has to have her priorities! This week is all about hats and socks, as you will soon see ;)
I put another pattern repeat or two on my
Seaweed socks
by
Wendy D. Johnson
. I'm knitting these out of a 75% Merino, 20% Nylon, 5% Stellina blend from
Hand Dyed by Kate
in the 'Midnight Sparkle' colourway. Progress on this particular sock has slowed as the high twist yarn feels a bit hard on my hands - I think that's because of the heat and my hands drying out though, rather than the yarn!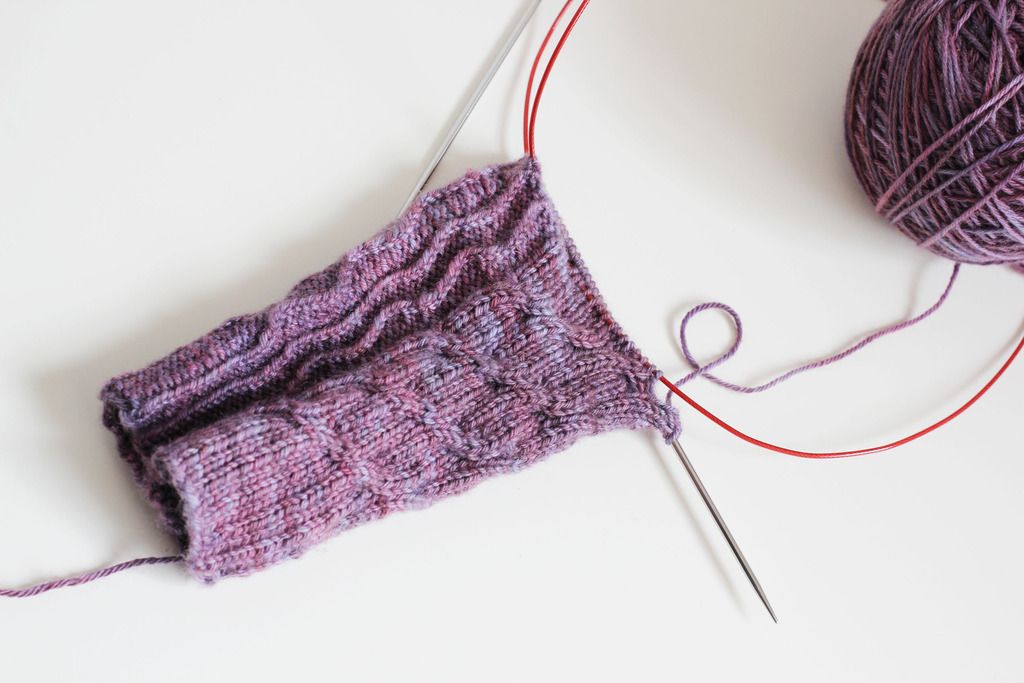 I've made more significant progress on my second
Budleigh
sock from
Coop Knits Socks
(volume one) by
Rachel Coopey
. I'm knitting it out of
Skein
'Top Draw' in the 'Blackcurrant' colourway. I've put four pattern repeats on the cuff this week and I'm one repeat away from the heel flap - or as I like to think of it - breaking the back of the sock! I really need to vast on some vanilla socks for my take-along knitting, but I think I'm going to wait until I have another skein of handspun sock yarn to cast on…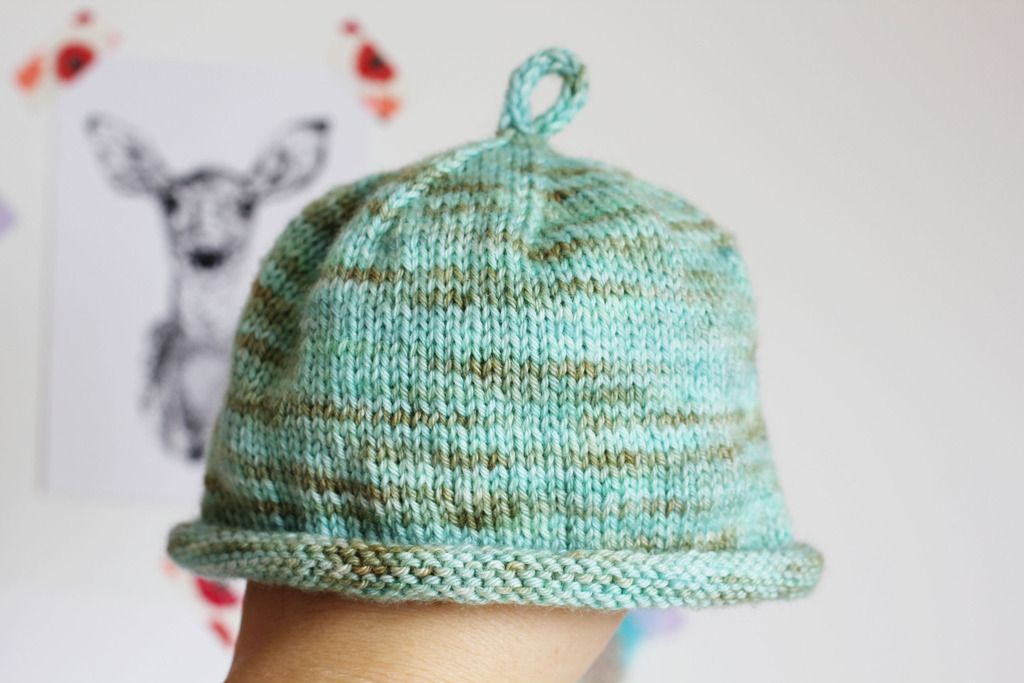 I have also knit up another of the
Easy Peasy Newborn Hats
by
Keri McKiernan
- this is becoming a weekly thing now, I probably need to find another pattern for my sock yarn scraps… I used up the leftover
Hedgehog Fibres
Sock in the 'Seaglass' colourway that I used for my
Simple Skyp socks
a couple of weeks back.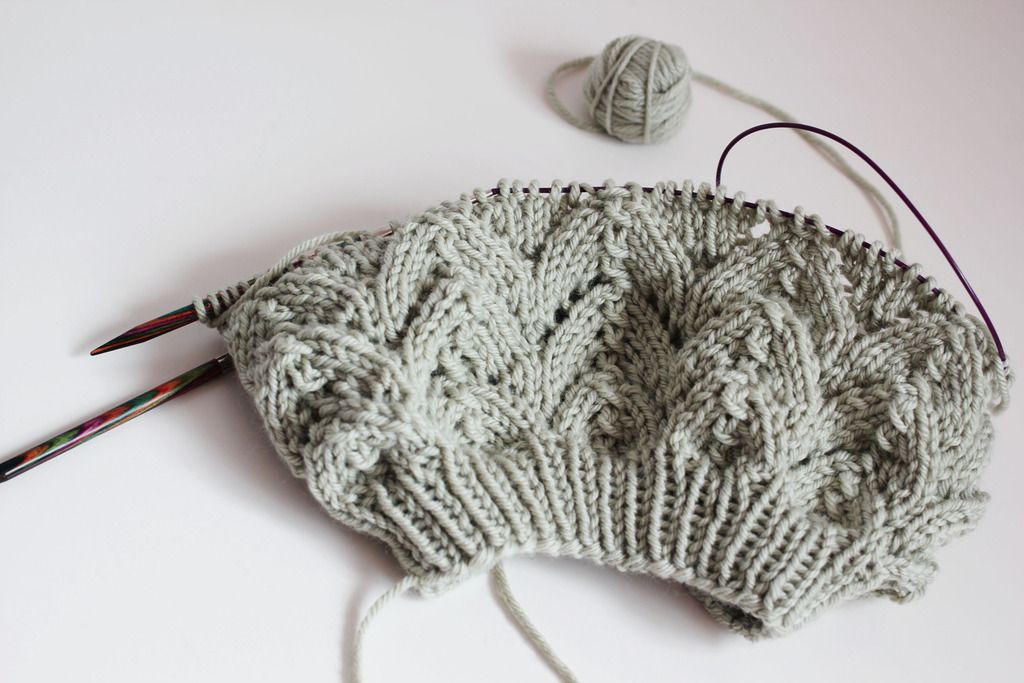 I cast on and knit a big chunk of a
Spring Beret
by
Natalie Larson
- I knit this pattern earlier in the year for a Mystery Hat Swap KAL and I liked it so much I decided to knit up another one. This time I'm using
Debbie Bliss 'Cashmerino Aran'
in colour '300076', which is a lot greener in reality, than it is in the photo! I'm not sure if I'll be keeping this one for myself, or if it'll wind up as a gift, but it's an enjoyable pattern to knit, and anything on 5.5mm (US 9) knits up so quickly!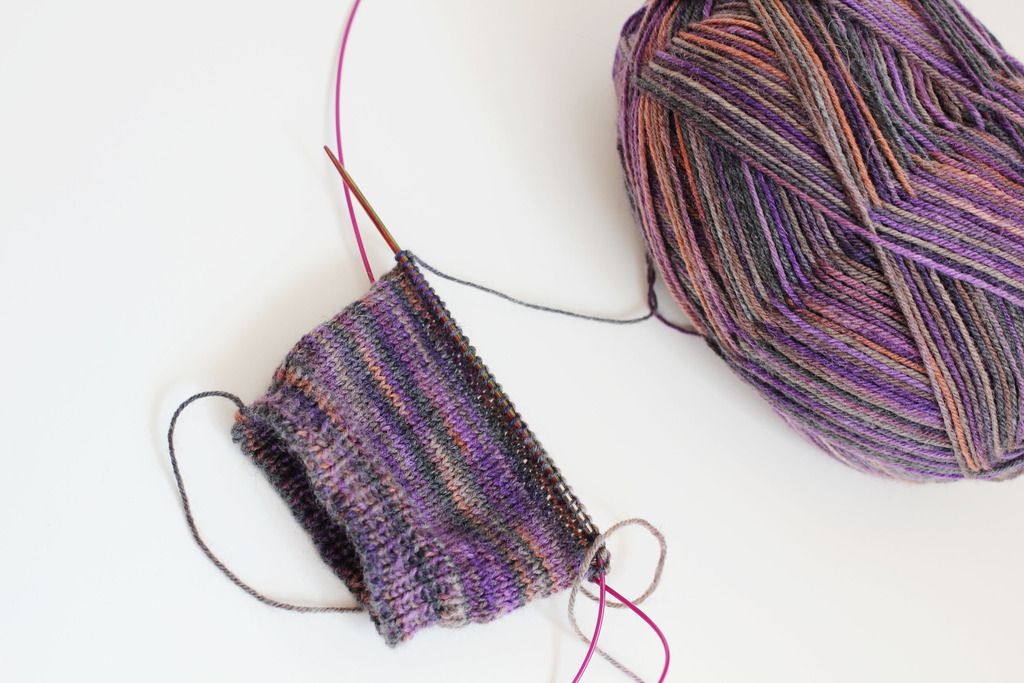 I needed another pair of vanilla socks to have as my take-along knitting, as the Seaweed Socks require slightly too much concentration to knit at the bus stop, so I cast on one out of some
Austermann Step
I had in the stash, in the colourway 'Aubergine Easy'. I used a tubular cast on - following
these instructions
from the Purl Bee - and although I've used the cast on before, this is the first time I've used it for socks, so hopefully it'll be nice and stretchy!
I finished spinning my
Nunoco
batt and chain plied it, creating 128m of a tweedy gradient yarn in a heavy worsted weight. I don't spin batts nearly often enough and I must get some more for the stash… Tour De Fleece is depleting it rapidly!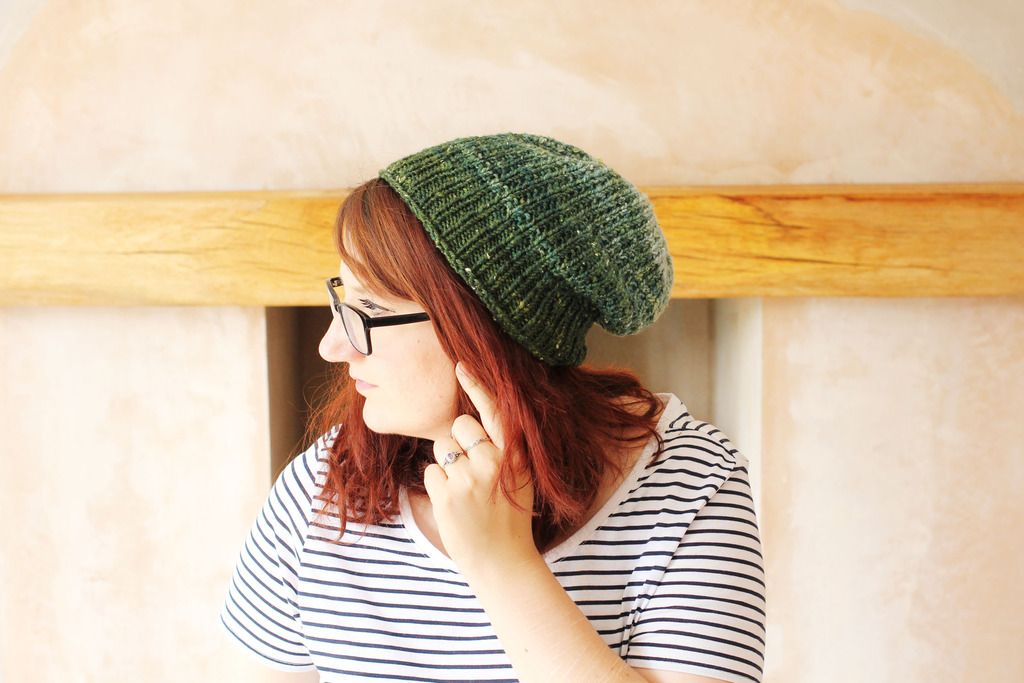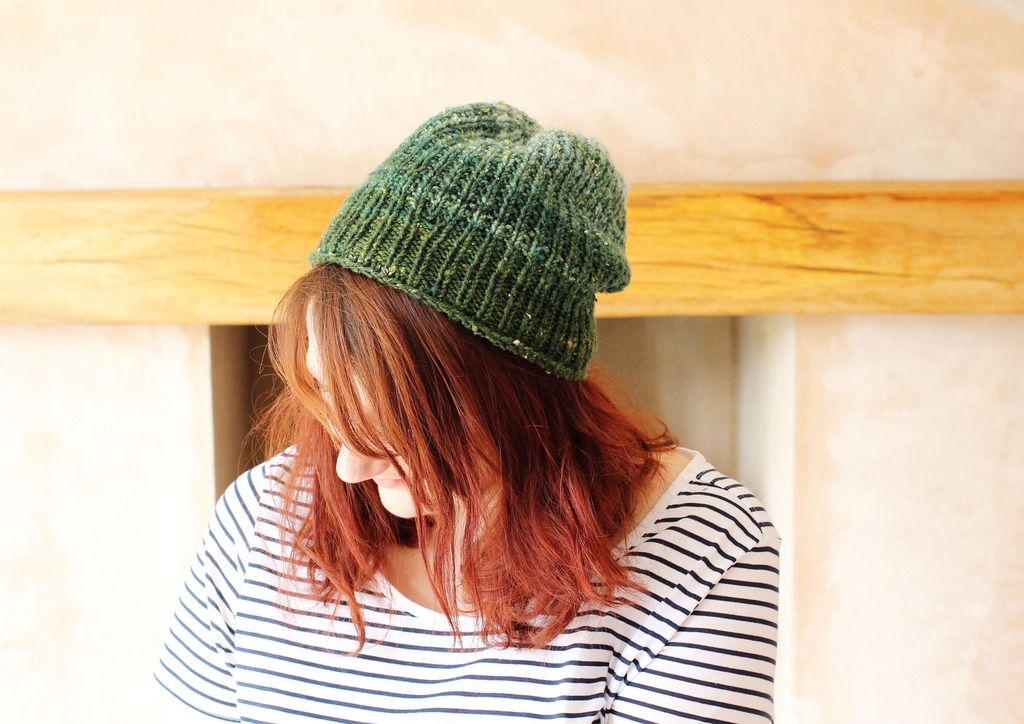 I knit up a Cocoon Hat - a free pattern by
La Maison Rililie
available
here
- out of my Nunoco yarn (the living room makes everything look x4359 yellower than real life). It's a simple broken rib hat, with a 1x1 ribbed brim - but my favourite part of the pattern is the first three rows are stockinette, which stops the ribbing stretching out of shape and becoming too big. I had just enough yarn to knit a slouchy fit hat, which I think will become a staple when the weather cools down. I will definitely be knitting more of this pattern, maybe for Christmas gifts…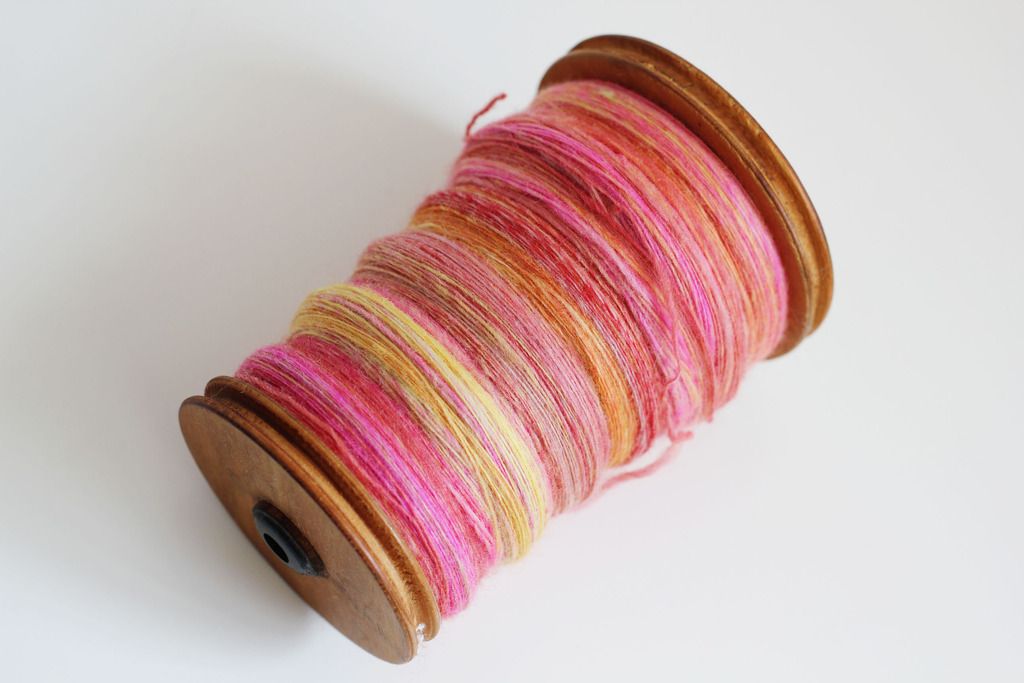 In other spinning related news, I've been monogamously working on another braid from
Taylor Made Yarns
, this time in the colour 'Autumn Rainbow' - I've nearly finished spinning it - I hope to get it done by the end of the weekend, so I can ply next week. It should hopefully wind up a chain plied sock weight, but we shall see!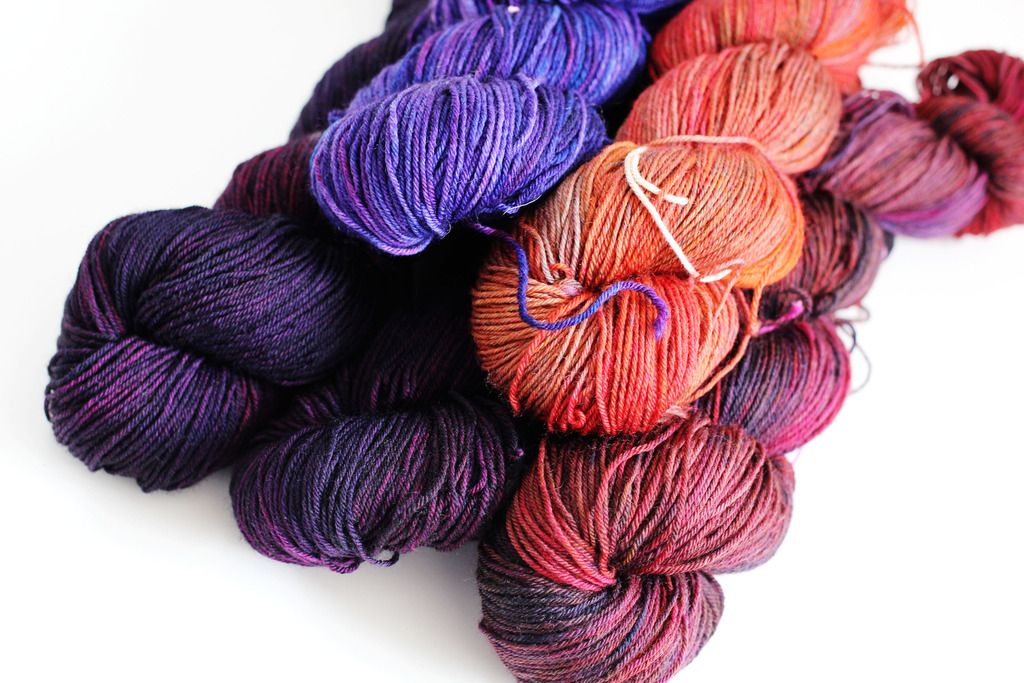 This week, for the first time in months, I did some dyeing. I was trying to get a speckled effect - and failed miserably, but I really like the colours I wound up with, particularly the bottom right berry shade. I think I know where I went wrong with the speckling too, so I can try a different technique next time. All five are merino/nylon blends so will probably grow up to be socks, eventually.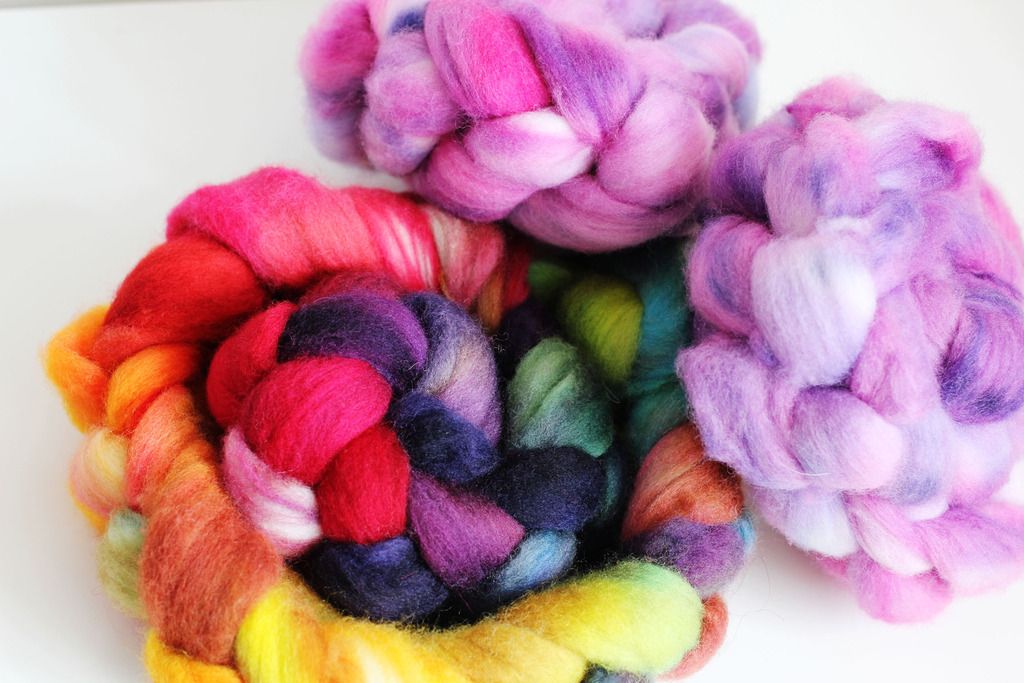 I also dyed up some Polwarth and I really like the jewel tones of the rainbow braid - this will probably be next on the wheel when I've finished the Taylor Made Yarns.
Finally on the dyeing front, I dyed a few more silk scarves - these were intended as gifts but will no doubt be purloined by my mother before I have a chance to give them away!
I also wound up a bunch of mini skeins of leftover sock yarn for a good friend of mine, as a thankyou for her sending me a copy of
Socktopus by Alice Yu
- which incidentally looks fabulous so I'm sure some of the patterns will wind up on my needles soon…
So it's been a pretty busy week over here! But it's made me realise I really need to cast on something that is not a sock or a hat… Hah. I hope you have a lovely weekend, whatever you get up to! I need to do the studying for my theory test that I've been putting off… (not that I've booked my theory test yet, but still. Must. Pass. Driving. Test)!
♥